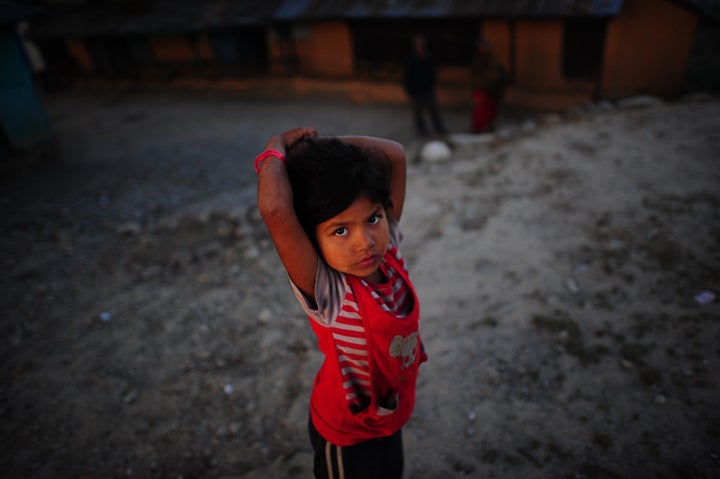 "I want to go back and help people. I want to make a difference."
It wasn't the typical holiday "want" I'd become accustomed to hearing from a child during the holidays. And so I listened with tears as high school students from Nepal spoke to our well-dressed audience of mostly expat moms in Zumikon, Switzerland.
"I barely remember my village," said one child. "I had to walk so far."
I was waiting to eat my beautifully arranged salad at a hotel perched on a cliff overlooking a misty blue lake and periwinkle Alps. But I'd lost my appetite. The cows across the way had water, huge pastures in the summer and safe barns in the winter. My dogs are required to play and run freely daily by Swiss law, but girls and boys spoke about a need for school, electricity, irrigation and clean water— about gratitude for education. They talked about a love for learning and their plans to use their education to solve problems. They explained how it feels to attend a prestigious International Baccalaureate school in Zumikon, Switzerland called Inter-Community School, Zürich.
"It was overwhelming at first," one boy said.
"I love sports," said a girl. "I want to go back and show other girls that they can play sports too."
Each child had been chosen from the thousands of others who live in poverty in Nepal— and each found the courage to leave family and friends; to move to Zürich; to live with English speaking families in one of the wealthiest financial capitals in the world. Because of ICS's partnership with Shree Mangal Dvip School in Kathmandu, Nepal and ICS's scholarships program, the kids were receiving a free IB education providing rigorous, unconventional coursework where inquiry, problem solving, and a dedication to academic excellence are all expected. Because of a handful of expat parents in my community, each child has a family to stay with, a home with a bedroom, homemade food and community support. Because of ICS, they were integrated into our affluent community— they were loved.
"I'm impressed that everyone gets a computer at this school," said one girl.
"It was hard when I first left my village. I can't even remember the first years," a boy spoke with hands clutched in front of him. "Some day I want to go back and teach about year-round crops… about using land more productively.
They discussed irrigation, solar power, chemistry and physics.
"I want to volunteer to be a physics teacher," wrote one boy.
"I'm a helper type. I like listening to people. I know it's unusual for a girl, but I want to be a psychologist," a girl said.
I thought of the hundreds, maybe thousands of people whom each one of these kids would change with their education. Heck, they had already changed many students at ICS with their insight, their courage. They changed me and likely other moms in the room. Their passion, their perspectives, their knowledge, their ideas would inspire and motivate countless others.
I wanted more children at that lunch to hear the sound of our hands clapping for education, for equal rights for boys and girls.
I wanted the 12,000 Nepali girls trafficked yearly to attend a school like ICS, to ask questions like how can our world prosper if we don't educate, if we don't care for the most vulnerable? I wanted them to learn about human rights, how to harness power, how to change the world.
I wanted all the girls and boys who trudge with heavy loads on steep paths and ravines for water, who risk lives to collect water in Nepal and elsewhere— I want them to bathe in an Alpine lake like the one out the window, to use a clean indoor shower and bathroom, to attend elementary school and high school for the first time.
And finally, I wanted every mom, across the globe, living in even decent living conditions, to want this too— Want your school, your community, your family to find more ways to help these boys and girls in Nepal, Syria, Myanmar, Afghanistan, Kenya and elsewhere.
This holiday, join me in wanting along side these kids. Want more education, more water, more safety for every child. And then go get it. Because the kids I saw at lunch were the living proof that schools and communities can make spectacular things happen for children in the most unlikely places. We just need to want it badly enough.
Following are some organizations to consider supporting:
Related
Popular in the Community