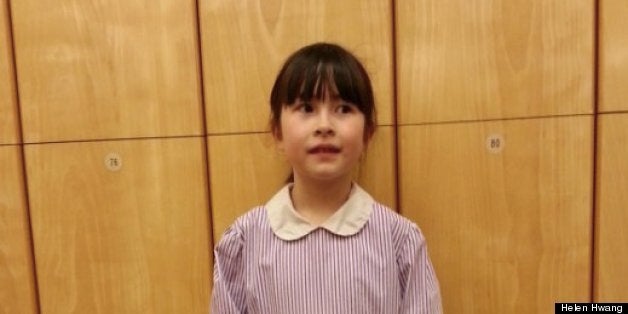 Last week, my daughter came home from school with a message from her teacher. The only available time for a piano lesson at school would make her miss 20 minutes of math lessons. I said, "No, I don't want you to miss any class time." My child responded, "But I'm the best girl in the class for maths."
Best girl, I think. What does that mean? What does that get for us females in the working world, the real world? Granted, women have made huge inroads with high-profile leaders like Sheryl Sandberg and Marissa Mayer. However, women still have to be better than men in most cases. And sometimes, we still butt our heads against glass ceilings.
"I want you to be the best person in the class for maths," I tell her. "Who's the best person, then?"
"Tom, then Reubens, then me," she says.
"There is no reward for being the best girl," I respond. But then I stopped and thought to myself, Where does the British term 'head girl' come from? Does that signify 'best girl'? And does it mean anything in this day and age? Is that a traditional, old-fashioned concept from a day and age when best meant you were the best future bride for managing an aristocratic household?
My husband, a product of the British private school system himself, tells me that head girl didn't necessarily mean smartest girl or most dependable girl or most charismatic girl. It was a combination of admirable qualities.
I had first heard the term in classic British novels describing what I assumed was a bygone era. And then it popped up in J.K. Rowling's description of Hogwarts in Harry Potter books when she transported readers to a mystical ancient order of schools for witches and wizards.
And then came the realization that the idea of "head girl" and "head boy" exists very much in the mindset of British private schools. And this might be where, subconsciously, my daughter had picked up the idea that being the best girl is good enough for something. Unfortunately, it's not good enough for the modern, real world.
How did my 8-year-old daughter start thinking along gender lines? By girl and boy categories? That there's worth in being the best girl, even if you're not better than two boys? That it's OK to lower your expectations for being a girl? Might this accolade as being the "best girl" help her in the United States, where affirmative action is practiced? But there's a possibility -- and a trend -- pointing to the fact that affirmative action could be eliminated by the time my daughter applies to universities or jobs.
I wrote a note in my daughter's homework jotter, asking in a nicely backwards-and-forwards British way, "Is there a possibility that there might be another piano lesson time which won't interfere with any class time?" That was my second draft. My first intuitive response, in a very American and Asian fashion, was "There's no way she will be pulled out of classes for music lessons."
The teacher responded, in my daughter's notebook, "In my judgment, she will not suffer for missing 20 minutes of maths." When I read that note, I thought aloud, "No, but I'll suffer because I will have to go over a math concept in her homework that she might've missed in class."
I know I might sound harsh, like the tiger mom I'm proud to be, but I speak from experience.
I attended three different elementary schools before I reached the age of 9, always dropping in and out of schools right smack in the middle of the school year. As hard as I worked, I always felt like I had missed a lesson or two that would've helped fill me in on the gaps. That would've plugged a hole in the concepts I was struggling on my own to grasp. Missed answers on important tests and homework sets that took twice as long are not experiences I would wish upon my children.
So no, I want my daughter to have the best fighting chance in the world to do her best and be anything she wants to be. And I know that won't be achieved by being the best girl in the class.