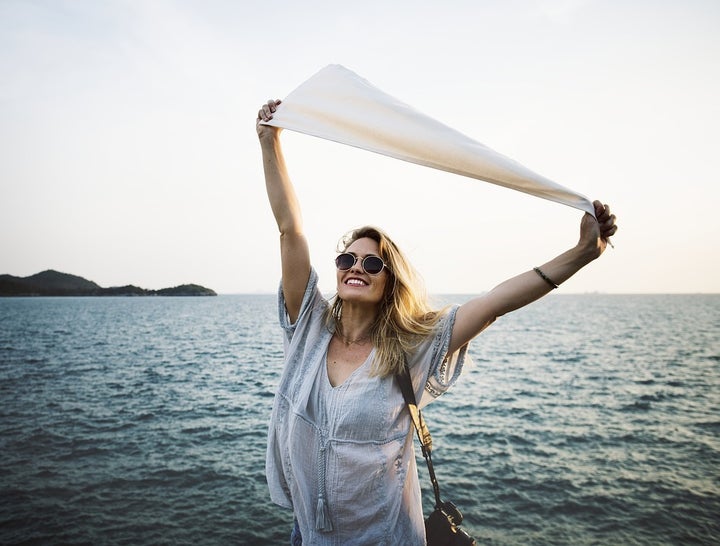 For mother's day this year, there will be some things I'm not getting. I probably won't be doing a day at the spa, getting a pedicure, or drinking a mimosa.
Those things are all great — please don't get me wrong.
But I've decided I'll be giving up some things for mother's day this year instead.
This mother's day I'm getting rid of things that clutter my mind and emotions. Those stress-causing elements of my life that need some prompt spring cleaning. Things I need to eradicate in order to be the best version of myself which, in turn, means being a more engaged mother (and stepmother).
I'm giving myself permission to let go of the toxic thoughts inside my own head. The thoughts that tell me, "I'm not good enough," or "I'm a bad mom." That ugly, self- defeating banter that plays out in my head when I'm feeling insecure or I feel I've screwed up in some way.
I'm giving up the never-ending battle of comparison with other moms. I'm embracing the concept of knowing that I'm doing the best I can for my family with the knowledge and experience that I have so far.
Thus, I'm letting go of those frustrating, uncontrollable parts of my life that I constantly stress out about. I'm curling my arms around the things that I can control and improve on.
For instance, I'm ending all guilt trips. There will be no more flights leaving for that destination. I'm letting go of needing permission from anyone as to how my family should function or how I should live my life. I'm not going to let the burden of other people's opinions throw me down a pit of guilt and shame.
If my husband and I want to make decisions about our children or ourselves that others don't approve of — so be it. I'm confident enough to make decisions by myself or with my partner and I'm capable of eating the failures that will inevitably come with some of those decisions.
The people-pleasing will be taking a backseat as well this year. As much as I strive to make everyone in my house and in my extended family happy — I've learned a great deal about my emotional limits recently and how I can no longer stretch myself as thin as I used to.
People-pleasing is a disease and I'm determined to stay healthy for myself and also for my family. If I'm saying no to something, it's because I know that I need to. Being a mother is not just about giving. It's about knowing how to create individual boundaries for myself and for others within the household.
I'm also ending my war with dinnertime. I don't like cooking dinner very much but I do it for my family so that they don't starve. But you know what?? I've discovered that my family actually doesn't think it's as big of a deal as I do. In fact, I'm now sure it's only me freaking out about what to make for dinner every night.
Besides that, I give my family much more than just food. I give them my love, my patience, and my dedication. The kids may not adore what I put on the table for dinner some nights but I'm confident that they love how I'm there for them every single day. I know they appreciate that I pick them up from school, that I listen to their problems, and that I talk to them about their day.
These are a few things I'm giving up and getting out of my life this mother's day.
It's great to get flowers or a meal out to be appreciated as a mom. But I think that giving up the unhealthy and toxic aspects of my life will do far more for me as a human being, woman, wife, mother and stepmother.
You know that saying, "If mama ain't happy, ain't nobody's happy."?