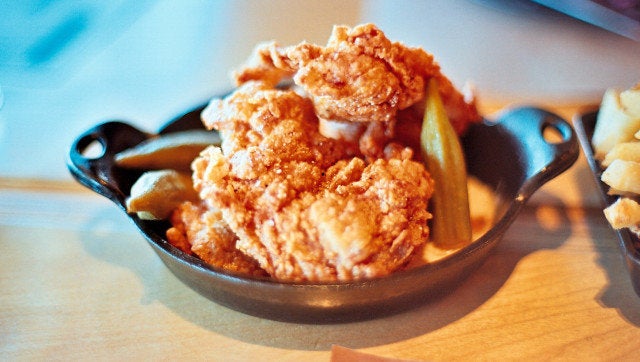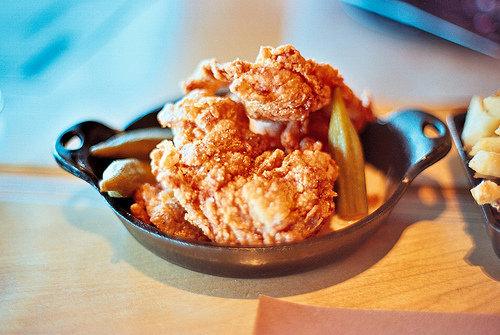 I first encountered Jidori chicken last year at the Skyline restaurant atop the Huntley Hotel in Los Angeles. Having never heard the term, I asked the hotel's events director seated at my table. "It's like Kobe beef," she explained, "but for chicken."
Unlike Kobe, however, Jidori does not correspond to a specific region of Japan. Instead, the term roughly translates to "from the ground." Jidori chicken refers to a type of mixed-breed domestic free-range chicken known for its robust flavor. The original Jidori chicken began when a precious pure breed of chicken called Hinaidori was crossed with the Rhode Island Red to create Akita Hinai-jidori, with Akita referring to the prefecture of Japan, and Hinai referring to the town. The chickens are fed an all-vegetarian diet, including clover, tomatoes, and apples. They are delivered the same day of slaughter, insuring freshness -- so much so that Hinai-jidori chickens are served sashimi-style. Yup, raw.
In the early 1990s, Dennis Mao, a Chinese-American whose family business was food distribution, believed there was an American market for Jidori-style, organic, free-range birds. He started Mao Foods to deliver a high-quality, cage-free bird without hormones, steroids, or meat byproducts within 24 hours of slaughter. Unlike Kobe, known for its marbled fat, freshness is the real difference between jidori-style and factory-raised chickens. Jidori chickens are never frozen, and retain less water than most chickens, resulting in a pinker breast, firmer texture, and fuller chicken flavor.
Wolfgang Puck was an early adopter of Mao's Jidori chickens, and they grew cachet on the L.A. restaurant scene. So much so that in 2010, Mao told the New York Times that some chefs who don't have his chickens claim it on the menu. He has since trademarked the term.
Mao admits that chickens raised sustainably by small organic farms and bought locally from the farmer will taste just as good as his own. But as Mao Foods overnights more chickens from Los Angeles to cities like Seattle and Chicago, expect to see Jidori chicken (and its imitators) on more menus nationwide.
Want to see what all the fuss is about? Try Jidori chicken at some of these restaurants:
Robata-Ya - Los Angeles, CA
This restaurant is owned by the Mao family, and alongside chicken skewers, Robata-Ya serves raw chicken-liver sashimi. "That is a hard-core Japanese dish that pretty much only Japanese customers will get," Mao said.
Tru - Chicago, IL
So earthy it's served on a log, Tru serves its chicken in a light rosemary demi-glaze with hon shimeji mushrooms.
Kimberly Kohatsu is the Managing Editor of the Menuism Dining Blog, the educational arm of Menuism.com, a popular website where a passionate community of foodies rate their favorite dishes and comment on restaurants they've visited. Kim is also a freelance writer and marketing consultant, whose recent dining adventures revolve around ramen, cheeseburgers, and fried chicken.
Related