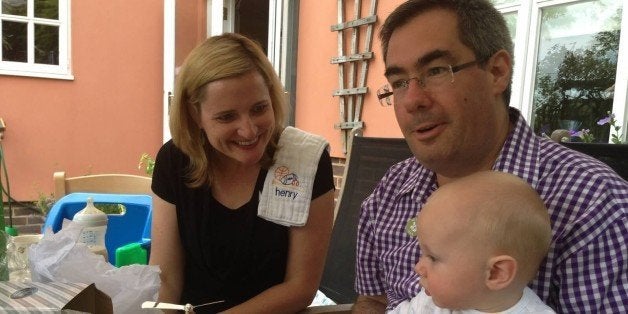 When does a family become a family? Does it start when a couple adopts its first dog? The day a child is born? The moment the wheels lift off the tarmac on the flight home with an adopted child?
My husband Thomas felt like family from our first date, because it was so easy to talk to him. But I thought I would mark the moment we officially became our own family when we visited my parents one long weekend to tell them I was pregnant with twins. I had played various scenarios in my head about how to deliver the news: I would put two buns in the oven and have my mother find them. No, I would tell them over dinner. Or I would burst out with the news as soon as we arrived.
But one morning, a couple of days before we planned to leave, I started to have a miscarriage while sitting at my desk at work. Within minutes, I had arrived at our fertility doctor's office, where Tom met me. After I was hastily placed on an examination table, our doctor showed us an image of our two embryos engaging in what looked like a very enthusiastic game of bumper cars. One embryo's blood coursed around the sibling. Depending on how the blood flowed from the dying twin, there was a real possibility that we could lose the healthier twin as well. Our doctor said there were no more medical interventions to try. Tom and I were given two plastic cups with yellow covers to collect what my doctor called "specimens" -- any tissue that came out over the long weekend. We were ordered to go home, wait and call the doctor to update him about what I lost.
With that bed rest order, I was also rapidly losing the family I had pictured. It was our last round of fertility treatments before we had to graduate to something far more invasive. It was our last weekend before we said we would start investigating adoption. It was a turning point; any next steps would quickly swallow up the savings account we were so scared to say was dedicated to a baby that we called it the "future dreams" account.
The first time I got pregnant, I joked that it happened so easily my husband Tom and I just had to look at each other. But weeks into our pregnancy -- on the night of our wedding anniversary -- we found ourselves in the emergency room, being consoled by a medical resident. "Yes," I was miscarrying. "Really, this happens to many women. Just try again." I listened to Tom's sobs bouncing off the hospital tiles when he heard the news. For the first time, I heard how much he wanted to have a family.
We soon embarked on what a source once called the "trying, trying, trying" stage of becoming a family. It started with the trips to pricey and unhelpful fertility doctors. I read stacks of books, swallowed unwieldy Chinese medicine vitamins, waited for hours to meet a top Chinese medicine expert and kept meticulous logs of my cycles. Tom and I crouched in the 8th-century cave of a French saint, praying for his good wishes. I threw coins in fountains, blew candles out on birthday cakes and consulted my horoscope -- all with the hope of pregnancy.
When we got no results, I turned to the source that had helped generations of my Irish ancestors create their own families: the Catholic Church. I met a local priest, who led me up the stairs to his office on a frigid February morning and welcomed me to sit down.
I debriefed him on my miscarriage, and described the various ways I'd tried to start a family. "I have just a few questions, Father," I said. Then I pulled out my reporter's notebook, each line of a page covered neatly with my handwriting. "Is the baby I miscarried OK? Why can't I get pregnant? Why is this happening?"
First, he tried to comfort me with the tale of his mother's miscarriage, and how it was the only time he saw his tireless mother rest. Then he grew stern.
"You can try these things. But the answer to getting pregnant lies in your marriage."
I put down my pen, sat back in my chair and tried to process what he'd said. I stumbled out of his rectory trying to figure out what was next.
Like many women, I then found myself going through the fertility clinic regime. My husband and I rose before dawn, handed over blood samples, appeared for implantations and endured the most painful part of awaiting results. At first, that didn't produce a family.
"How do you expect me to go back to my desk with this kind of news?" I said, my face erupting as I spit words into a phone with my fertility doctor on the other end. He advised me to think of the path to having a family like marriage. It's a journey of endurance.
On my third round of fertility treatments, I let our doctor's voicemails pile up unanswered, because I was too nervous to hear the news. He kept eagerly calling, saying that his staff fought over who would tell me I was pregnant. Then he had better news: we were having twins. Every morning, I woke before dawn feeling like a conga line coursed through me; in each sonogram Tom and I saw, two jiggling masses danced before us.
But it didn't take long for us to notice that one heart pounded smoothly and quickly while the other heartbeat faltered. One embryo grew quickly and steadily. The doctor started visits by saying, "I see two heartbeats." Then he would go through the complications that seemed to be before us. We had one healthy baby and a second baby likely to have heart trouble, disabilities... any and every problem imaginable, emerging before us from those grainy screens.
During that weekend we had planned to spend visiting my family and giving them our good news -- when our future as a family hung so perilously in the balance -- I also took the advice of the priest, and looked within our marriage. Tom and I told few people what was happening. We leaned on each other and treated that weekend as an audition for parenthood. We ate; we slept; we tried not to talk about what terrified us. We looked at our wedding photos, and talked about the best parts of our marriage: Trudging through vineyards outside of Bordeaux before dawn in January to persuade a priest to marry us. How the night sky of St. Remy humbled us when it was so clotted with stars. Maybe our efforts at becoming parents would once again fail. But we would do everything to try. I look back on that weekend and think of that as the weekend we became a family.
The following Tuesday, the doctor told us: "I see one heartbeat." That remaining heartbeat thumped feverishly. The strange thing about twin miscarriages is that doctors often don't operate to remove the dying twin, because it is too dangerous. For six weeks, I carried a live pregnancy and a dying pregnancy. Anyone who has experienced this knows that doctor's orders required me to focus on living. So Tom and I cautiously followed those orders. We went to a bar mitzvah. We had a barbecue with my parents. We took walks on the Boston waterfront. It's how I lived the rest of my pregnancy: waddling around with joy and trepidation.
When Henry was born, his twin's remains had been absorbed into our healthy pregnancy. Henry climbs and crawls with the unbridled energy he had in those early sonogram shots. He reaches for dangling plums hanging in his grandmother's garden, smiles at birds flitting above him in the park, sends mischievous sideways glances and releases bellyful baby chuckles. As I type, he climbs up my shin, babbles and digs his two new front bottom teeth into my knee.
Parenthood has presented us with so many late nights working as a family. It has cemented us in ways I could never have imagined. But looking back, I feel like we were a family long before I realized -- even before that weekend I can remember so vividly.
Our life as a family began the first time we ever expressed hope of becoming one.