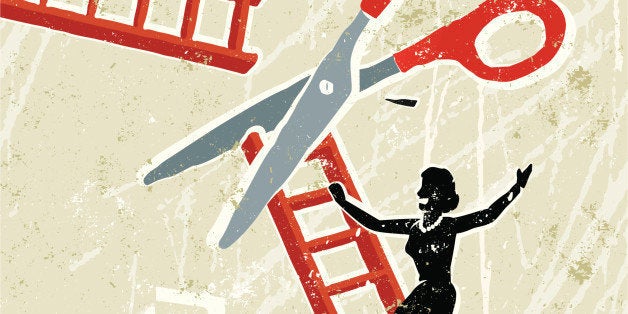 I'll never forget how I felt when I was overlooked for a promotion. It was near the beginning of my career in advertising. I took pride in my job and went in to work everyday with one goal in mind: get promoted so I can work my way up the corporate ladder.
One day our department was called in to the conference room with rumors of promotions swirling. Seven promotions were announced; not one of those were mine. In a matter of twenty minutes I went from being the company's cheerleader to feeling like a soon-to-be corporate dropout. My spirit tanked. I felt like the work I put in was insignificant and that management did not value my effort and enthusiasm.
Not soon after, I went to work at a competing ad agency in a sort-of 'DIY' promotion. I applied for the title and salary I anticipated at my old company, and got it at the new one. So that's one way of doing things! However, it's also a form of running away and that strategy is not always available. So when that won't work, here are a few other suggestions for what to do if you've been passed over for a promotion:
Manage your anger and disappointment. You will likely want to vent, cry or walk out immediately after finding out. Right then is a great time to step outside for some fresh air, take a coffee break, call a loved one, or find a quiet spot for deep breathing - basically, take a few minutes to comfort yourself. Get calm before expressing yourself.
Ask about it. Ask your supervisor for feedback on your job performance and what you can work on to improve your chances of getting promoted. This is also a great chance to indicate that you are interested in moving up. It's common to guess that a career path naturally proceeds steadily upward; however, advancement usually means more responsibilities and management may not always want to bestow that on someone unless an employee specifically expresses it.
Read the job boards. I always recommend this for my career coaching clients! Current job postings will indicate what's going on in your industry with required skills, estimating the amount of opportunities, as well as salary expectations. You can use this information to assess where you fit in to the marketplace and the possibility of negotiating a promotion or raise with your current employer despite being overlooked.
Brush up on skills. Take the initiative to learn new skills that can move you to the next level or give you the edge on your co-workers. Becoming more proficient in current skills will also make you stand out.
Re-evaluate your reasons for wanting a promotion. Disappointment can be an opportunity for self-reflection. Sometimes a promotion is desired simply because that's how the corporate ladder works, but take a moment to consider if that's truly what you want. As they say- when one door closes, another one opens. Allow your situation to motivate you to find the best door for you.
Calling all HuffPost superfans!
Sign up for membership to become a founding member and help shape HuffPost's next chapter