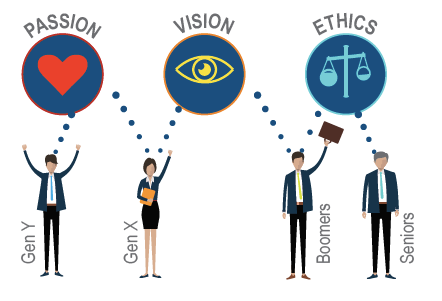 Leadership is undergoing a tremendous transformation and it's a very exciting transformation! Having been entrenched in the field of leadership development, witnessing and being part of this exciting transformation, my co-author, Adrian Ott, and I, decided to explore this topic further. We reached out to our communities and to professional panels in N. America and posed some vital questions related to leadership. The resulting leadership survey was met with enthusiasm. The workforce seems to be ready for changes in this field. The survey examined a broad range of topics related to leadership and workplace issues.
More than 800 North American business professionals participated in survey and qualitative research from January 12, 2013 to June 1, 2016. Six hundred eighty-seven (687) business professionals were culled and qualified from the survey responses and analyzed in the quantitative survey. The largest segment (61.7% of the respondents) is from organizations with 1000 or more employees, followed by respondents from organizations with less than 1000 employees (21% of the respondents), and then independent consultants and contractors (17.3% of the respondents). The respondents represented a broad range of industries. In terms of their functional areas within the organization, professional services, top management, and administrative were the largest segments, followed by product development, marketing, and sales. In terms of the generations, Gen X (those born between 1961 and 1980) and Baby Boomers (born between 1946 and 1960) were the largest segments.
Here are the key findings from the report:
Finding 1: Gen Y emphasizes Passion, Gen X emphasizes Vision, Baby Boomers emphasize Ethics. Different generations emphasize different aspects of leadership. Leaders need to be aware of generational differences to lead across generations. In addition, generational diversity in the workplace is essential to bring together Passion, Vision, and Ethics and therefore provide unprecedented leadership and engagement momentum.
Finding 2: Awareness of self and awareness of others are vital leadership skills in today's work environment. The workforce today views awareness of self and awareness of others as vital leadership skills. This shows a fundamental shift in how people perceive leadership. It is no longer sufficient to be visionary, focused on results, and portray confidence and charisma. It is more important to demonstrate increased awareness throughout to earn the "leadership" badge today.
Finding 3: Leadership is not a fixed trait; it can be developed. More people are realizing that leadership is not a fixed trait that you either have or you don't. Leadership can be learned. This attitude, however, varies by generation. The idea that you are born with leadership is greatest in young Gen Y and decreases in other generations.
Finding 4: Individuals are generally happy with work, but only 10% found their
"sweet spot." While it is important to have a happy workforce, it is also necessary to have passionate people whose strengths match the core strengths needed to bring about breakthrough accomplishments (hence, the "sweet spot"). Can more be done to have more people find their sweet spot at work? This result also varied by functional area. Product development people are the least satisfied at work.
Finding 5: The reach of leadership training and development needs to be broadened. More people are realizing that leadership training and development needs to be made accessible to more people within the organization. This is a key finding and a new development in leadership. About 63% of the survey respondents indicated that front line employees should receive leadership training, and 58% indicated that individual contributors should receive leadership training.
Related
Popular in the Community