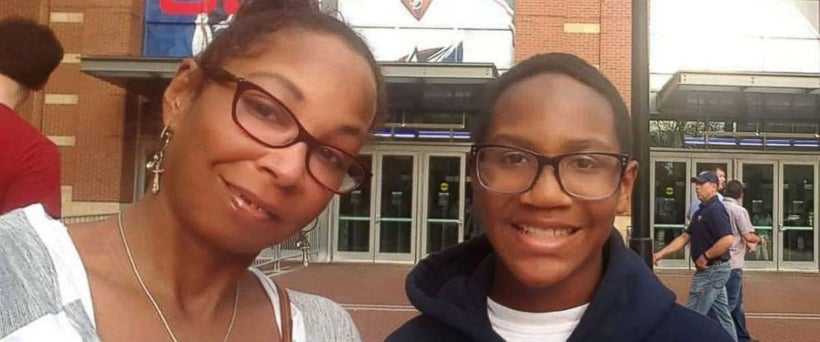 Tanisha Agee-Bell, an African American mother was heartbroken, when her middle schooler Nathan told her that his white social studies teacher, had recently told him that she that if he did not stop talking and did not do all his school work, his white classmates "would form a mob and lynch him."
A month later, Agee-Bell is still enraged that the teacher is not being removed from the classroom by school officials "until she has gets proper training." And a petition circulating on Change.org is demanding that the teacher be fired immediately.
Renee Thole, a teacher at he mostly white, affluent Mason Middle School, was reprimanded and was ordered to undergo "cultural sensitivity training."
The incident occurred on December 4 but it was a week later when Nathan, 13, told Agee-Bell, a former engineer and now a stay at home mother due to her chronic illnesses, which include Lupus, about the confrontation.
"It's a tradition of the Bell family that we discuss social issues at the dinner table and we emphasize strongly on standing up for justice and that's when my son told me that his teacher is a racist," said Agee-Bell to this Huffington Post blogger.
"He said he was in class and the teacher told him if he didn't get on his task his friends are going to form an angry mob and lynch him," said Agee-Bell, explaining that her son is the only African American student in the classroom. The class is predominantly white with one Latino and some Oriental and Indian students.
Agee-Bell said that Nathan did tell his teacher that her comment was racist and she denied that it was. Later, in a conversation with Agee-Bell, Thole admitted that she said the wrong thing.
"The wrong thing?" Agee-Bell asked the teacher incredulously. "It's worse than wrong. You thought it was okay to say to my black child in all white class that a mob would attack him. That is reminiscent of the sickening moments of history when an angry white mob would drag a black man out of his home, his job and his car into the street and hang him, sometimes just for looking at a white woman."
Under the circumstances, Agee-Bell does not think it is appropriate for Thole to teach history. She added that Thole, who is in her 30's does not fully comprehend the ramifications of her actions.
"She tried to tell me that she got frustrated with Nathan, he wasn't doing his homework, he was talking. So, I told her, 'Next time you're frustrated are you going to call him a n-----?'" Agee-Bell said.
And Agee-Bell wants to know what the "cultural training" is even all about and whether it even adequately addresses the racism that is rampant in the affluent, mostly white Mason school district, situated in a suburb, which is 40 miles away from Cincinnati.
"I want her removed from the classroom until she can get the proper training," said Agee-Bell, who is a member of the school diversity committee.
"She should not be teaching history, she does not understand it."
Between 1882 and until the apex of the civil rights movement nearly a century later, more than 3,440 African-Americans were lynched in the U.S., according to the NAACP's website.
Agee-Bell reached out to the school officials immediately. In an email, they acknowledged that Thole had made the racially insensitive remarks to Nathan but that she had been employed since 2004 and her personnel file was filled with positive reviews.
Agee-Bell, in spite of her illnesses has been "an active, engaged mother" who is well known at the school. She said she "deserved more than an email, at the very least, a phone call."
She has had her son transferred to another history class and she has spoken out against the issue at the school district level and at the school board meeting.
Thole would not return repeated calls for comment.
Tracey Carson, a spokeswoman for the Mason School District, said there are no plans to remove Thole from the classroom, but a letter of reprimand has been placed in her personnel file.
"You shared that you realized that you cannot take that moment back but can only strive to make it a teachable moment for you and the students with your actions," the letter read.
"Be advised that future instances of problems in the areas we have discussed may warrant further disciplinary action to be taken against you that may lead to termination of your employment."
And Agee-Bell said she won't let the issue rest until the school district does more to discipline Thole other than giving her a letter of reprimand.
She wants three-point plan of action from the school district. She wants Thole to apologize to her son, in front of the classroom because "for one week, Nathan thought he had done something wrong and he needed to know that he was not wrong and that he was valued."
Nathan told his mother that Thole did apologize to him in front of his classmates, saying, she was "sorry you were offended by what I said."
Agee-Bell asked the school to "honor our shared values of diversity" and that this incident should be used as a teaching tool to help and understand students with the "burden of the history they carry."
Lastly, she said since the teachers work for the taxpayers, the parents have a right to see the "code of conduct" that the teachers receive so that they can clearly see how wrong her behavior is.
Those who teaches social studies makes $79,383 annually wrote an incident summary on the incident.
"I made a public comment, so I would like to make a public apology. Today is a day where we can learn the importance of thinking before you speak. I made a comment the other day where I didn't stop and think before I spoke. As a result of that I deeply hurt a student and I regret that. Just because I never meant to hurt anyone, doesn't mean that didn't happen, so (redacted), I'm sorry. If I had just taken two seconds to think before used the world lynch, I would have not hurt a student. I didn't think about all of the ugliness and horrible history surrounding that word before I used it. (redacted) I am deeply sorry and I hope that you can forgive me," Thole wrote.
The school is not denying that a horrible mistake was made.
"This is a serious miss on her part," said district spokeswoman Tracey Carson, adding that Thole's comment is especially disturbing given the horrific national context of slavery, segregation and lynching.
Gail Kist-Kline, superintendent of Mason City Schools, issued a letter to parents on Thursday addressing the issue.
"We have seen an uptick in the number of racially and culturally insensitive comments in our schools and community. Sometimes these are said out of genuine ignorance," Kist-Kline wrote.
"As a district, we want to be very clear, racial slurs or any behavior that discriminates against others are NOT acceptable. When adults act in a way that is not in line with our values, we lose trust. In our district, we take corrective action to address these situations, but we need to do more."
But Agee-Bell is not satisfied at all. When the school officials did not respond, she reached out to the media and by Friday, the story had gone viral on social media and picked up by many major outlets.
None of her demands have been met.
But Agee-Bell says not everyone is a fan of her actions.
I have had many people tell me, "'Why are you making such a big deal of this?'"
"I don't agree. If the teacher had physically assaulted a kid, she would be fired immediately but just because she verbally assaulted my son, nobody cares."
"Words can hurt. They can damage. We have to understand that when we break children, we break school districts and communities too."
Calling all HuffPost superfans!
Sign up for membership to become a founding member and help shape HuffPost's next chapter
This post was published on the now-closed HuffPost Contributor platform. Contributors control their own work and posted freely to our site. If you need to flag this entry as abusive,
send us an email
.