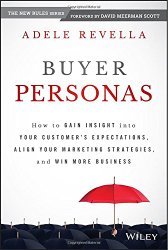 If your business card has the words "Sales" or "Marketing" anywhere in the title, you need to get this book. It will teach you how to stop wasting your time chasing people who will never ever be your customers.

Yes, the title is "Buyer Personas", but it's unlike any marketing (or sales) book you've ever read, so don't pass up the opportunity just because you believe you've read about Personas, already use Personas in your company and have already checked the box on having profiled your ideal customer. While you may have done this, I'm betting that the effort was more or less a waste of time.
As sales and marketing people, we devote precious resources and time toward filling the top of the funnel. But how often does this effort reward us with profitable customers at the bottom of the funnel? Yes, we may have more customers, but many are not a good fit for us. How many of those customers even pay for themselves?
Released today (March 9, 2015), this new book from Adele Revella shows you how to target the right customers with a message that resonates with them. Novel idea? Hardly. But this is the first book that tells you how to actually do it with without the usual arm-waving and exercises that are "left for the student to solve."

Persona Marketing Gone Wrong
If you've created an ideal customer profile, your process may have looked like this:
Someone tells you that you've got to do persona marketing...it's the latest way to "understand your prospective customer."
You hold a brainstorming whiteboard session with the sales team.
Your marketing team reviews the LinkedIn profiles of your "best" customers, looking for patterns (titles, group memberships, responsibilities, goals, education, gender, employers, company size, favorite blogs and publications, and if this mythical person prefers to be contacted via email, phone, or snail mail).
The sales team gives you their best guess at the prospect's budget authority.
You vote on a name for your persona. Names like Peter and Deborah are popular. You add a photo of your Peter or Deborah from iStock.
You put all of this information into a nicely-styled, PowerPoint slide and share it widely throughout your company. You may even print banners and place them throughout your marketing department.
You try to create marketing and sales campaigns using this Persona, but fail to move the needle.
You put your Persona in the drawer.
Buyer Personas Are Not Customer Profiles
According to Adele, the reason why profile-based personas fail is that despite your best effort, "you realize you still know nothing about how buyers--who have previously weighed their options--considered or rejected solutions, and made a decision similar to the one you want to influence."
"What does this tell us about how [the buyer] makes a decision? We see he/she reads industry publications, belongs to industry trade groups, and uses the Internet when searching for solutions. Alas, the same could be said for about 99% of other business professionals working at a comparable managerial level."
Adele's process, which is covered in great detail within her book, is as simple as it is profound. It's based around interviewing buyers who have recently made purchase decisions using her trademark 5 Rings of Buying Insight. Based on a series of 30-minute, unscripted conversations with buyers, you're able to glean:
Which buyers are receptive, and which will ignore you no matter what you say
Which aspects of your solution are relevant to them, and which are irrelevant
What attitudes prevent your buyers from considering your solutions
What resources your buyers trust as they evaluate their options
Which buyers are involved in the decision and how much influence they wield
Armed with this level of deep customer insight, it's easy to see how much more effective your marketing and selling efforts can be. Just understanding the things that trigger a decision to start looking for a solution like yours could be a marketing campaign on its own.
Why Buyer Personas Matter
As a decision-support tool, buyer personas lead to faster, better decisions. Speaking for myself and some of my clients, I'm in favor of anything that gives me more time in my day and leads to better results. Being able to identify and eliminate the messages and activities that aren't working can save money as well.
More importantly, buyer personas help marketers break through the volume and clutter of content and messages. Because people are inundated with ads and messages, their BS detectors have become quite sophisticated. It's easy for buyers to cut through the marketing fluff, ignore it, or more likely, simply move on to their next option. Creating messages based on a clear buyer persona will help grab and keep that person's attention long enough to make an impact and start the consideration process.
If you're looking for the real deal on buyer personas, consider adding Adele Revella's new book, "Buyer Personas: How to Gain Insight Into Your Customer's Expectations, Align Your Marketing Strategies, and Win More Business" to your sales and marketing toolkit.
Whether you're a marketer or sales person, Buyer Personas will help you understand how you can be more useful and relevant to your buyers and stop wasting time chasing down the wrong rabbit holes.
Note: Just before the release of Adele's book, I had the opportunity to speak with her about her Buyer Persona methodology. You may read and download the complete transcript here and listen to the 23-minute (mp3) interview here.
John Fox is the Founder and President of Venture Marketing. He writes about issues especially important to B2B businesses leaders.
© 2015 John Fox. All Rights Reserved.
Support HuffPost
The Stakes Have Never Been Higher
Related
Popular in the Community