Clocking in at a tick under 22 minutes, the humorously offbeat That's Opportunity Knocking, written and directed by Charles Pelletier, asks, What could go wrong in a simple home robbery? The answer is, tons. Acknowledging that everyone, robbers, robbees, an otherwise innocent - and heavily sedated roommate - have various motivations and desires, not to mention personality quirks, the film is more an analysis of the context of a robbery and less of the particulars of the robbery itself.
Seeing them on the street, you wouldn't associate Merit (Moronai Kanekoa) and Rob (Satchel Andre) with your average crooks. Merit went to Stanford, studied political philosophy, and got booted out of ROTC for being part of Occupy Wall Street. Explaining the rationale of the upcoming robbery to Rob - 1% of the population controls 50% of the wealth - he seems to be the brains of the operation. Rob carries a red purse. In the first few moments, as they walk down a quiet residential street, Rob says he's never done this before. You wonder, hmmm, him, the purse, another dude; but, no - it's not about sexual awakening, it's about, well, it's about an opportunity that's a-knocking.
The story's comic premise is based on obstacles that become these opportunities. Obstacle one. Merit and Rob stole the purse from Chelsea (Charlotte Gulezian), an artist and poet, who was listening to her roommate Tim (Thomas Anawalt) perform at a club. When they come home early - robbery interruptus - Merit and Rob hide in the bathroom. There they remain until Chelsea and Tim, who has a day job in a hardware store called The Happy Hammer, which is what he'd love to do to Chelsea, viz, nail her, head to the sack.
Obstacle two. As they recommence their ransacking, Merit with his deluxe suitcase, Rob with his more appropriate sack, Wally (C. Stephen Foster) comes out of his bedroom. Wally's just returned from a sojourn in a mental hospital. After four unsuccessful suicide attempts and after asking Chelsea to marry him after she slept with him as well, he doesn't mind if they kill him. After Merit and Rob debate Rob's street cred (No one fears you, dude, even with your gun), the suddenly resourceful Wally offers to join the gang. He even directs them to the Ming vases, the vintage Stratocaster guitar, and some cash. In other words, everyone scores, even Tim.
The keen ensemble performances make this funny production hilarious. Kane and Kanekoa are perfect as the disenfranchised Everymen who resort to crime. Kane, nervous at the beginning, becomes, or could have become a ruthless killer at the end. Kanekoa goes the other direction: motivated by a righteous Robin Hood political philosophy, he quickly realizes he's not cut out for this line of work. Anawalt and Gulezian are very well cast as otherwise flirty roommates that, with a beer or two under their belts, decide to go for it. Anawalt's say-anything-to-get-laid pleas are especially spot on. And Foster's Wally fantastically goes from pitifully doped up prospectless moper to incandescent born-again Edward G. Robinson as he seizes on his dream to be a movie gangster.
The script and performances are very good, but the best thing about this short film is the realization of how normal each character seems. We all know people like this. Whereas before the economic, political, and social situation went and has remained sideways, the behavior of Merit and Rob would have seemed unlikely, if not inconceivable. Now, though, in a different world, it's anything goes. In other words, when opportunity knocks, you damn well better answer the door.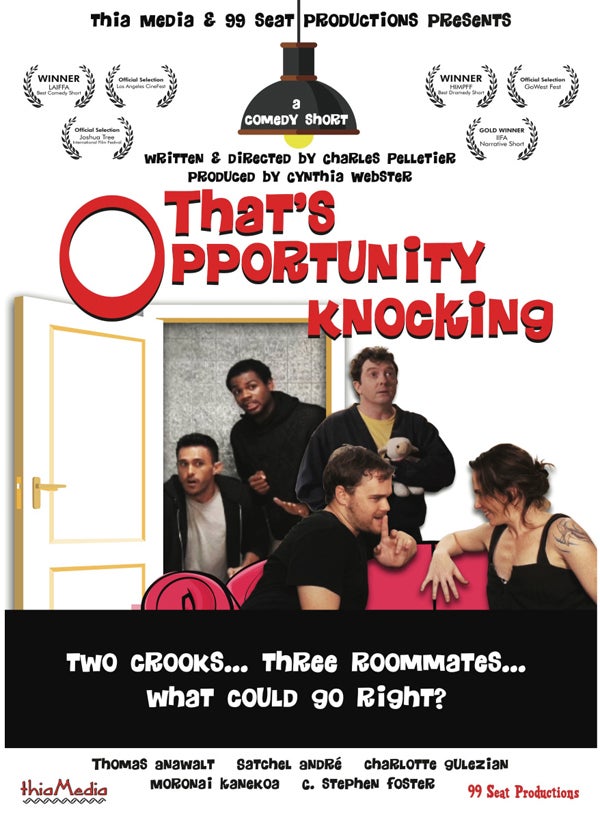 Popular in the Community