Wednesday Goldman Sachs & Co. announced their new class of Partners and yesterday they announced their new Managing Directors. Twelve years ago I was one of those fortunate people who got the call inviting me into the partnership of the firm. The year I made it, I was one of two women out of a total of thirty-eight bringing the grand total at that point in time up to twelve. I was the youngest woman and only female trader to be made a partner. I thought I was now part of the club.
It turned out not to be the partners of Goldman Sachs Club, but rather the women partners of Goldman Sachs. It was a very special one, and I hope it is as special of one today. Seven new women were invited in Wednesday and I wish them all the best. Arguably is it not the 'made for life' milestone that it once was, but for banking, it is as good as it gets. I could not find on their web-site how many women now hold that title, but I am sure it is an incredible group.
The existing women partners would hold a breakfast to welcome the newbies in to the group. I remember mine well. I was greeted at the door with "we are going to tell you everything you need to know." Those women were not going to let me fail. We helped each other, we supported each other and together we tried to create critical mass. We mentored, we recruited and collectively we knew that the more women at the top the better. That initial, intimate breakfast, meant to signal we were a team. Then one by one we left. Of the fourteen pre-IPO women partners of the firm only three remain. Eleven of these women, including me, are now Goldman Sachs alumni and we are proud of it. The question is, is Goldman Sachs proud of us?
This week I picked up the December issue of Bloomberg Markets magazine, with Goldman Sachs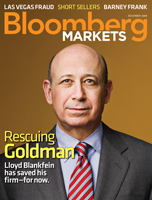 CEO Lloyd Blankfein on the cover. The article outlined the course of events that led to Goldman's transition to a bank holding company and the role their alumni had had played. As an illustration of their power and reach a fold out page connected 42 ex-partners back to the king in the middle. Forty one of the photos were white men, as well as the eight honorable mentions. Knowing that reporters generally call the subject firm for information or comment, someone at Goldman must have known that such a piece was coming. Though Goldman is notoriously tough to get information from, you would think this would be something there would care enough about to comment on. Thanks to the Bloomberg Markets piece these are the Goldman people outside the firm that are thought to matter the most. The categories were Central Bankers, Politicians, Corporate Chiefs, Moneymen, Insurers, Bankers, Academics, Non-Profits and my favorite, Sportsmen.
This is an impressive group indeed. All very powerful and influential men and some of them I know well. The biggest category was Moneymen. Goldman has turned out their share of hedge fund managers, and most of them very successful ones. The photo did miss a few, choosing to list people whose hedge funds are either closed or closing, instead of a couple others that are still doing fine. I guess they thought "well, they still made lots of money even though their investors might not have made out so well..... Let's leave them in."
Since there was no category called women, I had to dig around and I did find one woman deep on the right side in the insurance group, Suzanne Nora Johnson, who serves on the board of American International Group (AIG). Suzanne is an amazing woman and she is most certainly in the powerful alumni category. But what about all the other incredible women alumni at Goldman Sachs? Where on the Bloomberg list is Ann Kaplan? Ann left in 2002 and created Circle Financial Group, an innovative, peer-to-peer wealth management group that umbrellas more assets than some of the hedge funds listed. She also created the Financial Education Program at Smith College, teaches wealth management at Columbia Business School (for no charge), serves on two corporate boards and multiple non-profit boards including Columbia, Smith College, the American Red Cross and the Museum of Arts and Design. She would have reflected at least four of those categories - Fundraisers, Nonprofits, Bankers, Insurers. She even deserves her own category - has the most powerful network of women on the planet. Shouldn't Lloyd be interested in staying connected with her?
And how about Connie Duckworth? Duckworth is now President and Chairman of Arzu Inc., a non-profit she founded after being called to Afghanistan to try to help women out of poverty. What she is doing is so incredible that the Skoll Foundation honored Arzu with the prestigious 2008 Skoll Foundation Award for Social Entrepreneurship. She is also a director of Northwestern Mutual Life Insurance Company, DNP Select Fund, and Russell Investment Group. She would also reflect multiple categories and she too could even add a new one - Social Entrepreneurs. Shouldn't Lloyd want to have regular dialogue with a woman who is part of the solution for peace in Afghanistan? The category of Sportsmen exists, but not Social Entrepreneurs.
Please, before you even consider getting your fingers all warmed up and to send a response saying, "Who the heck cares about anyone at Goldman Sachs at the moment? I lost half the value of my retirement fund and they are all the cause of it," hear TWO points.
First, the point of this piece is NOT to seek acknowledgment for these women, but for women in general. Bloomberg Markets took the time to write a COVER article on Goldman Alumni and did not do their homework. The media in general, and this article in particular, had the opportunity to make women leaders VISIBLE and they chose not to. Worse yet it was written by two women who one might think would be sensitive to the lack of women's faces in articles such as these. I am taking the time by writing this to hold them accountable and to tell them they let us down.
And what an opportunity missed for Goldman? Did someone call them and say "tell us about all your incredible alumni" and they said either here they are, fifty men, or sorry we do not comment on our people? Goldman, maybe it is time to comment. They missed the opportunity to tell the world about Ann, Connie, Mary Ann, Nomi, Lawton, Mary, Leslie, Amy... and well, me. There are so many great women in the world and over and over again we have opportunities to make them visible, and we do not.
The lesson here? Our society does not merely fail to develop, reward, retain, and lift up women leaders, we have done the opposite. We perpetuate their invisibility. As Marie Wilson has said over and over again, "You cannot be what you cannot see" and we do not see women leaders, especially on Wall Street.
Might this be one of many factors contributing to what is wrong with Wall Street leadership today? Arguably at this moment of financial and economic crisis, after approximately $10 trillion dollars of global wealth has vanished, women remain virtually absent at the decision-making tables that count. For all those men who sat around thinking they were the smartest guys in the room, is it not time to ask "what could we have done differently?" Could the difference possibly have been a critical mass of women? We will never know. Sure you can name a couple of women, but that is just it, a couple? It takes critical mass to know what women's presence and leadership looks and feels like, and we could sure use that data right about now. Don't call Goldman looking for that information though as they do not have it.
In my 20 years of professional life I have seen very little to no progress for women in the financial services industry or in corporate America as a whole. Of the 94 new partners announced, seven of them were women. I thought that by 2008 things would be different. When I started in 1988 there were no women running Global Banks and today there are still none. None then, none now. Go down to the second in command, the third, the fourth, the fifth. Heck, go all the way down to the 10th. I worked on those succession plans and know the women at other firms that have done the same. You care barely find a woman, let alone many. Women are not just invisible, they are not even there.
My second point is to ask you to acknowledge that good things do come out of Wall Street, namely a lot of great women (and yes some good men too). With the incredible training that a firm like Goldman provides, and now the resources to not have to work for money, many of us go out and serve. Go back and read the resume of Ann Kaplan. She could spend her day shopping and getting spa treatments but she does the opposite, she works as hard as ever. She is deeply passionate about financial literacy, in part because while at Goldman she learned that women do not take charge of their financial lives. Right this second I know she is thinking about how we can take all we have learned at Circle Financial Group and share it more fully with the women of the world. Next week she is taking the time to come to my house to host a discussion for a large group of women around this economic crisis, how to do financial preparedness for your family and how to have the courage to give more when you are have less to give. She jumps from one board meeting to the next and gets on airplanes to visit the people who are benefiting from the programs she has funded in Vietnam and Africa through her private foundation. She is not the only one that gives selflessly of her time, but she is a great example of one. I acknowledge that Wall Street can be blamed for a lot, but good people do come from there and they use their talents to serve the greater good. That should have been the story that Bloomberg Markets took time to write.
Though we seem to be at a moment in history when women's political leadership is more accepted (if not ultimately attained), we are still so far from knowing what women's leadership across all sectors really looks like. We must all look for GREAT women leaders, lift them up and encourage them to build critical mass. We must hold the media accountable to write inclusive stories and hold corporations accountable for helping them. We must continue to invest in younger women despite tough budgets and not let diversity program get thrown out the window. We must inspire them because they are the future. They offer hope of creating a critical mass that will change the face of leadership in this country and beyond. As a former Goldman women partner I welcome the seven new members to the club and ask them all to help make this happen. And by the way, if you want me to help you figure out how, invite me to your breakfast!
Jacki Zehner is a frequent media commentator on women's success in the workplace, women and wealth, investing, and philanthropy. She was the youngest woman, and first female trader, to be invited into the partnership of Goldman Sachs. After leaving the firm in 2002, she became a Founding Partner of Circle Financial Group, a private wealth management operation. She blogs at www.pursepundit.blogspot.com.
Calling all HuffPost superfans!
Sign up for membership to become a founding member and help shape HuffPost's next chapter