In case you didn't notice, the music didn't really die on Feb. 3, 1959. But Buddy Holly did, and so did Ritchie Valens and The Big Bopper, and that's more than enough to make the day worth remembering.

So let's do it anyway, 57 years later, because we don't remember this kind of thing enough.

I don't think it's personal. Popular music, like most of popular culture, just moves on.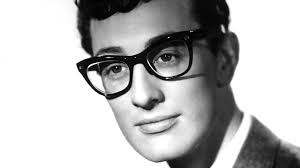 People who remember seeing or hearing Buddy Holly while he was alive are all on Medicare now. Younger folks, like most younger folks, tend to be interested in their own music memories.
That's sad not because their own music is bad, but because they deny themselves so much music that's good - the same way the first generation of young rock 'n' roll fans shortchanged themselves when they wrote off everything before Elvis as suitable only for their parents.
Buddy Holly was 22 when he died, which is startling when you think how much music he made and how he was already moving into a second musical phase.
"True Love Ways" and "Raining In My Heart" were sweetened with strings that were nowhere to be heard on his masterful rockabilly tunes like
"Rave On," or his signature hits "Peggy Sue" and "That'll Be the Day."
"It Doesn't Matter Any More" was sweet, too, or really more like ironically bittersweet, since it became a hit in the weeks after his death.
Now it's true that anyone who has ever listened to what used to be called oldies radio may have heard "Peggy Sue" or "That'll Be the Day" enough for one lifetime.

But they were just the tip of a catalog that still sounds both fresh and remarkable today. If rock 'n' roll was a three-minute medium, Holly did it in closer to two. Get in, tell a story, play, get out.

He also had a great sense of melody and hooks. Listen to "Oh Boy" and "Rave On" - or
"Peggy Sue Got Married," which could have been a throwaway attempt to cash in on "Peggy Sue," but has a sound all its own.
"I'm Gonna Love You Too." Lean, spare, crisp. They came on the car radio, up went the volume.

Where Buddy Holly would have gone with his music had he lived has been a matter of speculation for decades.

There were indications he wanted to work with other artists, particularly black artists. That would have fit perfectly with what rock 'n' roll has always done anyhow, and it would have been intriguing to see where someone with Holly's skill would have taken it.

The speculation alone was intriguing enough to show up in the book/movie Eddie and the Cruisers, where the charismatic and mysterious lead singer was said to be pursuing a similar path.

Holly's legacy became a 1978 hit movie, The Buddy Holly Story, starring Gary Busey before he was nuts.
Musically, Holly was most famously remembered in Don McLean's 1971 megahit "American Pie," which declared Feb. 3, 1959 to be "the day the music died."

That also fed one of the most wrongheaded myths about early rock 'n' roll, that it disappeared until the Beatles revived it in 1964. John Lennon encouraged that notion himself, suggesting rock 'n' roll died when Elvis was inducted into the Army.

In fact, rock 'n' roll thrived from 1959 to 1964. From the Beach Boys to Phil Spector's artists to seminal Motown to the Four Seasons to Del Shannon and Gene Pitney, never mind one-shot classics like the Showmen's "It Will Stand," that's where all the groundwork was laid for the commercial explosion of the mid-1960s.

Still, that doesn't mean the Iowa plane crash that killed Holly, Valens and the Big Bopper, as well as pilot Roger Peterson, wasn't debilitating.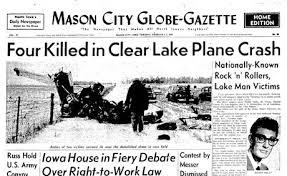 It was, and even the reason they died was tragic. Like thousands of musicians before and after them, they were on the road, just finding a way to get their music out there.
In this case, it was the Winter Dance Party, a low-budget tour of small-town one-night stands in the Midwest. They chartered al plane because the heat had broken on the cheap tour bus, and they saw a chance to fly ahead and get a one-night respite from shivering on the bus in unwashed clothes.

Then as now, glamour and luxury are the exception.

Holly, in particular, left a powerful legacy behind. The Rolling Stones and the Beatles, among many others, recorded his songs. There are books about him and his music is still out there despite the fact very few radio formats have a place for music from Grandpa's day.

Scott Shannon of New York's WCBS-FM always pays proper respect, and Don Imus has been faithful in remembering. Sirius XM's "50s on 5" channel will doubtless drop him in at some point, and he can be heard on Internet radio.

In a perfect world, his best songs would be played as rock 'n' roll-era standards.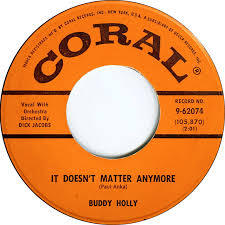 In the world we have, where we so often rob ourselves by ignoring anything deemed "old," let's hope there won't be a point where Buddy Holly doesn't matter any more.
Calling all HuffPost superfans!
Sign up for membership to become a founding member and help shape HuffPost's next chapter