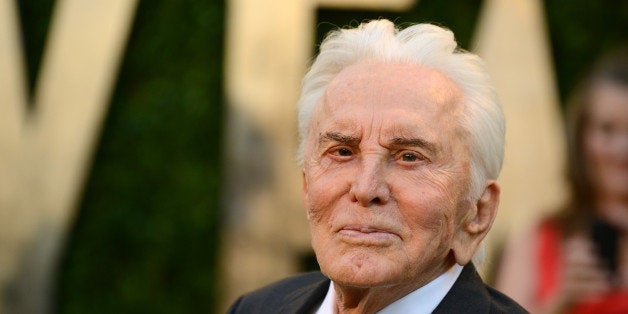 In 1963, I made my last stab at being a hit on Broadway. I bought the rights to Ken Kesey's book, One Flew Over the Cuckoo's Nest. It was a first novel, not yet the bestseller it would eventually become. I was crazy about the book -- maybe not the best phrase to use given the subject matter.
I hired Dale Wasserman to write the play. Dale wrote the first draft of my film,The Vikings; but, like me, his first love was theatre. Later, he wrote Man of La Mancha. That was a huge hit, much more successful than the movie. Cuckoo's Nest on Broadway was not the smash I anticipated after receiving rave reviews in New Haven. I did, however, keep it running for six months. On the other hand, the film version won a number of Oscars -- for Jack Nicholson, for Louise Fletcher, and for a young producer named Michael Douglas.
I wanted to be an actor since I stepped in front of an audience to recite The Red Robin of Spring when I was in kindergarten. Something happened when I heard applause. I loved it. I still do.
In high school and St. Lawrence University, I won drama awards which further fueled my theatrical ambitions. Getting a scholarship to the American Academy of Dramatic Arts in Manhattan was a dream come true.
I had talent, my teachers said, but -- more important -- I had chutzpah. That quality alone got me admitted to St. Lawrence, after talking my way into the Dean's office, showing him my dossier of high school honors, and announcing I had $164 I could put toward tuition. It got me into my first play, Spring Again, singing a telegram to the tune of Yankee Doodle Dandy. It was produced by Katherine Cornell and her husband Guthrie McClintock, the first couple of Broadway. That Thanksgiving I was invited to their house and drank champagne and ate caviar. The Thanksgiving before, I was in line at the Salvation Army for my free turkey meal.
I wish I could say that was the beginning of an auspicious theatrical career, with my name ablaze on a prestigious marquee, but it wasn't. After I was honorably discharged from the Navy, it was back to small parts in plays that flopped. Then I got a big break! George Abbott invited me to audition before Leonard Bernstein, Betty Comden and Adolph Green for On the Town. I sang a corny old music hall song, I'm "Red Hot Henry Brown (the hottest man in town)", and got the part, later played by Gene Kelly in the movie. I was petrified and came down with a psychosomatic illness -- my voice got smaller and smaller as I rehearsed the songs, until it totally disappeared. And so did my big opportunity. John Battles replaced me, and my voice came back.
Finally, in June 1945, I played The Unknown Soldier of World War I in The Wind Is Ninety and got my first good reviews. The Hollywood producer Hal Wallis came to see it, urged by my friend Betty Bacall, who made such a sensation as Lauren Bacall in her 1944 screen debut, To Have and Have Not. And that's how I found myself on a train headed to Hollywood to play Barbara Stanwyck's weak drunkard husband in The Strange Love of Martha Ivers. I was on my way to becoming a movie star -- only because I hadn't become a star on the Great White Way.
Here's why I felt like a failure: On the stage, I am flesh and blood, not a shadow on the screen. The eye of the movie camera is an evil eye. When you act in front of it, that cyclops keeps taking from you until you feel empty. On the stage, you give something to the audience, more comes back. When the curtain comes down in a theatre, you have a feeling of exhilaration -- something's been completed, fulfilled. It's so different from an exhausting day of shooting at the studio. You come home tired, drained. Making a movie is like making a mosaic -- laboriously putting little pieces together, jumping from one part of the picture to another, never seeing the whole, whereas in a play, the momentum of the continuity works with you, takes you along. Doing a play is like dancing to music. Making a movie is like dancing in wet cement.
I finally found out how to get my my name in lights -- permanently. Buy the theatre! Eleven years ago, the Kirk Douglas Theatre in Culver City opened in a remodelled Art Deco movie house that had played my first films. It is part of the award-winning Center Theatre Group (CTG) which includes the Mark Taper Forum and the Dorothy Chandler Pavilion at the downtown Music Center. A few productions that originated in "my theatre" have gone on from there to Broadway stardom.
I even got to star on its stage at the age of 92 in my autobiographical one-man show, Before I Forget. I loved doing it. For a second I flirted with bringing it to Broadway, but nonagenarian solo acts don't inspire long-range ticket sales.
But at least I went out a hit!
Popular in the Community