Montana-bred bluegrass outfit The Kitchen Dwellers are captivating fans across the country with their high-energy live performances and unique approach to traditional music that fans have dubbed "Galaxy Grass." Formed in 2010 while attending college at Montana State, the group has burst onto the bluegrass scene sharing the stage with acts such as Railroad Earth, Greensky Bluegrass, The Infamous Stringdusters and Twiddle. In recent years the band has began to tour nationally hitting notable venues and festivals around the country including The Brooklyn Bowl, The Fox Theatre, Delfest, Telluride Bluegrass Festival, Northwest String Summit, and The Frendly Gathering. Kitchen Dwellers will be hitting the road hard this year. Somehow they found some down time and took a moment to chat with me about why they are so awesome.
Taraleigh: Your band is described as a four piece, high energy psychedelic bluegrass band from Bozeman, Montana which makes me automatically like it. How would your oldest family member describe your band?
For starters, Max's grandmother would describe the band as the group with the cutest bass player. Shawn's grandfather may describe the band as an interesting, yet promising career endeavor.
Taraleigh: You're all the cutest and I could totally see how a grandfather would think that making the galaxy grass music would be an interesting career choice. How would the youngest members of your family describe what you're up to?
Our younger siblings would probably describe it as simply a group of friends who drive around in one seriously stinky van filled with a treasure trove of curiosities.
Taraleigh: Haha! Your newest studio album Ghost in The Bottle is about to be released to the world. What are you most excited to tell people about it?
We are extremely excited about how this album portrays the energy and feeling of one of our live performances. The band has been working diligently on the road for the last few years fostering a very unique sound that we believe can only be found through our band. The album was produced to sound as though it's coming through a massive sound system in order to provide the listener with an "almost live" experience. This surely isn't your average bluegrass album. We went forth to make a rock n' roll album and we believe we have succeeded.
Taraleigh: Your sound is very different than the preconceived notion people have of what a bluegrass band is supposed sound like, so it makes sense that your album would reflect that. What was the biggest challenge you encountered when making this studio album?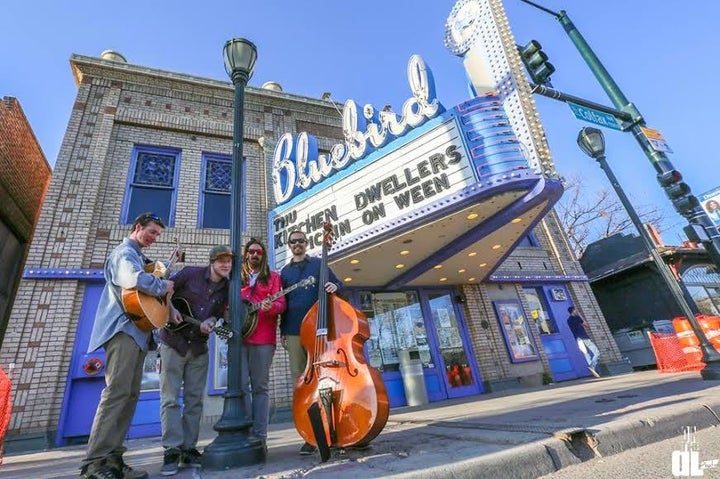 Our biggest challenge had to lie within the fact that the album had to be recorded in short sessions between shows while on the road. We had been so busy touring around the country that finding the time to get into the studio became difficult for us. Ultimately we ended up doing the recording in a couple different studios over a time span of several months, but we were able to get it done.
Taraleigh: That's one way to keep everything fresh. What was this album's biggest triumph?
As far as our biggest triumph goes we would have say that we are extremely honored and proud of the fact that some of our heroes were so willing to record with us. Having Anders Beck, Bill Payne, Tim Carbone, and Mihali Savoulidis on the record was surreal. Being able to work with Andy Thorn and A.G. Lunsford as our producers was nothing short of a dream come true.
Taraleigh: A dream come true for our ears. I'm expecting this album to be one of epic proportions. When people come to see you live on tour, what should they expect?
When people come to a Kitchen Dwellers show they should expect to be on the front line of a full blown galactic assault of stringed instruments. We don't play your grandfather's bluegrass music and we don't want to. This band is more into the exploration of the often unheard capabilities and dynamics of traditional instruments. That doesn't mean we don't ever play traditional style bluegrass, but it does mean that we are trying to branch out from the tether of being labeled by the genre itself.
Taraleigh: I'm looking forward to getting assaulted by all the stringed instruments when you come to play my hometown. My favorite place to dwell when I'm at a house party is in the kitchen. If your music was something to be served at a pot luck, what would it be and why?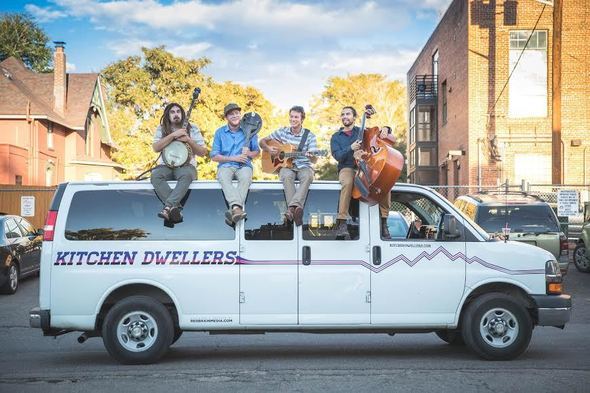 We would have to say that our music would have to be some sort of dip, probably the seven layer dip. We are mixing a whole lot of flavors into one bite and sometimes it can be hard to distinguish what you are tasting, but it all comes together to form some serious flavor. Get the recipe HERE.
Taraleigh: Seven layer dip is one of my favorite snacks and I may or may not have eaten an entire tray of it myself and the thought of it is making me hungry. What track off your new album would be the best to cook your breakfast to and why?
When you're cooking breakfast you just have to listen to "Buckle Down." Sometimes you gotta get your day going with a little motivation to conquer your own reality.
Taraleigh: What about lunch?
When you're making lunch "Mountain" will be your song. It's about moving on from the past and beginning a new chapter, kind of like now that your morning is through it's time to focus on the next part of the day. Lunch also usually happens during the peak of the day which naturally has some connotation to mountains.
You're gonna want to be listening to "Colder Nights" because dinner happens at night for most folks.
Taraleigh: I'm grateful to get to cook all my meals to your sweet tunes. What are you grateful for in this moment?
We are extremely grateful for the fact that we get to do what a very small percentage of people get to do in their lives. We get to do what we love every single day and that is nothing to be taken for granted. We truly feel so grateful for everyone who has helped us get to where we are including our family, friends, and our excellent team that works tirelessly behind us. We are also grateful for the fact that we don't have to haul a trailer like most bands.
Taraleigh: What are you most excited about right now?
We are excited about so much right now. We can't even begin to describe how awesome it feels to be invited to several elite festivals this summer such as Delfest, Summer Camp, Northwest String Summit, and more. We're about to set out on a six week tour supporting the album hitting cities up and down the east coast. We've also got an incredible four day whitewater trip planned for this summer on the Salmon River in Idaho where a small group of very lucky and dedicated fans will join us for an incredible adventure in rapids and music. Talking with you fine folks here at Huffington Post also has us quite happy! Exciting news has been coming in almost every single day. It would be impossible to list everything. We are a happy group of pickers over here and it keeps getting better.
Thanks Taraleigh! We've had a blast dictating our wild and wacky existence with you.
Taraleigh: And I had a wondering time getting to know you all better. Everyone reading this...get your ass out to see the Kitchen Dwellers at a show and listen to their album on Spotify on repeat for the rest of your lives.
The magic in me sees the magic in you,
P.S. Check out their new album right here right now.
Support live music and purchase the Kitchen Dweller's new album Ghost in The Bottle and go to a show.
Support HuffPost
The Stakes Have Never Been Higher
Related
Popular in the Community