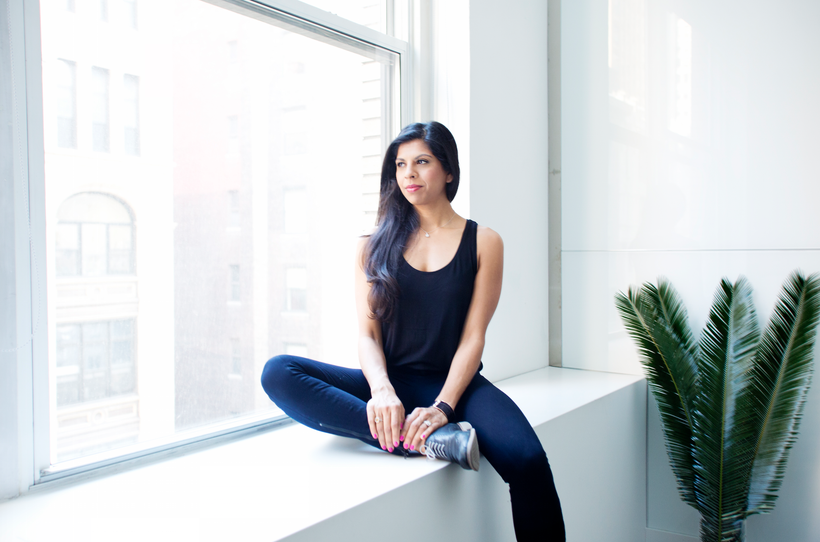 Michelle Cordeiro Grant, Founder and CEO of LIVELY, began her career in finance, but quickly realized that wasn't the route she ultimately wanted to take. After accepting a position at Federated Merchandising Group, creating brands and product for one of the largest retailers in the world, Grant instantly fell in love with the entire process from concept to customer, and realized that her passion was in supporting, creating and developing amazing brands and products.
Grant spent the tenure of her career with a leading retailer- Federated, VF Corporation and Limited Brands. By working for top retailers, traveling the globe to meet world class manufacturers and spending a couple years with an incredible startup, Grantlearned the importance of creating a strong brand affinity, crafting a quality product and building a dynamic team. Grant was inspired to create a completely new lingerie experience, and so LIVELY was born.
How has your life experience made you the leader you are today?
From a young age, my parents showed me that you can achieve anything, you just need to decide what you want. My parents both followed their dreams and moved to the United States on their own and were able to establish themselves with successful careers and an amazing family. Growing up, I always believed that to be successful you needed to be a doctor, lawyer, banker, etc, so I began studying business and finance in college. As I began my internships in finance, I quickly realized that I needed to work on something tangible, something creative. I was lucky enough to find a role in fashion at Federated Merchandising Group, where I was able to create brands and products for one of the biggest retailers in the world. I instantly fell in love with the entire process – from concept to customer. But in the back of my head, I was still not convinced that a career in fashion could be my life's profession. After applying and attending law school —2 weeks in, I realized my passion really was supporting, creating, and developing these amazing brands. I finally realized that your passion could actually BE your career. I spent the tenure of my career at Federated, VF Corporation and Limited Brands, and I immediately fell in love with the category of lingerie. While at Victoria's Secret, I realized that this $13B category in the US alone was dominated by this one brand, with one POV.  I knew that one day I was going to create a completely new experience for the category, that was inspired by real life... plain and simple. Looking back, it's amazing to see that every experience truly shaped where I landed.
How has your previous employment experience aided your tenure at LIVELY?
I'm so grateful for all of the experiences I had as I'm a firm believer that each one shapes you. For me, working for a top retailer taught me how critical it is to create a strong brand with a clear point of view. To create a world-class brand, it does not just live with the product alone, it is about the entire experience. The product, the packaging, the shopping experience, the customer service, and the inspiration the brand constantly reminds consumers of day after day. These lessons were incredible and have been at the core of building LIVELY. 
What have the highlights and challenges been during your tenure at LIVELY?
It's impossible to pinpoint one moment, but the most amazing feeling is watching the LIVELY crew grow.  I love seeing them tackle new projects and how they take on tasks that we as a team have never experienced before. When they come to life, it is the most rewarding feeling in the world, especially knowing that we all accomplished these moments TOGETHER!
What advice can you offer to women who want a career in your industry?
Do not fear the unknown, embrace the journey of learning on the go! I think now more than ever, the things that seem impossible are achievable once you accept advice and support from others.  You have to take life one step at a time and enjoy the fun of figuring it out! This is something I have learned not only as a new entrepreneur, but as a new mother as well. I had no idea how I was going to tackle either, but the journey of learning and figuring it out" has been the most fulfilling experience of my life! 
What is the most important lesson you've learned in your career to date?
At one of my first roles, an executive taught me, you're only as good as your team. She took the time to truly teach and understand all of my career goals.  By being thrown into the fire at my first role, I was able to figure out what I loved and where I could be most successful. These experiences allowed me to grow and showed me how important it is to invest in your team.  I truly believe it is not what we can accomplish as individuals, but what we can do together.  It is the entire team behind each company, striving off of each other's strengths, talents, and passions that make a company successful.  
How do you maintain a work/life balance?
I set boundaries on my day! I give myself an hour in the a.m., and then ensure I leave the office most evenings in time to catch dinner with my family and have time with my daughter before she goes to bed. I then hop back online to drive LIVELY. I think it is so important to start and close each day with your loved ones! At the end of the day, that is what life is all about!
What do you think is the biggest issue for women in the workplace?
For me, I identify not as much of an issue, but more so an opportunity. I think that now more than ever, women are working together to foster an idea of a workplace where we no longer just participate. There is a mindfulness to help build each other's courage and confidence to lead. It's an incredible thing, but it is only the beginning of the journey. There must be an awareness to not sell ourselves short. Often we work to build up the men in our lives and take more of a supporting role, but more and more, women are channeling their passions, combined with their intelligence, to achieve incredible things. For me, this began to happen when I finally changed the word dreams to GOALS! Having dreams and aspirations is a wonderful thing, but personally, once I mentally changed dreams to goals, my path became much more clear. I had always dreamed of creating my own brand that inspires women to live life doing what they love. A company that enabled women to explore and find their professional passions. I was able to see the steps I needed to get there much more clearly once I thought of it as a goal instead of a dream. 
How has mentorship made a difference in your professional and personal life?
I have been so fortunate to have amazing female leaders mentor me throughout my career in such major ways, which have been truly instrumental to me getting to this incredible place with LIVELY. My goal and resolution for next year is to give back to the female community through both the LIVELY mission and personal efforts. I am privileged to meet so many amazing young women and I plan to focus on to helping to empower, mentor, and build confidence in women of the next generation in whatever way I can.
Which other female leaders do you admire and why?
I've always admired Diane von Furstenberg. She has been able to defy gender stereotypes and establish herself in the fashion industry, all while raising a family and not sacrificing her role as a mother. She never underplays the fact that she's a woman and uses it to her advantage when designing women's clothing. She has a clear understanding of what women need and want. Her fearless attitude has inspired me to know what I want and go for it. Her brand consistency has enabled her to stay relevant throughout multiple generations, while her fearless attitude has inspired me to know what I want and go for it.
What do you want LIVELY to accomplish in the next year?
As mentioned, LIVELY's overall mission is to empower, remind, and enable women to live life doing what they love, with the people they love. Today we are driving this mission by having every woman's "back" with Leisurée bras and undies, however, we do see a future where we will expand into adjacent categories that make sense for us like swim and active apparel. It feels like an authentic, natural evolution. Most importantly though, 2017 is a year where we want to really let our ethos shine within our community.  We plan to put a lot of time and resources towards going to cities across the country and spending time with the women that support our brand and ethos.  We want to give back and truly inspire women in all facets of their lives.
Calling all HuffPost superfans!
Sign up for membership to become a founding member and help shape HuffPost's next chapter
This post was published on the now-closed HuffPost Contributor platform. Contributors control their own work and posted freely to our site. If you need to flag this entry as abusive,
send us an email
.