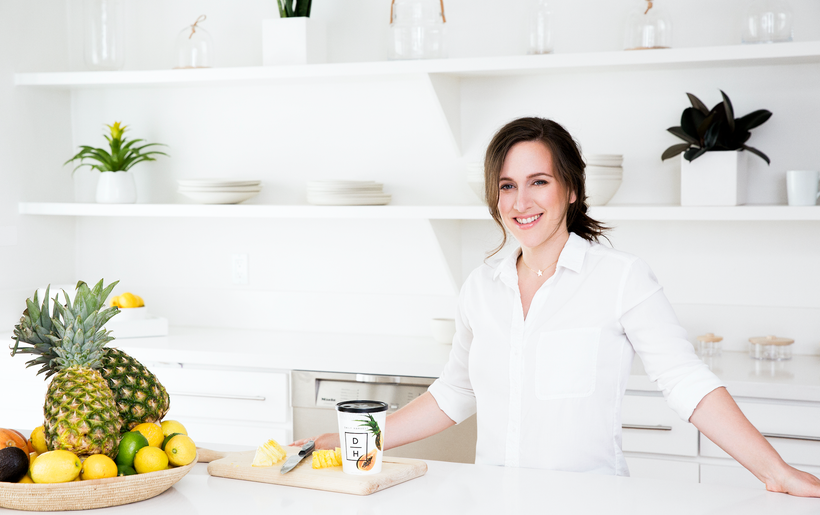 Daily Harvest was founded by Rachel Drori, a busy New Yorker, marketing executive, and mom, who realized the difficulty in finding time to shop, chop, prep and create nutrient-dense and delicious foods. Drori layered on the pricey must-have superfood of the moment and the bunches of wilted kale sitting unused in her refrigerator, and knew there had to be an easier way to get her daily dose of good. Never one to compromise on nutrition for herself and her family, Drori set out to create Daily Harvest, the genius lifehack for the uncompromising consumer.
Prior to Daily Harvest, Rachel found herself in Marketing and Branding roles at top companies such as Four Seasons, American Express and Gilte Group's Jetsetter.
How has your life experience made you the leader you are today?
I'm a wholehearted believer in "faking it till you make it." In each step along my career, I had the opportunity to stretch, learn and grow by raising my hand for things before I was 100% ready. As a rule, I live by this mantra and constantly challenge myself - especially when the idea of something makes me queasy. The harder the task, the tighter I close my eyes when I jump in head first. I continue to push myself knowing I will be stronger on the other side. Throughout my career, I've had leaders who have encouraged this way of thinking and I live by this philosophy every day at Daily Harvest. I believe the best way to learn is while actually doing something. As a leader, one could say it's safer to entrust a task to someone who has done it before, but I find I almost always get the same result or better with someone who wants to learn, works hard and has something to prove.
How has your previous employment experience aided your tenure at Daily Harvest?
I started my career at Four Seasons hotels in marketing and branding. I wanted to work for a company that was the best in the marketing industry and that understood the concept of customer centricity. I learned a lot about the customer being at the center of any service business; it's something that's really helped me throughout my career. I have also been lucky enough to have a handful of amazing mentors throughout my career. One of my former bosses taught me the lesson of asking for forgiveness instead of permission. This is something that always stuck with me and as I build out my own team, it's a mantra I try to encourage. This attitude removes the fear of making a mistake that can stifle true innovation.
What have the highlights and challenges been during your tenure at Daily Harvest?
Working with my team is definitely the best part of my job. I absolutely love the people with whom I've been able to build Daily Harvest with….and boy, have we had some ups and downs together. One specific "up" was the first time I saw a Daily Harvest box being unloaded from a FedEx truck on a random corner in NYC; that's when I knew we had created something big. It was a surreal moment that showed our penetration in the market and meant so much more than numbers on a spreadsheet. I still get watery eyes every time I see one. On the challenges side, something that sticks out is the week our site went haywire. We were racing against a rapidly scaling business to build a proprietary web platform and basically lost the race. The platform that we were on couldn't handle the volume and flat out crashed…everything that could have gone wrong went wrong. We had a lot of very upset customers and, as someone who was trying to build a customer-centric business, this hit me hard.
What advice can you offer to women who want a career in your industry?
Don't be afraid to "saddle up" and take chances. When given an opportunity, always raise your hand and learn as much as you can. Follow your passions, have conviction and don't be afraid of being an outsider.
What is the most important lesson you've learned in your career to date?
Something extremely valuable I have learned along my journey of starting my own business is to trust my own voice. I made the mistake not to do this more than once before really learning to follow my compass in a corporate setting. Early in my career there were a few times where I had true conviction on something, but went the way of team inertia or forfeited to someone more senior assuming they knew better than I did. The results from these occasions were always lackluster and the journey un-motivating. I later learned that constructive dialogue and not being afraid to "upset the applecart" always leads to a better outcome.
How do you maintain a work/life balance?
I honestly don't think I've 100% figured it out quite yet, but there are a few things I do that certainly help. I make my own schedule, which allows me to feel good about all the facets of my life. I'm home every single day at 5:30. No matter what. Everybody knows not to call me at 5:30. From 5:30 to 7 I do family. Then I'm plugged back in from 7 til midnight-ish. My kids wake up at 6 and I rinse and repeat the next day.
What do you think is the biggest issue for women in the workplace?
I think one of the biggest issues is a lack of schedule flexibility in most workplaces…for both men and women. There is a lot of stress and guilt that comes with choosing between career and family that can be solved by the ability to responsibly build a schedule around personal obligations. Without stress and guilt, people can focus on work when they are at work and other priorities like family when they are not at work. "Face time" and working market hours when you aren't in finance are a relic. With technology and enlightened scheduling people are more likely to feel like they can "have it all" and excel in their careers.
How has mentorship made a difference in your professional and personal life?
I've never had a formal mentor but I have had a lot of amazing bosses and co-workers who mentored me throughout my career.  Finding a champion to raise your hand for you when you may not be in the room or to urge you to stretch your limits when you hesitate can make all the difference. You can't "raise your hand" for an opportunity you might not now know about and you can't always see your own areas for growth. Building relationships with people with whom I could talk about my aspirations definitely helped me take the leaps I mentioned previously.
Which other female leaders do you admire and why?
Some of the women I admire are contemporaries on a similar journey to see beyond the traditional norms and challenge the status quo. I find inspiration in their dedication to innovation and disruption of industries that ultimately change the way we think and act. A few great examples are the Founders of LoLa Tampons Jordana Kier and Alexandra Friedman, Founder of Rockets of Awesome, Rachel Blumenthal and Rent the Runway's Jennifer Hyman and Jennifer Fleiss. Not only are these brands/women seeking to change their respective industries, but they are looking to question norms, empower consumers and emphasize health and goodwill.
What do you want Daily Harvest to accomplish in the next year?
A major goal we are working towards is changing the perceptions around frozen food. For decades, the space has been dominated by unhealthy or pseudo-healthy products that are hyper-refined and preserved. We are working hard to tell a new story, about the potential in freezing unadulterated to solve the modern eating dilemma of wanting convenience without compromise.
Calling all HuffPost superfans!
Sign up for membership to become a founding member and help shape HuffPost's next chapter
This post was published on the now-closed HuffPost Contributor platform. Contributors control their own work and posted freely to our site. If you need to flag this entry as abusive,
send us an email
.