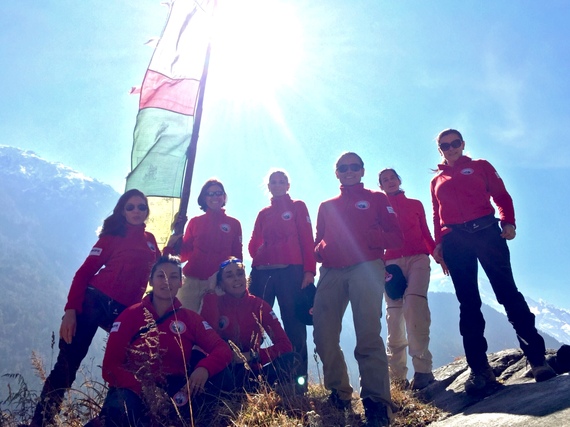 Today our team has returned to the warm embrace of our families in Singapore, but undoubtedly, a piece of our heart was left behind in the sacred Tsum Valley of Nepal, captivated by the thousand smiles we came across during this beautiful and arduous journey. Indeed, Tsum, also known as a beyul or sacred land, had a profound influence on us. This magical and untouched region of Nepal, one of the most secluded of Himalayan valleys, which only became accessible to tourists in 2008, affected us in ways we don't yet fully comprehend.
The valley, once part of Tibet, looks completely different in terms of culture from other parts of Nepal. The people of Tsum are Tibetan in origin with their own ancient dialect, religion and traditions. In addition to the spiritual richness of this expedition, our itinerary was challenging and at times even a little perilous. It required us to push our physical and mental limits, conquering fears and dealing with extreme cold and exhaustion, while climbing to increasingly higher altitudes. We gained a total of 4,400 meters of altitude over a distance of 150 kilometers in less than seven days.

We started in Soti Khola, in the lowlands, visiting sacred caves and secluded villages. As we continued to climb higher, we saw the vegetation and landscape change before our eyes, from thick tropical foliage to lush pine forests. We continued our journey on steep mountainous trails, passing brightly colored prayer wheels and numerous stupas - little Buddhist shrines. As we gained altitude, the temperatures plummeted, while the landscaped turned moon-like, with a thick blanket of powdery snow covering the peaks surrounding us.
Every day on our journey upwards, we came across caravans of mules and Yaks laden with supplies on their way to and fro Tibet. The people in this region of Nepal have been trading with their Tibetan neighbors for centuries and continue to do so despite the political vagaries affecting Tibet's status as a nation in relation to the People's Republic of China.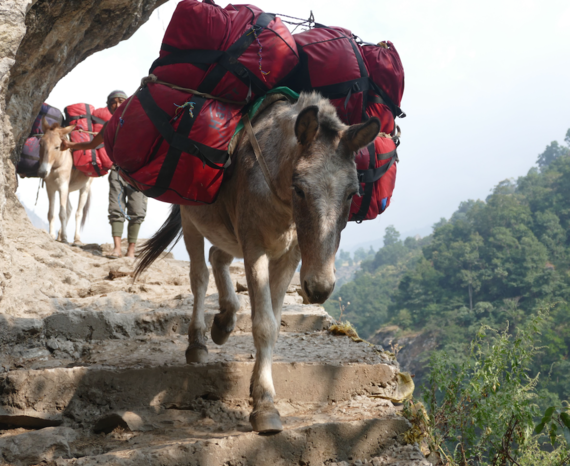 After an intense week of trekking the team reached Mu Gompa (3,700m), where we began a three-day retreat in a century-old monastery. There, we set aside quiet moments in our day for meditation and reflection, as we rested and prepared for our challenging day climb to the Ngula Dhojhyang Pass, perched on the Nepalese-Tibetan border at 5,093m of altitude.
Finally the time came for us to scale the Ngula Dhojhyang Pass. However, because Mu Gompa Monastery is the last place available for trekkers to stay at, past this altitude, if we were to return before dusk, we had to leave no later than 4:30am. An intense 13-hour climb lay ahead of us. Luckily the weather had been glorious over the past few days. We were conscious however, that at the same time last year, not far from this region, in the Annapurna mountain range, a freak blizzard had occurred. This unexpected storm arriving in late October 2014, at the peak of the trekking season, had caused at least 43 people to lose their lives when the blizzard caught them off guard on the trails.
A few other obstacles lay ahead of us on this high pass attempt. For the team to reach that section of the Tibetan border, we had to cross six landslides in total darkness and once again on the way back, ideally while there was still some daylight left. Nevertheless, our determined team left Mu Gompa Monastery with head torches on at 4:30am in below freezing temperatures. The cold was so intense that the water in our camelbaks remained frozen until 11am.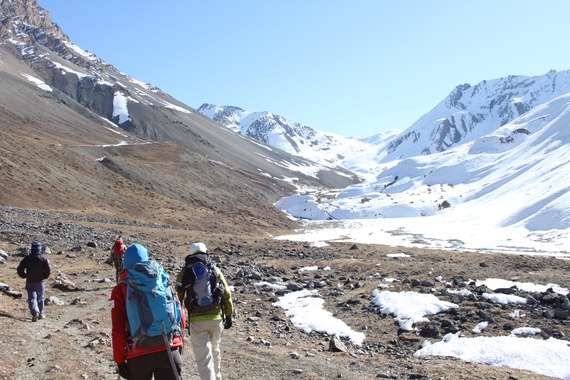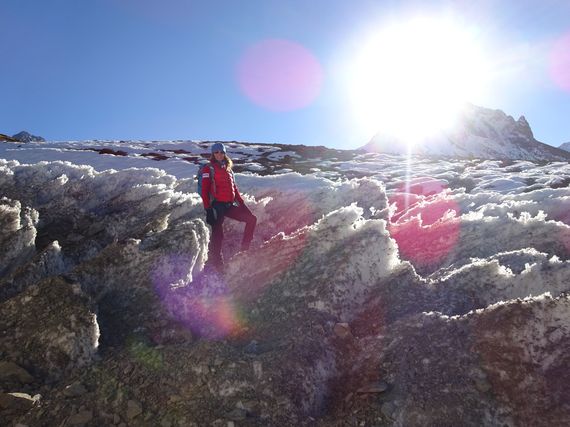 We continued climbing, crossing vast windy plains, traversing numerous icy rivers, scrambling over slippery rocks and small glaciers, and scaling a total of 1,400 meters in one go. Finally at noon, exhausted and cold, but euphoric beyond words, we made it to the Nepalese/Tibetan border at the highest point on the ancient trade route.
At the top we unfurled a banner reaffirming our commitment to challenge ourselves and empower women around the world. We stayed 20 minutes on the windy summit, drinking in the stunning views on both sides, and headed straight back down to Mu Gompa, racing to return before dark. Finally 13 hours after our departure, as daylight began to fade, we walked into the monastery's dining hall completely shattered and drained, but standing tall despite the overwhelming fatigue, with a deep sense of achievement and pride in our hearts.
As you can imagine on such a journey, there was much laughter and often tears, of both triumph and frustration, but what we discovered at the end of it all was something far more rewarding. We came to know a people who cherish the simplicity of their lives over any material comfort or possessions. On numerous occasions along the trail, the people of Tsum welcomed us, perfect strangers, into their homes. Their hospitality, kindness and wisdom touched our hearts forever.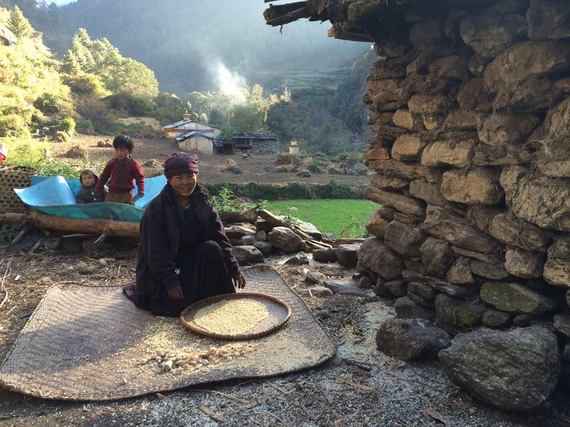 Ultimately, we embarked on this journey to support other mothers, daughters, and sisters whose lives have been ripped apart by the horrors of war, women who have been humiliated and raped, robbed of their dignity, whose self-esteem and freedom have been taken away from them. Even if we could never claim to truly understand the suffering they went through, doing something out of the ordinary and dedicating it to these brave women made us feel like we were standing in solidarity with them, and it gave us wings as we climbed higher.
Despite the constant longing for clean toilets, hot running water, warm beds and comfort foods--not the mention the rats we encountered running across our sleeping bags, in the middle of the night in one of the lodges --all the little "hardships" we endured were long forgotten once we were safely back home in Singapore.
It was truly an unforgettable journey in the land of the clouds. From the many multi-coloured prayer flags fluttering in the wind high above our paths, to the beautiful khata - silk scarves - we received as parting gifts, undoubtedly, the beauty of the Tsum Valley will remain alive, etched in our memories forever. No wonder many believe the Himalayas retain a small part of your soul, forever captured and resting peacefully awaiting your return.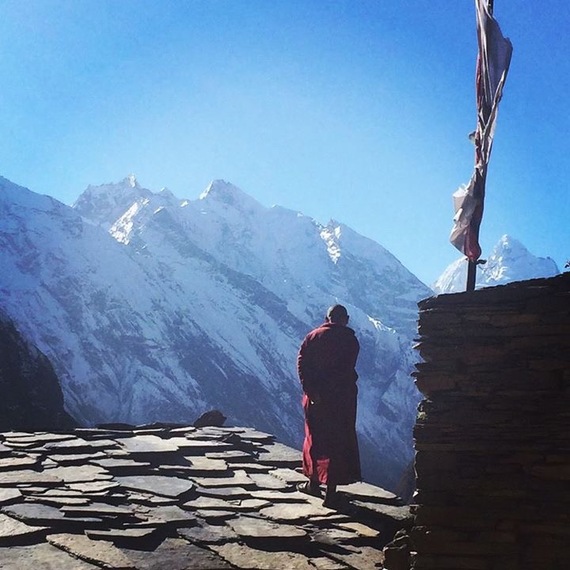 Photo Credit: Women On A Mission - an non-profit organization headquartered in Singapore, that combines challenging expeditionary travel to remote locations around the world, with the support of humanitarian causes.
Related
Popular in the Community