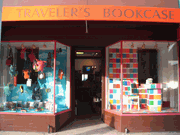 The personal essay can move readers like nothing else. At Traveler's Bookcase on West 3rd in West Hollywood I got to hear four essayists read their work aloud. Prior to this I've never been at a reading where four writers in a row were able to offer a high level of artistic craft in their prose AND employ an unerring sense of judgment about how to render challenging subject matter AND read the work aloud in a open-hearted, appealing way.
The Rumpus has hit West Hollywood. It is on online cultural magazine started in 2009 by author Stephen Elliott whose recent memoir, The Adderall Diaries, was optioned as a feature film by future Oscar host James Franco. They've got fiction and poetry book clubs you can join for cheap. The book club recently provided its members with a book of personal essays by women writers they have featured on the site, The Rumpus Women, Volume 1. The contributors have mastered the form on the page and in performance.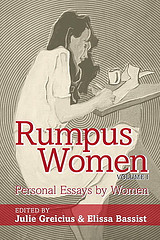 Julie Greicius, a co-editor for the volume, read first from her essay, "The Fall of Strangers," about literally running into a woman who had jumped from a high-rise building to her death on the sidewalks of NY. The action shifts to Northern California and the essay deepens past sensationalism as Greicius takes on the awkward task of arriving at the apartment of a friend-of-a-friend considering a similar fate. Greicius is an elegant, charismatic reader whose calm and concern combined to make it feel terribly likely that in this bad economy and war-scarred world each of us will find ourselves at the scene of more than one stranger's tragedy. Readers like it when realistic writing hits archetypal territory, fable space, and Greicius hits it.
LA's Antonia Crane read "Locker 29" about her life and times as a sex worker. This essay compares the realities of strip clubs in So Cal with their laws about drinking and touching versus those in New Orleans that lack these restrictions. Crane's presence adds warmth and charm and what I'll call 'wild patience' (Adrienne Rich's phrase) to her words. She read with ease and authority and said this is part of a longer work, her memoir, which I look forward to seeing in print. Her ongoing Rumpus column, "Recession Sex Workers" is an eyeopener.
Former San Franciscan and new New Yorker Kathleen Alcott did a great job reading an essay on an unplanned pregnancy. The essay is modest, strong, conflicted, upset, as was her way of reading it -- perfect in both regards because she (and it) is not at all manipulative. She tells what it feels like to conduct one's sexual life as a heterosexual woman, that spiritual quest, in a body that can always become pregnant from the encounters, if/when the precautions fail. Alcott has gotten wise to the essential bind of being female early. She read with real innocence and real resignation. Alcott mentioned she has a novel coming out.
Poet Gabrielle Calvocoressi, an LA resident, was the last reader. Her piece, "Nine Rounds for Yuri Foreman," shares something with Greicius' in the moments of crisis and self-doubt. Both writers articulate what it feels like to fear you are going crazy or to feel you are despairing enough to consider drastic measures. Like prayer. The ability to see, reckon, articulate the symbolic presence of Yuri Foreman, an eventually defeated Orthodox Jewish boxer, kept steadying and fleshing out the author's own self as she read. In this way, the audience at Traveler's Bookcase got to experience a poet at the white heat -- the work is by definition double. It is metaphorical and accomplishes poesis, which means 'making.' She makes or realizes a self via this writing process. This is a difference between a poetic way of writing and the valuable but different strategies of other prose. Stephen Elliott's page-turner, The Adderall Diaries, has all the intrigue of a masterful whodunnit, is clear and easy to read, yet dreams itself into the reader's mind as a long poem. Calvocoressi employs the intercutting between Yuri Foreman and her own vulnerable self in a briefer version of the same strategy. As a reader she is adorable. She is full of wonder and what I'll call 'wild gratitude' (Edward Hirsch's phrase) as she communicates. She said she's involved with an LA reading series that involves writing and food. Readers love events pairing those two things. ("Eating Poetry" is the sometimes misunderstood/resented Mark Strand's title/phrase.)
The Rumpus Women, Volume 1, is smart and full of heart. Sometimes literary events feature writers with passive-aggressive personalities who care little for connecting with an audience and a lot for strange stealth networking and careerist oneupsmanship. Such events give one the kind of faith in the arts that we are now forced to admit we have in our politics: uh, next to none. Happily, that was not the case at all with the reading by these masters of the personal essay. I left feeling like Winnie-the-Pooh, "funny all over," and bagged on my plan to see Kitten at Echo and hung out for a while at the Bodhi Tree, a metaphysical bookstore not far from the Traveler's Bookcase. I read Kabir, Rumi and Jung and bought candles to aid my ongoing quest for much, much more light.
Future Events for Lovers of the Personal Essay: Alcott, Crane, Greicius will be reading in SF on Dec. 13 at 7 p.m. at The Make-Out Room. A different group will read from The Rumpus Women, Volume 1 in NY on Dec. 14 at 7 p.m. at Book Court in Brooklyn.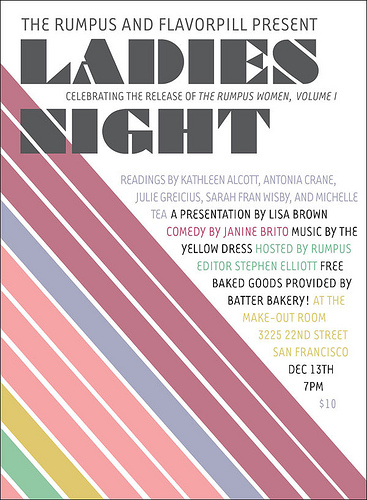 Related
Popular in the Community