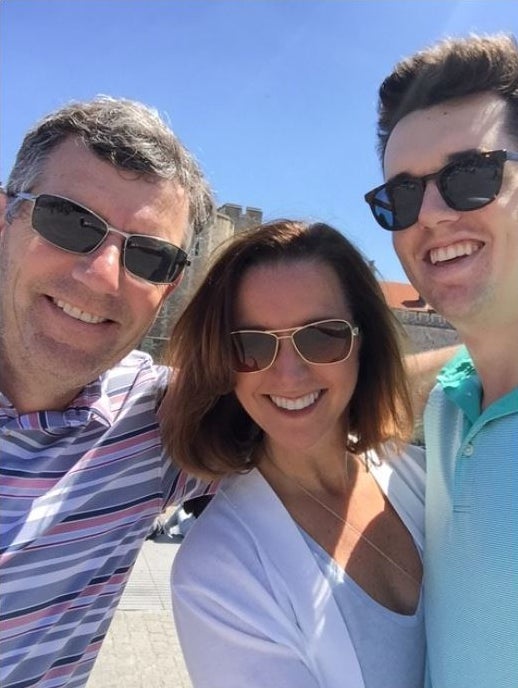 Today, Working Mother magazine announced its top 100 employers and we're thrilled Adobe debuted on the list at No. 67! We've made a lot of investments in our employee experience over the past several years, with new and expanded benefits that are focused on supporting working parents. Achieving a place on this list shows me we're making progress in better supporting our working parents – and that's something I care deeply about as a working mom.
I've worked full-time from when my son, Kyle, was four months old to today when he is a junior in college. As Kyle was growing up, I had my fair share of times where I felt completely overwhelmed, exhausted, and left wondering if I was doing the right thing. Now that he is grown, working moms often ask me how to best integrate work and life, and they share their emotional battles of "working mom guilt."
From my experience, if you're a working mom, the idea of "balance" just isn't realistic. You need to set boundaries and ensure you make the choices that allow you to have a fulfilling career and home life, and that means making tradeoffs. It's about quality time, not quantity. Working outside of the home makes you a powerful role model. You are teaching your children valuable lessons about work ethic, adaptability, organizational skills, empathy and teamwork, which are highly beneficial for their own journey in life. There's no need for guilt … Here are five things children gain from having a working mom:
Work ethic: Children with working parents observe their parents working hard, at home and in the office. They see you go to work when you're tired, and they see you working hard to provide a great home life for them too. They learn early on that success takes daily commitment and stepping up to your responsibilities, because they see it in you. It has been rewarding for me to see Kyle work hard academically and in summer and school-year jobs. He has learned early on that hard work is required to accomplish your goals.
Adaptability: Every working mom knows that predictability is near-impossible. Daycare arrangements change; work emergencies arise; a home-cooked dinner may not always get made. Children of working parents learn to "go with the flow" from an early age. This is a critical quality as children grow into adults and must navigate changing work environment -- new assignments, a new boss, or a new company.
Organizational skills: From an early age children of working parents often find themselves having to carry some of the weight. As Kyle was growing up, I recall asking him every evening to get organized for the day ahead (mornings still weren't easy of course!). In high school, as Kyle's schedule was busier, I was impressed with his ability to get his stuff organized (even if it was messy) and deliver on his commitments in the classroom and in extracurricular activities.
Empathy: By nature, children are wired to think about themselves first. But in families where there are balances and tradeoffs needing to happen frequently, I think children of working moms demonstrate this understanding more fully. In our family, from the time Kyle started school, each night we would talk about the best thing about our day and each of us would share. As Kyle grew he became naturally interested in what was happening at work and would share in our successes along the way.
Teamwork: I firmly believe that integrating a career and children requires teamwork. It may be teamwork with another parent/partner, with family support such as a caregiver, and ultimately it is teaching children from an early age that they are part of the family team. As a member of the team, everyone needs to adapt, support each other, help out and ultimately celebrate individual team members' successes or losses.
Being a mom is a hard job, whether we work outside the home or not. I believe that it's the BEST job – incredibly rewarding with a lifetime of opportunity for growth, learning and most importantly, love. Every mom, regardless of her choice to work outside of the home or not, should be praised and supported. There is no right way or wrong way, it is what is right for you in your situation.
Today, in honor of the Working Mothers list, I hope that it's a reminder for all working moms that they should take time out to celebrate what they accomplish at home and at work, and feel great that they are growing along with their family.
Popular in the Community