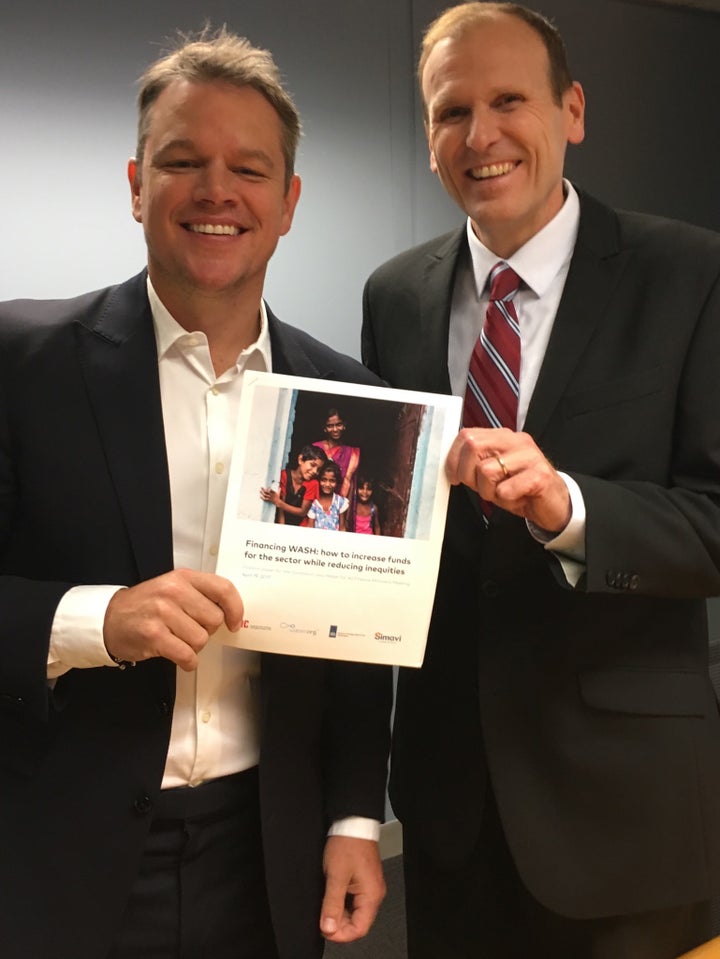 In late April, Co-Founder of Water.org, Matt Damon, and I traveled to Washington DC to participate in one of the largest dialogues around the water crisis currently underway: the High Level Meetings on financing Sustainable Development Goal #6 (SDG6) which addresses universal access to water and sanitation. Sanitation and Water for All (SWA) with support from the World Bank brought together Finance Ministers from many of the world's countries, alongside their counterparts from health, water and other relevant ministries, to discuss the financing gap between what is needed to achieve the ambitious targets of ensuring universal access to safely-managed water and sanitation and existing streams of funding.
The event was positive in that it represented a step in the right direction: government ministers who have the "power of the purse," were provided a venue in which to discuss and learn from dedicated water sector professionals about strategies for financing water and sanitation. When I first started advancing micro finance as a tool to reach the poor with water and sanitation provisioning via WaterCredit back in 2003, few people were interested in listening. Even though it was abundantly clear that charity and aid would never be sufficient to solve the global water and sanitation crisis, it took some time and evidence to move us in the direction of seeing people living at the base of the economic pyramid as a market to be served. This maturation in thinking has set up the conditions for a paradigm shift in how the larger community approaches attainment of SDG6—leveraging financing from the bottom-up to meet the top-down infrastructure finance.
Our program, WaterCredit, demonstrates the effectiveness of combining traditional funding mechanisms with finance to help those in need access water and sanitation solutions. Harnessing the power of the poor as consumers through affordable finance tailored to meet their needs allows us to mobilize domestic resources and stretch limited development dollars. Meanwhile, people who are empowered to construct the water and sanitation solutions that they want are much more likely to use these solutions and maintain them over time – a significant win in terms of sustainability. Moreover, reduced pressure on governments and development finance institutions such as the World Bank to be everything for everyone allows them to target their funds more strategically to those at the absolute bottom of the pyramid. All of this contributes to using existing resources more efficiently, a major theme of the SWA discussions.
In leading up to these meetings, Water.org partnered with Netherlands-based IRC, a peer organization that is also looking critically at the financing challenge for achieving SDG6, to produce a position paper, "Financing WASH: how to increase funds for the sector while reducing inequities". This paper outlines three factors that are necessary for successful, sustainable SDG6 financing strategies: strengthening the enabling environment; use of blended finance strategies, including micro finance, to expand reach; and resolving inequities in the allocation of financing.
The enabling environment refers to the institutions and regulatory environments in which water and sanitation services operate. For Water.org, that often refers to policies or regulations that encourage or limit micro finance activities. Patrick Moriarty at IRC has written a blog posting that addresses the enabling environment component of our paper.
As noted above, WaterCredit is an example of one part of a larger comprehensive financing strategy – a plan that blends public and private finance and skillfully integrates tariffs, taxes, and transfers. Governments can encourage the financial sectors to prioritize micro lending for water and sanitation (India is a great example of this) through a number of instruments while also looking at how bonds can support needed investments in water utilities that may make them more attractive to private investors.
Finally, oftentimes the best intended of actions fail to achieve their desired outcomes. Social benefits designed to help the poorest of the poor miss the mark and benefit those who don't need assistance. Or activism from those with influence steer water and sanitation projects to wealthier neighborhoods, and those without as loud a voice – those in informal slums who do not own their land, for example – become further disenfranchised. Financing strategies need to think differently about how to cross-subsidize the bottom of the economic pyramid and ensure that adequate services are provided to the most marginalized.
There is no silver bullet solution. These problems are complex – otherwise they would have been solved already and we would not need these ambitious global goals to motivate us to act collectively in order to solve them. Traditional finance methods will not be enough. Charity will not be enough. Conventional attitudes about how to help "the poor" (that assume the millions of people who live below the poverty line represent a homogeneous market) will not be enough. We have to think creatively, push the boundaries of our comfort zones, and reach for a future that leaves no one behind.
Popular in the Community