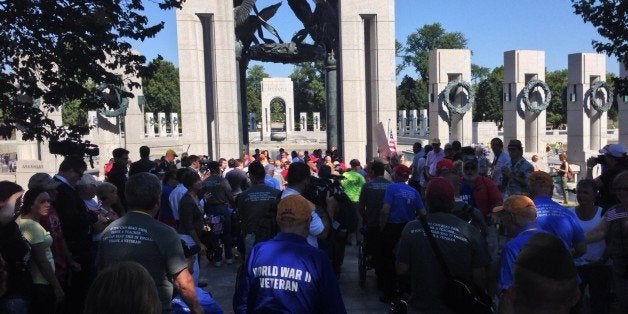 WASHINGTON -- Members of Congress on Wednesday took down a barrier at an entrance to the World War II Memorial on the National Mall for the second day in a row, allowing veterans who had traveled there from out of state to visit the memorial built to honor their service.
Like all national parks, the World War II Memorial is technically closed, since the federal government has been shut down and many National Park Service employees have been furloughed. But just before 11:00 a.m., lawmakers removed the barriers on its southern end and allowed busloads of veterans and volunteers accompanying them on their trip to enter.
Ironically, most of them were among the most vocal members of the House's right flank that pushed Speaker John Boehner (R-Ohio) toward a shutdown, and they are therefore partly responsible for the memorial's closure.
Rep. Michele Bachmann (R-Minn.) clutched a piece of yellow caution tape as she shook hands with veterans as they entered the memorial. The line to enter the memorial stretched back as each veteran was greeted in a sort of reception line stacked with Republican members of Congress.
"They're not gonna lock you up, brother," Bachmann told one veteran. "They're going to have to get through me first."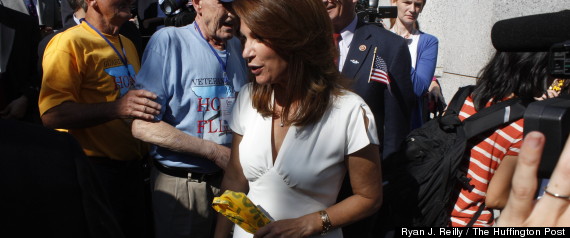 Bachmann argued that the House's final version of a continuing resolution, a stopgap spending bill to keep the government funded, didn't go far enough to hobble Obamacare. So did Rep. Louie Gohmert (R-Texas), who was also present at the monument on Wednesday, and Rep. Steve King (R-Iowa), who participated in a similar stunt on Tuesday.
Asked if it was worth passing a clean continuing resolution that did not contain Obamacare-related provisions in order to get the government running and the memorial reopened, Gohmert said doing so would be be an "abdication" of Congress' duties and would allow "waste, fraud and abuse" to continue.
"There is no reason for this to be closed, this was done to create pain for those who saved our country," Gohmert said. "The Lincoln Memorial wasn't even closed in '95, people intentionally did this. Next thing you know they're going to put drapes on Mount Rushmore."
A National Park Service official, one of the few who was not furloughed, said the veterans entering the memorial were considered to be part of a First Amendment protest.
"It happened yesterday, so we go day-by-day. But we understand this is a First Amendment demonstration, and this is allowed by law," said the official, Karen Cucurullo.
She directed reporters to a NPS webpage that explains why such protests are allowed to take place in certain parks in D.C. Unfortunately, because of the government shutdown, that webpage was unavailable.
Thanks to the First Amendment designation, when veterans come to visit the memorial tomorrow, they won't need members of Congress to open the gates for them. Jeff Miller, a co-founder of the Honor Flight Network, a non-profit organization that transports veterans to the memorials from across the country, told The Huffington Post that the lawmakers served as an "insurance policy" on Monday and Tuesday because they would not be arrested by police.
"We will not have to have congressmen here to let us in," Miller said. "We were very grateful when they helped us, but it's better when nobody can interpret it as a political rally or anything. You saw it draws protesters, and Honor Flight Network, we've always promised it will never be political."
Just outside the memorial, a small group of protesters yelled at members of Congress to do their jobs and fund the government. Volunteers working with the veterans tried to shout them down, telling them the event was about the vets.
Later, two NPS officials replaced the removed barriers and politely informed non-veteran visitors that the memorial was, in fact, closed.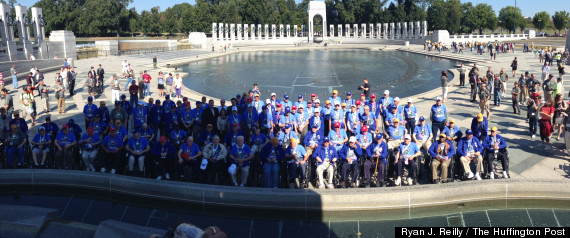 Support HuffPost
The Stakes Have Never Been Higher
Before You Go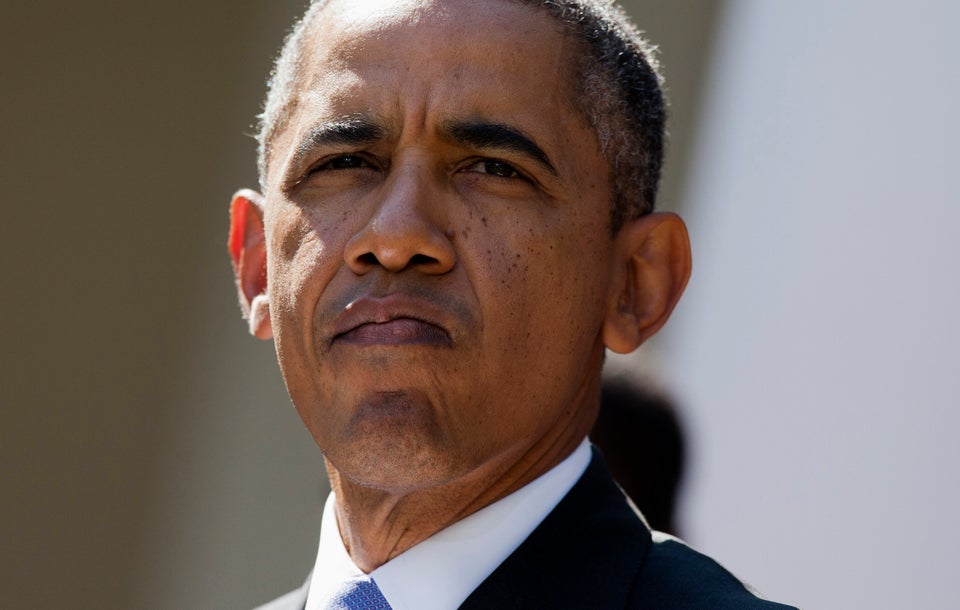 2013 Government Shutdown
Popular in the Community