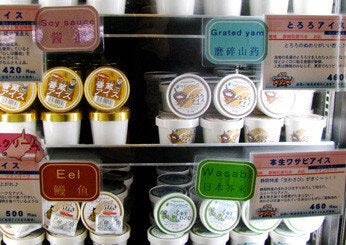 Hurray for summer cookouts! You can have an all-out grilling marathon, eat unlimited amounts of potato salad and even more ice cream. But wait - there are some frozen desserts you might think twice about before serving. We're not saying they're not tasty (though some of them sure sound disgusting). We're just saying keep the mint chocolate chip handy, just in case.
Ice cream cheeseburger, Florida. Here's why you go to the Florida state fair: because you find something amazing like the ice cream cheeseburger, from Carousel foods. It's exactly what it sounds like: a cheeseburger, topped with lettuce, pickles, tomatoes and, you guessed it, a giant scoop of fried ice cream.
Cicada ice cream, Missouri. Sadly, Sparky's no longer sells this ice cream (the Columbia, MO, health department is weird about desserts with bugs, apparently). But just in case they bring it back, here's what you get: cicadas that were caught in employees backyards, then boiled and coated with sugar and chocolate and folded into brown sugar ice cream.
Lobster Ice Cream, Maine. At Ben and Bill's Chocolate Emporium, in Bar Harbor, the owners mix chunks of local Maine lobster into their butter ice cream. It's one of their most popular items for shipping. Really. Benandbills.com
Ice cream cone ramen, Tokyo. Kikuya ramen shop precisely cuts a soft serve vanilla ice cream cone in half then sets it on top of a bowl of varying flavors of ramen, including one with classic soy sauce broth (they thoughtfully serve the noodles chilled to keep the ice cream from melting too fast).
Government cheese ice cream, San Francisco. Humphry Slocombe routinely wins best ice cream polls in the Bay Area and around the country. So we have to believe that their flavors, which include prosciutto and foie gras, are good. But we're just not sure about a government cheese version.
Beef Tongue Ice Cream, Tokyo. In our book, Ice Cream City wins the award for all-around most disturbing flavors. Among their best sellers: beef tongue (which was apparently created for meat lovers), whale and oyster.
Popular in the Community