Tensions over racial sensitivity and free speech are coming to a head at Yale University after two emails provoked a heated debate ahead of Halloween weekend. One student explained to HuffPost Live this week why he took issue with a faculty member's suggestion that administrators shouldn't give advice regarding culturally sensitive Halloween costumes.
It started on Oct. 28, when the university's Intercultural Affairs Committee sent an email encouraging students to steer clear of "culturally unaware and insensitive" costumes on Halloween. Erika Christakis, a lecturer and administrator Silliman College, a residential community within Yale College, then sent an email to her residents questioning the "institutional ... exercise of implied control over college students" expressed in the mass email. Students reacted in a "March of Resiliency" on campus Monday.
Yale student Derwin Aikens told HuffPost Live that while Christakis' statements were "totally valid" in a vacuum, her status on campus as an associate master of a residential college complicates the issue.
"Masters are supposed to create a space on campus … where [students] can speak," Aikens told HuffPost Live. "So both sides are equally represented and both sides can come to the conversation and share those thoughts."
Aikens criticized Christakis' assumption that the Intercultural Affairs Committee's email didn't reflect the will of Yale students. According to Aikens, the email accurately represented the sentiments of a large population on campus -- not the "bureaucratic" control the faculty member suggested. Aikens said:
The fact that her email was sent out under the assumption that students hadn't been speaking out all along was disrespectful and a lot of people felt disrespected. And over the last few days ... people have been lashing out saying, "How could you not realize that we've been speaking out all along? These are the things that have been personally affecting us for so long." … It's coming from a place of pain and it's coming from a place of hurt and the entire community is hurting.
Aikens also questioned Christakis' ability to effectively create a community at the residence hall following the email release.
"Students feel like they're not being listened to, and as a result, they want to remove her from power because [if she] can't engage with students and listen to them … she should be removed from her position, where that is her literal job," he said.
Watch the full HuffPost Live conversation with Aikens in the video clip above.
Want more HuffPost Live? Stream us anytime on Go90, Verizon's mobile social entertainment network, and listen to our best interviews on iTunes.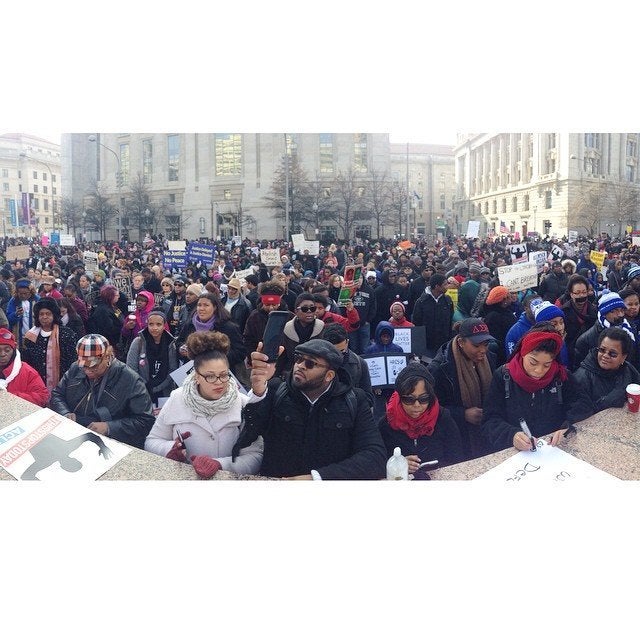 Powerful Black Lives Matter March In Washington
Related
Popular in the Community