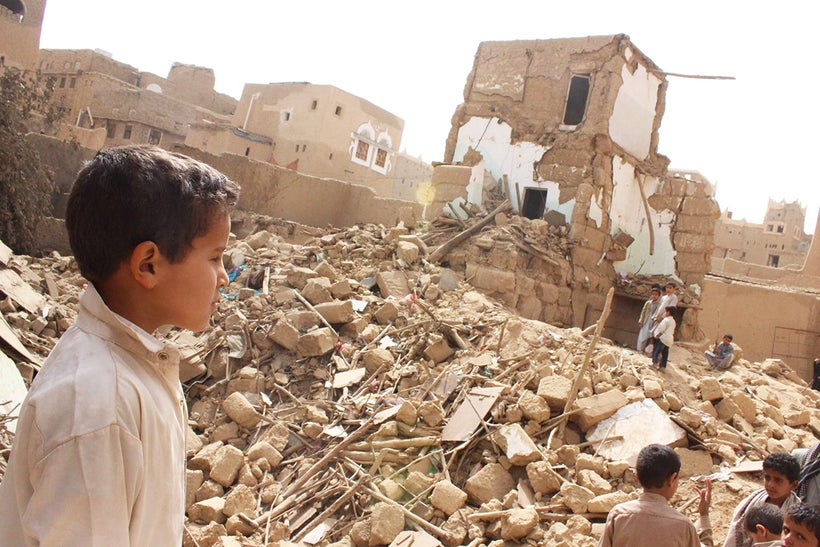 UNITED NATIONS –Yemen, immersed in a two-year old civil war, may now undergo a famine with millions of victims unless Saudi Arabia lifts its blockade on humanitarian supplies, a senior U.N. official said.
Mark Lowcock, the emergency relief coordinator, spoke to reporters after briefing the U.N. Security Council following his trip to the Arabian Peninsula country. Saudi Arabia was reacting to a missile fired on November 4 from Yemen at Riyadh, which was intercepted over the city with fragments landing over the Saudi airport area.
"I have told the council that unless those measures are lifted there will be a famine in Yemen," Lowcock said. "It will be the largest famine the world has seen in many decades with millions of victims."
U.N. officials, including Secretary-General António Guterres, have spoken to Saudi Arabian officials, including Foreign Minister Adel al-Jubeir. The UN was told the blockade was temporary but was given no clue on when it might be lifted.
Iran is blamed for the missile
The missile, launched in support of Houthi rebels, was blamed on Iran, although Tehran vigorously denied it and said it was inconceivable that it could deliver a missile to Yemen.
The Saudi-led military coalition fighting the Houthis said on Monday it had closed all air, land and sea ports to Yemen to stem the flow of arms to the Houthis. But Lowcock insisted that the United Nations had a large group of inspectors to make sure the cargo carried no prohibited goods.
Throughout the civil war, only the coalition led by Saudi Arabia had aircraft, which meant bombs hit nearly everything that moved, shattering the country. It gets weapons from many countries, including the United States and Britain.
Yet Security Council members, while condemning the missile strike, which can be called a war crime, did not condemn the blockade, a sign of Saudi Arabia's influence. Human Rights Watch suggested the Council consider sanctions against the Saudi-led coalition.
Air strikes cause the most damage
Saudi-led air strikes have killed 5,295 civilians and injured at least 8,873 others, the United Nations estimates. But it warns that the actual figure is "likely to be far higher." Some seven million people are facing starvation and nearly 900,000 have cholera.
Over the past week, two airstrikes by the Saudi-led coalition on a market in Saada governorate in northwest Yemen killed 31 civilians and an entire family of seven people was killed when a house was hit, also in Saada, according to Security Council Report, a research group.
The Houthis are not innocent bystanders. UN officials said five children were killed and two were wounded in Taiz on November 2 from shelling by forces affiliated with the Houthis and those loyal to former President Ali Abdulla Saleh. Pro-Houthi forces are known to fire motor shells and rockets into populated areas. ISIL cadres are also in the country as well as Al Qaeda militants.
Yemen is bordered by Saudi Arabia, the Red Sea, the Gulf of Aden, the Arabian Sea and Oman. Sana'a is the capital but is under rebel control. The temporary capital is in the port city of Aden.
Even before the blockade, Lowcock said delivery of aid by air and sea had been delayed or disrupted. He said the U.N. World Food Program was feeding seven million people a month in Yemen, including air service to both Sana'a and Aden.
The head of the World Food Program, David Beasley, told the Associated Press that hundreds of thousands of children in Yemen will be "on the brink of starvation" if the blockade of air, sea and land access lasts for even two weeks.
Children are in grave danger all the time, Lowcock said. For example, Nora, nine years old, weighed 11 kilograms (24 pounds), the average weight of a two year old. Her body is not strong enough to fight off infections.
Ambassador Sebastiano Cardi of Italy, this month's U.N. Security Council president, said members were concerned about the humanitarian crisis.
"The members of the Security Council emphasized the importance of keeping all Yemen's ports and airports functioning, including Hodeidah port (on the Red Sea) as a critical lifeline for humanitarian support and other essential supplies," Cardi told reporters after Lowcock's briefing.
He said members "strongly condemned the missile attack on Riyadh." Again, there was no condemnation of the blockade.
Overlapping feuds and enemies
The Saudi–led coalition began its air strikes against the Houthis in an effort to restore President Abdo Rabbo Mansour Hadi to power, who is now in Saudi Arabia and has not visited Yemen for some time.
The conflict pits the Houthis and military units loyal to former President Ali Abdullah Saleh against forces supporting Hadi, southern separatists, Sunni tribes, and terrorist groups.
The Houthis receive military help from Iran, which has no troops on the ground. In the past they were known for being moderate and were closest to Sunni Islam of all the Shi'a sects.
The turmoil dates back to 2011 when street protests began against poverty, unemployment and corruption — and President Salah's plan to make himself president for life.
The United Nations has been conducting political talks to quell the fighting but to no avail.
Calling all HuffPost superfans!
Sign up for membership to become a founding member and help shape HuffPost's next chapter
This post was published on the now-closed HuffPost Contributor platform. Contributors control their own work and posted freely to our site. If you need to flag this entry as abusive,
send us an email
.