Leo Tolstoy might have been surprised by a few of the scenes in the new television adaptation of War and Peace, just as Jane Austen might have been surprised 20 years ago by a few scenes in the 1995 television version of Pride & Prejudice.
But both Tolstoy and Austen very likely would have understood, and perhaps even approved, because the man who wrote both adaptations, Andrew Davies, made those scenes connect so seamlessly to everything else the characters thought, did and were.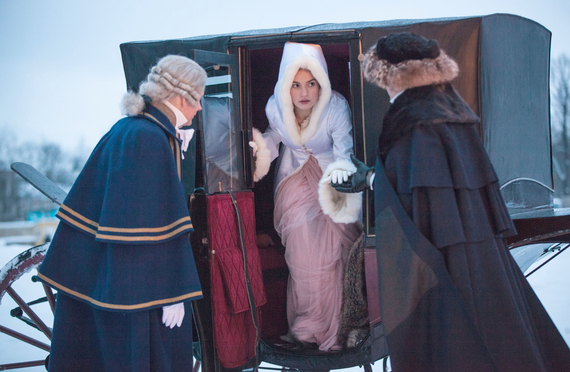 That Davies could tweak such iconic works of literature goes a long way toward explaining why this soft-spoken Welshman, who turns 80 in September, has become one of the most accomplished and respected television screenwriters on both sides of the Atlantic.
Nor is the well-received War and Peace anything like a swan song. He recently adapted Who Speaks for England, and production is currently under way for Davies's new adaptation of Henry James's The Spoils of Poynton.
No word yet on whether James would be surprised by any fresh twists involving antique furniture.
But Davies's stature is particularly impressive considering that we dwell in what's widely considered a golden age of television screenwriting. That's why long-time movie writers like Barry Levinson have joined hundreds of actors in migrating to the small screen, because they find more freedom and opportunities there.
As television passes its seventh decade, it has also developed its own pantheon of writers.
A quick sampling of the top handful might include David Simon, who wrote Homicide and The Wire; Shonda Rhimes, whose current shows include Grey's Anatomy and Scandal; Matthew Weiner, who graduated from writing for The Sopranos to creating Mad Men; Aaron Sorkin, who wrote The West Wing and The Newsroom; and J.J. Abrams, creator of Lost and Fringe.
Nor would fans leave out David Chase for The Sopranos, Vince Gilligan for Breaking Bad or Noah Hawley for the first two seasons of Fargo.

You get the idea.
Most of Andrew Davies's work hasn't been in the same style as those writers. He has more often operated more in the theater of what are loosely called public broadcasting-style dramas.
Davies's acclaimed House of Cards, of course, is a rather different animal. But you could argue the description fits War and Peace, a four-part, eight-hour adaptation whose second part airs Monday night at 9 on Lifetime, History and A&E. It's a serious, sometimes dark drama about serious matters, and for all its reputation in literature, the story has been a tough sell for decades as a potential television series.
Tolstoy. Russia. Half a million words.
Davies is hardly the first writer invited to take a crack at it. He's just the first to accept the invitation and make it work.
"Actually, it was dead easy," he told a panel in London earlier this month. "It was a huge book and I think the main thing was leaving out all the editorializing, the history and the philosophy and trying to incorporate it somehow into the drama."
Since Davies's dozens of productions over several decades also include two Bridget Jones movies, Mr. Selfridge, Bleak House, Little Dorrit, South Riding, Doctor Zhivago and two Austen novels beyond Pride & Prejudice (Northanger Abbey and Sense & Sensibility), he'd earned that level of confidence.
So when he started to tackle War and Peace, he saw a subtle reference he felt could help tell the existing story even more forcefully: an incestuous relationship between Helene Kuragin (Tuppence Middleton) and her brother Anatole (Callum Turner).
He told the London Telegraph that the affair was "subtly referenced in the book, absolutely. . . . I haven't felt any need to change War and Peace. Occasionally I have written one or two things that Tolstoy forgot to write."
He had a similar explanation recently for one of the most notorious scenes he has ever written: the wet-shirt swim taken by Colin Firth's Mr. Darcy in Pride & Prejudice.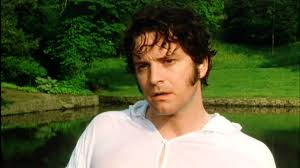 Jennifer Ehle's Elizabeth Bennett happens to be walking up at that precise moment, and the result was possibly the most sexually charged fully clothed conversation in modern television history.
Some viewers still haven't gotten over it, including Austen devotees who noted that Jane herself never would have even considered such a scene.
Davies said it was still perfectly Austenian.
"Because people for years had only been looking at these characters from the neck up," he said, "I wanted it to be quite physical. Remember these are young people.
"Mr. Darcy leads a life where for weeks he spends his life in stuffy dining halls, which he does not enjoy. I thought, what would make more sense when he has a little time off than to swim in his own lake?"
It's also, he said, consistent with Austen's observational wit.
"It's a very funny scene, really," he said. "He and Elizabeth have this very proper, stilted conversation even though he's soaking wet."
In retrospect, said Davies, the only downside was the unexpected resonance of the scene for Firth.
"Colin," he admitted, "has never lived it down."
Truth is, though, Mr. Darcy has been quite good to Firth. That tends to happen when, as an actor, you get words that work.
"My character in War and Peace, Andrei, is tormented and really not all that likeable," says James Norton, one of the leads in the current production. "But it was not hard to play him, because Andrew Davies got that all into the script."
Not for the first or last time.
REAL LIFE. REAL NEWS. REAL VOICES.
Help us tell more of the stories that matter from voices that too often remain unheard.