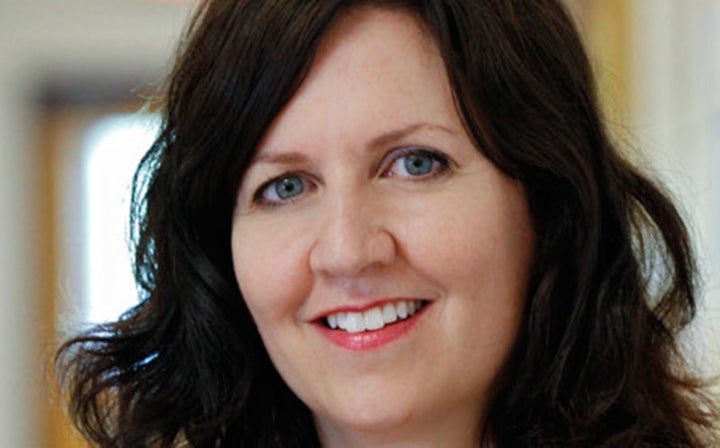 This is an interview with Susan Lovett, a licensed social worker, K-8 teacher, and a registered yoga teacher who has worked with urban low-income youth and families in the greater Boston area for over 25 years. During her yoga teacher training in 2013 she offered yoga classes and workshops for students at the high-poverty urban school where she works as a clinical social worker, providing therapeutic interventions and programs for youth with trauma. The students enjoyed their yoga and mindfulness practices, and Susan began receiving many requests from teachers and other social workers to provide yoga for their students. Through word of mouth, staff members at local community-based social service agencies heard about her yoga teaching, and requests for classes came in from those sites too.
Hands to Heart Center (HTHC) - Yoga for the People --is a non-profit yoga service organization Susan founded in 2014 that provides free yoga classes for people living with poverty and trauma in Boston. It orchestrates a pool of over 140 yoga teacher volunteers, who have taught more than 700 free yoga classes in branch libraries, community centers, detention units, domestic violence shelters, high-poverty schools, homeless shelters, public housing developments, and residential treatment programs in Boston.
Rob: What originally motivated you to do this work, and what continues to motivate you?
In my social work career, I've always served low-income youth and families with trauma and am constantly seeking effective resources for my clients. When I read Damien Echols' book Life After Death, I learned that he believes his yoga and mindfulness practice saved his life when he was wrongly imprisoned on death row. I realized that yoga was the resource I was looking for. It requires no equipment, no specific skills or physical abilities, and can be practiced by anyone, in any condition, in any location. Yoga can be practiced by a prisoner on death row, by a young person who lives with their abuser, by a student in a challenging school environment. and by a client in a residential treatment program for substance abuse disorder.
I continue to be motivated by the gratitude consistently expressed by HTHC's yoga teacher volunteers and students, and by the large numbers of people living with poverty and trauma in Boston who don't have access to yoga.
What is the most rewarding aspect of your teaching experience?
Being allowed into people's lives for moments of grace while we're all on our mats. I love the peaceful silence of savasana, especially in settings that are rarely associated with serenity and softness. When we're all breathing together in those spaces, I feel more connected to the other people in the room, regardless of all of our lived experiences, and the external conditions that separate us from each other.
What are some of the things your students have taught you?
That yoga practice doesn't have to be so serious! That we can laugh and talk to each other on our mats. They've also taught me to expect the unexpected, and to go with the flow!
In what ways do you think yoga addresses some of the societal factors at play for people living in poverty?
Yoga is effective in alleviating anxiety, depression, and stress and trauma, but yoga classes are expensive. There are no yoga studios in low-income neighborhoods. Regular yoga practice promotes health and wellness, increases capacity and builds resilience. Hands to Heart Center exists to share this powerful and effective resource with those who need it most.
For people living with the chronic stress of poverty, yoga provides many benefits, including an hour to 75 minutes with no demands, other than to breathe. Yoga class is a time when people with overwhelming stress can be nourished and supported. HTHC yoga classes provide community and connection among a wide range of people, connections that may not happen outside of yoga class. The message of HTHC is that yoga is effective and practical, and needs to be accessible to all, regardless of socioeconomic status. HTHC calls on yoga teachers, many of whom benefit from great privilege, to leverage their privilege, their education, and their skills on behalf of others.
In order to address the inequities in access to yoga, HTHC has implemented a Yoga Coach program, a 20-hour free training for HTHC students and staff of our community partners. Upon completion of the program, HTHC Yoga Coaches will be able to teach a safe, one-hour class with eight simple postures. To participate in the HTHC Yoga Coach program, students commit to providing a minimum of six free HTHC yoga classes in their communities. Thus the HTHC Yoga Coach program fosters a larger, more culturally, racially, and socioeconomically diverse group of people who can lead yoga classes. Graduates of the HTHC Yoga Coach program are connected with scholarships to local 200-hour yoga teacher training programs if they're interested in continuing their yoga teaching education.
What, in your mind, is the relationship between a practice of mindfulness and greater social change?
I believe that individuals who cultivate a practice of mindfulness have increased capacity to actively participate in social change efforts. I don't think mindfulness alone positively affects income inequality, health disparities, racism, and violence in society, but I do think that people who develop mindfulness practice often seek out others who do the same. Collectively, the organized actions of mindfulness practitioners who focus on social justice can be powerful.
What are some of your ideas about, or hopes for, the future of service yoga in America in the next 10 years?
I hope that yoga service organizations will become commonplace in the next 10 years, and that the concept of yoga service will be integrated into more yoga teacher training programs. I believe that the scientific evidence about how a regular yoga practice can decrease anxiety, depression, stress, and trauma, and increase resilience will be more well-known, and that yoga will be part of the organizational culture in detention units, health centers, and schools.
I'd definitely like to see more federal and state funding available for yoga service organizations so that trauma-informed yoga teachers can be appropriately compensated for their skills. I believe that more and more yoga teachers are becoming interested in, and excited about, yoga service, and that the general public is becoming more informed about the many benefits of yoga, along with the important and effective work that's being done in the yoga service field.
Popular in the Community