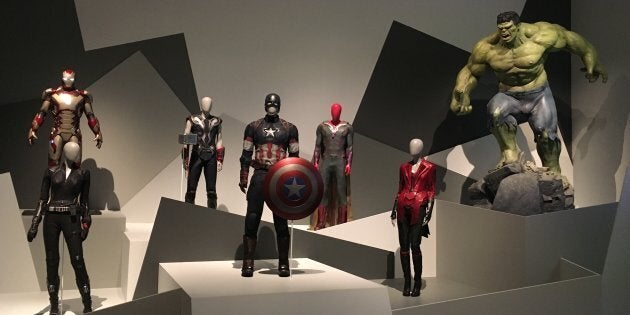 Marvel fans of Australia, prepare yourselves.
The Queensland Art Gallery and Gallery of Modern Art (QAGOMA) and Disney along with state Premier Annastacia Palaszczuk announced the opening of the largest Marvel-related exhibition to be held in any art museum in the world on Friday.
When we say 'the largest', it's bigger than you can imagine. And as Marvel always seems to manage with its films, the items on-show themselves are huge. Think 10-foot tall, monster Iron Man-huge.
'Marvel: Creating The Cinematic Universe' will open at the gallery in Brisbane on Saturday and will feature more than 500 individual items ranging from original costumes, comic strips, props, set designs, art concepts and film clips.
The exhibition will also offer visitors the opportunity to try unique behind-the-scenes interactives built to construct their favourite on-screen characters. That means you can get hands-on with CGI technology while also getting the chance to take photos inside of your favourite Marvel worlds.
'Marvel: Creating The Cinematic Universe' covers the entire ground floor of the QAGOMA and is split into three sections each with their own theme aimed at helping visitors understand the history of Marvel and its evolution from the pages of comic books to the blockbuster films of the 21st century.
And in Marvel terms, that means everything from immersing yourself in a room entirely decked out to look like a throne room from the Marvel god Thor's home realm Asgard, to getting a little physical in a green screen interactive that turns you into any character you like.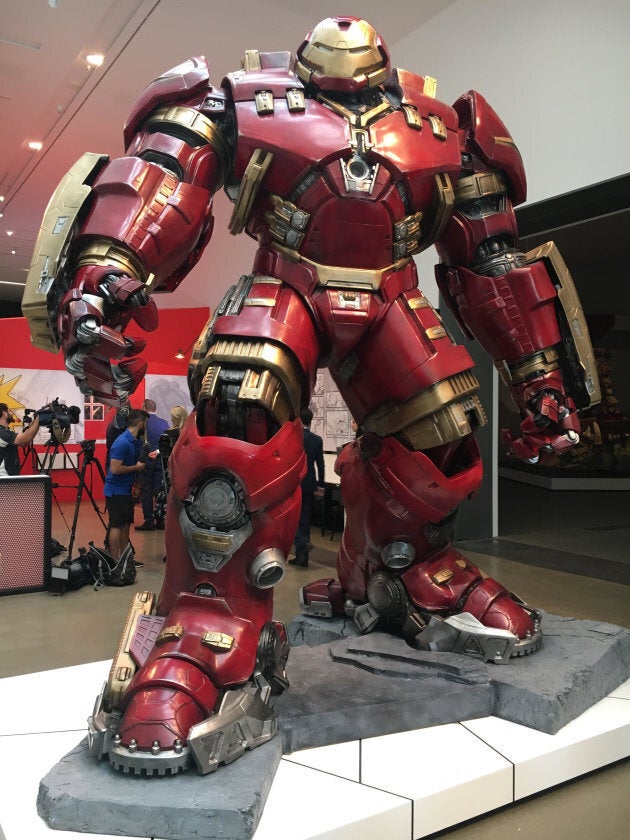 QAGOMA Director Chris Saines told media on Friday the exhibition is "different from anything" the gallery has ever presented and called the behind-the-scenes process of organisation for the event "a heroic journey of its own kind".
"The scope of 'Creating The Cinematic Universe' is utterly unprecedented. Developing the exhibition, one curatorially and materially different from anything we've ever done before, has been a heroic journey of its own kind for the gallery," he said.
"We feel like were sitting on the edge of a volcano [and] I think when this exhibition opens tomorrow morning, it will go off."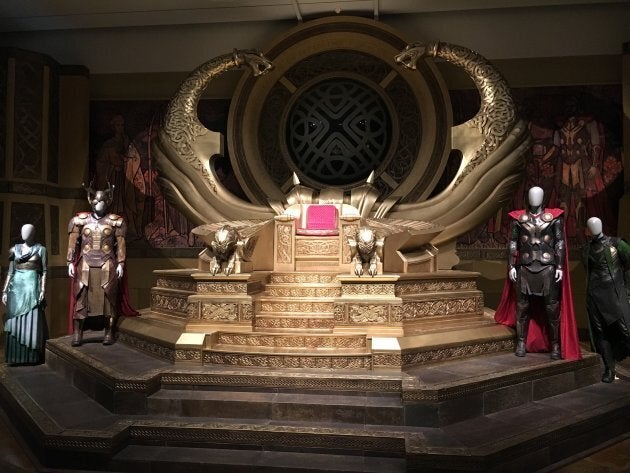 Palaszczuk called the exhibition's launch in Brisbane "a coup for Queensland" that is a "fitting tribute" to mark the tenth year since the creation of QAGOMA.
"This has been one of the most anticipated exhibitions over the last year and as we go into the tenth year of celebrating GOMA, I think this is a fitting tribute to this outstanding, state of the art gallery in Queensland," she said.
Palaszczuk also confirmed the exhibition has sold more than 3,400 pre-sale tickets prior to its opening weekend, making it the gallery's most successful launch to date.
"We've already had over 3,400 tickets that have been sold. This has been the most successful pre-sale event in GOMA's history. GOMA celebrates 10 years this year and what an outstanding achievement to be able to attract this kind of exhibition to Queensland," she said.
"Fundamentally, this is a family event and this is what art should be, it should be an experience for not just adults, not for a specific community, but this is something that the whole family will enjoy."
ALSO ON HUFFPOST AUSTRALIA