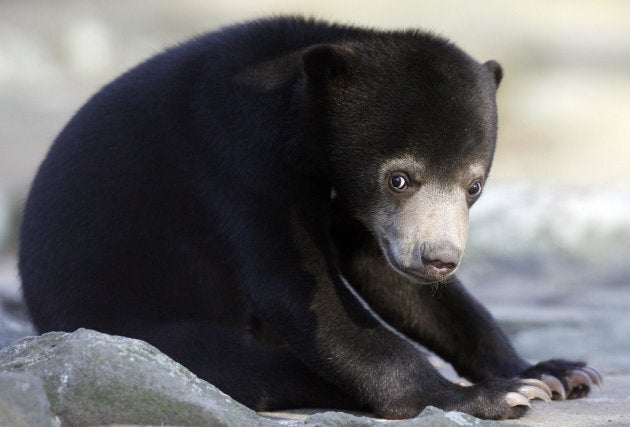 Have you ever seen a sun bear? They are cute, little (the littlest bears of all, in fact) and in very real danger of extinction.
Found in Southeast Asia (among other places), deforestation for palm oil, illegal hunting of their body parts and illegal pet trade continue to put the dwindling sun bear populations under urgent threat.
In the last 30 years alone nearly half of the Malayan sun bear population has been wiped out. Female sun bears have a very low reproduction rate -- typically a mother will only ever raise one cub in her lifetime. Given their tiny proportions, the cubs are highly sought after through illegal pet trading. And each time a cub is stolen, a whole generation is lost.
Moreover, protecting these bears is about more than just preserving this one species -- known as a 'keystone' species, other animals and plants rely on the sun bear for survival. Referred to as the 'rainforest doctor', the little bears spend their days dispersing seeds and protecting trees from pests.
When the sun bear tears open tree trunks to reach the honey inside, this also creates nesting sites for the native hornbills and flying squirrels. When they dig for invertebrates on the rainforest floor, they aerate and mix rich and poor soils together, boosting the nutrient cycle.
One Sydney couple discovered the plight of the sun bears on a recent trip to Myanmar.
"Luke, my husband, had wanted to do this trip. We were the Golden Rock where this big beautiful stone leans on this precipice, and it is said that it's held by one strand of Buddha's hair. It's very sacred and spiritual, but at the same time there's lots of touristy things around it, of course," Sun Bear Sunscreen co-founder Joy Leaper told HuffPost Australia.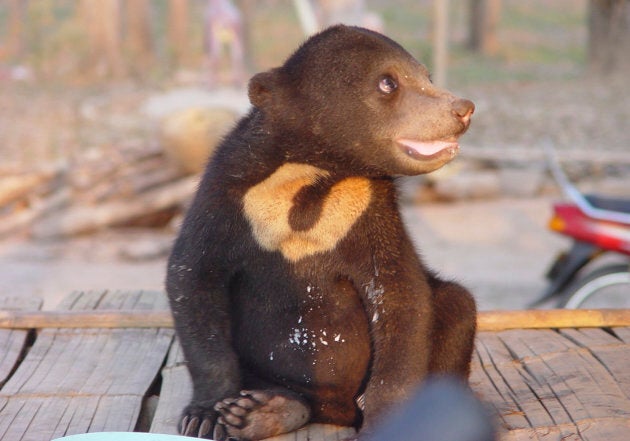 "One of the locals darted in front of us with a briefcase, opened it up and it was a full of severed bear paws. In that case they were used for ornamental purposes, but we since found out that these bears are also used for medicinal products."
From there Joy and Luke did further reach into the illegal pet trade, bear bile market and other various ways these bears were being exploited and decimated.
Already running three small businesses back in Sydney, they decided they wanted to help by giving people an easy way to make a difference and to create an everyday product with purpose. From there, Sun Bear Sunscreen was born.
Fast forward two years and they have formulated a sunscreen that is SPF 50+, palm oil free, rainforest derivative free, fragrance free, oxybenozonate-3 free, (the chemical found to damage coral reefs) and not tested on animals, obviously.
It is is also produced using solar power and has fully recyclable packaging. Sun Bear Sunscreen's formulation is two hours' water resistant and suitable for easy, whole body application. It glides on nicely and has zero white cast, too.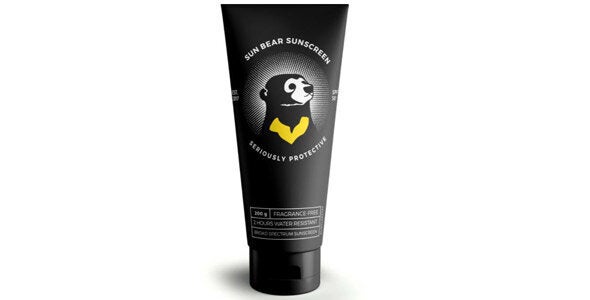 A very impressive 80 percent of profits of the sunscreen go right back into rescue and conservation. After extensive research and meetings, it was determined that profits from the sale of Sun Bear Sunscreen would go to Dr Wong Siew Te and his team at the Bornean Sun Bear Conservation Centre. Dr Wong has been named as one of CNN's 'Heroes', in recognition of his dedication to protecting the world's smallest bear.
It is available now through selected stockists, hotels (like the prestigious One and Only franchise) and online. The 200ml bottle is $34.95. If you're looking for a new sunscreen this summer, let this be it.