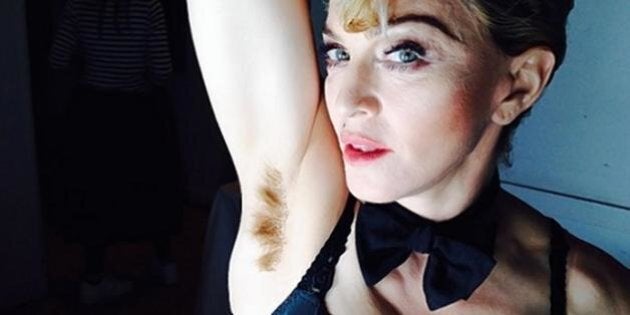 Women's lib is back! More fierce, more subversive, more daring than ever before.
Yes, a select group of brave women are declaring their feminist identity, kicking against society with the most powerful weapon we've seen -- pit hair! As in armpit hair. Theirs.
Well, they're growing it. Like, really long. And sometimes they dye it and show it on Instagram and stuff. And just who are these fearless insurgents? Madonna, Beyoncé, Taylor Swift, Lady Ga-Ga and Miley Cyrus of course. So very brave. Because nothing says 'give me equality' louder than a wealthy western woman with hairy pits, right?
I am aware many months have passed since Madonna first 'took up arms'. And I'm ashamed to admit that, when I first saw Madonna's hairy-pits pic, I thought it was a silly publicity stunt because the hair looked fake. But as if Madonna would do something as ridiculous as wear underarm wiglets. That's just crazy talk.
The fallout from this seditious act has been to question why we still find women's body hair so confronting. And suddenly, the choice to not shave was aligned with feminism, nay, a revolution in feminism.
The 'long hair don't care' movement has taken root and it's growing. Women are now dyeing their underarm hair bright blue, pink, chartreuse. My prediction? We're a couple of months away from vajazzling. In fact, if you've got some money, invest in an ancillary hair salon right now. There's a ready-made market of women who will be wanting their pits washed and blow dried, perhaps a part in the middle, a little bit of mousse, some beaded braids, maybe a perm.
People, I have a dream. A dream that one day, hopefully soon before this trend dies out, I will sit with my feminist sisters -- Madge, 'B', Tay-Lay, Ga and Mi-Cy. Together we will cut our long locks of underarm hair and spin them into the most beautiful yarn. And from that yarn we will macrame pot holders and weave quilts. We will sell our hairy-crafts the world over and, with the proceeds, buy razors for women of the Third World.
I don't know if growing underarm hair has been all that empowering for them, but maybe if -- like us -- they were free to choose whether to shave or not they could challenge gender stereotypes, realise that they don't have to conform to anybody's definition of beauty and, hey presto, everything will change for them. I'm sure disadvantaged women the world over will attest, while they're lugging water the 10km back to their homes, this is what is foremost in their minds.
So thank you, ladies, for rocking your underarm hair. Through your 'direct-action feminism' I am safe in the knowledge the next time I stand before my male counterparts doubting myself, wondering whether I should speak up and share my thoughts, wondering if my opinions will see me labelled as difficult, a ball-breaking bitch, hysterical or aggressive, remembering my vegan, TGA-approved, deodorising 'Rich Eggplant' coloured pits will remind me I defy society's patriarchal view of femininity. Throwing down the razor at the standard of beauty, as dictated by men, is a freedom you have delivered me.
Visit Tania's website here.