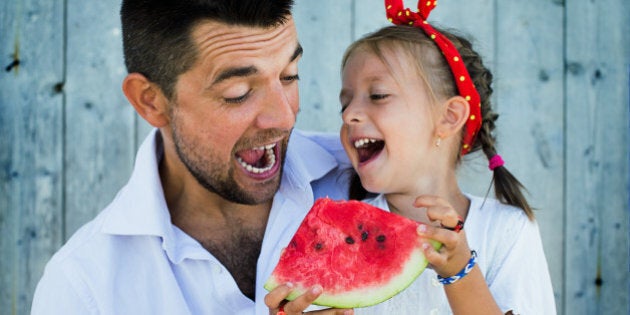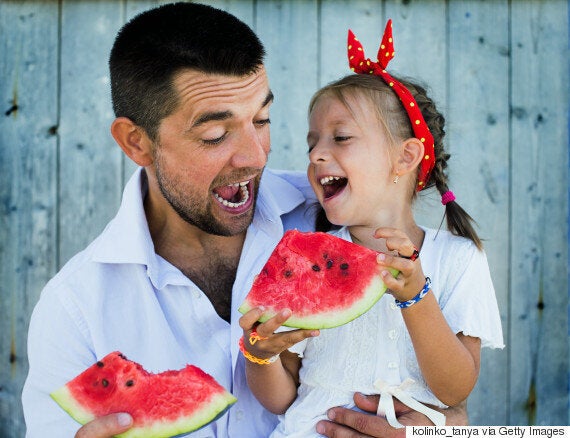 When the kids come home from school screaming for pizza and donuts, it can be hard to come up with healthy snacks or meals to make instead. On top of that, if you're a dad who is culinarily challenged (to put it kindly), the idea of making beef casserole from scratch might send you straight to the local fish and chip joint.
Although it's tempting, it's more important give your kids nourishing, healthy foods.
"You want your kids to be healthy and to give them the best start in life," accredited practising dietician Caroline Trickey told The Huffington Post Australia.
"The nutrition we get in childhood is incredibly important, and if kids start off life without getting the right nutrients, that really does affect them later on," Trickey said. "It's about giving your kids whole foods, rather than looking to processed things, like muesli bars, chips and biscuits."
"Just choose a variety of colourful natural foods. We do eat with our eyes so make the food more interesting for your kids by making sure there's lot of colour in it."
Putting the cutlery aside and eating food with ours hands also encourages kids to eat healthier food.
"I think it's always great to make food that kids can eat with their hands, or use their hands to put the meals together. It makes food more fun and interesting," Trickey said.
Instead of giving your kids a big bowl of ice cream, try these easy and healthy snack ideas that your kids will love. And you'll enjoy them, too.
Barbecue away (but pass on the sausages)
"When you think of dad cooking, the thing that comes to mind is barbecuing. You would automatically think of sausages and hamburgers, but try something more fresh and healthy," Trickey said.
"You could do chicken thigh marinated in sweet chilli and soy sauce with coriander on top. That would be a great alternative for barbecue cooking, rather than sausages and pre-made hamburgers.
"Dads could even make their own healthy hamburgers using lean mince and grated vegetables, such as carrots and zucchini."
"The other thing you can do on the barbecue, or on the stove, is marinated chicken or beef strips and make fajitas," Trickey said. "You can cut a whole range of salad vegetables for the fillings, cook the meat on the barbie and lay it all out with some wraps."
"The kids can make it themselves -- they love eating with their hands and if you're eating a fajita, you've got to eat it with your hands."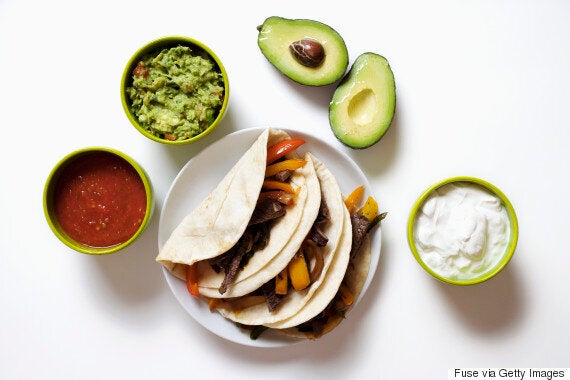 One dish many guys can cook is bolognese, and what you may not know is this one easy dish can be transformed into a bunch of delicious meals for the kids.
"You can adapt bolognese sauce in so many different ways. You could add red kidney beans or black beans and make the sauce into filings for fajitas or burritos with salad vegetables," Trickey said.
"You can make it into a lasagne or chilli con carne, and add kidney beans or corn to it."
Sandwiches and wraps are dead easy to make and most kids love them. But there are certain components required for making a nutritious, balanced sandwich.
"Always try to put veggies and salad in there -- tomatoes, grated carrots and maybe some grated fresh beetroot are great as they immediately add vibrancy."
"Get away from heavily processed white bread as it just doesn't fill you up. Choose wholegrain bread instead," Trickey said.
For the important protein component of the sandwich, Trickey suggests staying away from processed meats like ham and salami.
"Try to avoid processed meat as these have been linked to bowel cancer, and they're also high in salt," Trickey told HuffPost Australia. "Instead, you can use leftover meat from the night before in your sandwiches."
"I love also tinned tuna -- it's easy and portioned sized for just the right amount for a sandwich or wrap. A bit of cheese is good, too."
If you don't want to put meat in the sandwich, Trickey suggests using hummus or tahini as your protein source.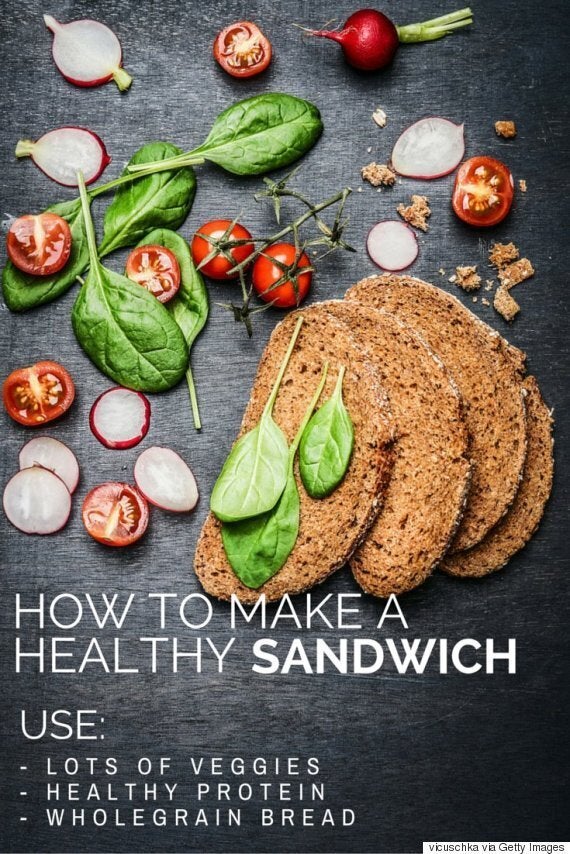 Toast with healthy toppings is another great, easy snack the kids will happily devour after school.
"Make sure it's a wholegrain bread and then be selective about your toppings -- not to use just jam and honey," Trickey said. "Avocado is a great toast topper."
"If your kids are really hungry, then peanut butter, or cheese, or a tuna, tomato and cheese melt would all be great.
"You can also use other nut butters. We have such a variety now -- there are even seed butters, like pepita spread and sunflower spread, which are all very yummy."
Crackers and veggie sticks with guacamole and hummus
Crackers and veggie sticks with healthy dips gives your kids an important dose of vegetables, healthy fats, protein and fibre.
"Any time when kids are having a snack that's vegetable-based is great," Trickey said.
"For the crackers, you want to look for ones that aren't heavily processed, so something that has whole grains in it. My immediate thoughts are Vita-Weats."
Fruit provides important nutrients for growing children, and they are sweet and colourful enough for kids to think they're having a treat.
"Fruit is a good staple," Trickey said. "Most kids will eat fruit if it's cut up for them, so you could make a fruit salad or a platter with different coloured fruits on there.
"You might cut up strawberries, orange quarters and banana pieces. This makes it a bit more interesting than just handing your kid a banana. You could add a dollop of yogurt or a handful of nuts, too.
"Just make the food interesting for them -- give them variety and whole, real foods with lots of different colours."