Mark Zuckerberg's ability to connect the world as the founder of Facebook has been a major part of his life, but now he's got something new to focus on.
In a lengthy post on his Facebook profile, Zuckerberg declared that for the next year he will only eat meat he has killed, or helped butcher himself. He says in the post, that knowing where our food is coming from is an important part of being thankful for what we eat.
Here's part of what he said.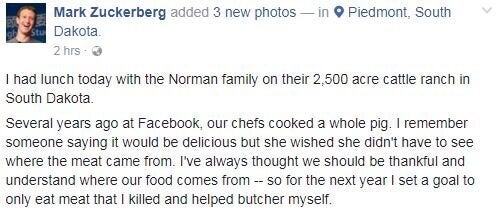 This isn't the first time the Facebook CEO has vowed to be extra selective with the meat he eats. In May 2011, Zuckerberg posted to his Facebook account: "I just killed a pig and a goat."
He later explained the comment in an email to Fortune, saying he was planning to 'basically become a vegetarian,' as he would only eat animals he had killed himself. At the time, he declared this idea just another of his annual challenges, which he says aim to help expand his interests and teach him greater discipline.
It seems however, that what was once an annual challenge, has been revived nearly six years later and there have been mixed reactions to Zuckerberg's decision. People have posted to Twitter to express their thoughts, and while some are simply a little confused by the idea, others are less than supportive.
Imagine the dystopian future in which, during an election cycle, a crazed Mark Zuckerberg pauses campaigning only to hunt and chop meat pic.twitter.com/TZhz2QGTka

— Weston David Pagano (@wpazzurri) July 12, 2017
Zuckerberg's post comes during a trip, which is part of another annual challenge he set himself in January. In 2017, he aims to visit the 30 states in America he hasn't previously been to, where he hopes he will better understand his country, by meeting with everyday people and learning about the lives they lead.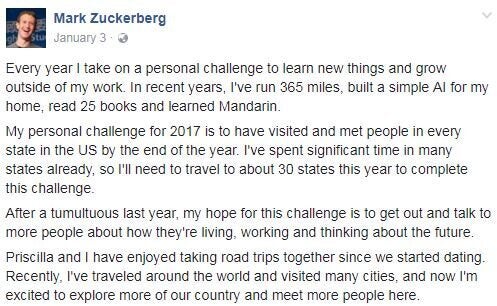 ALSO ON HUFFPOST AUSTRALIA