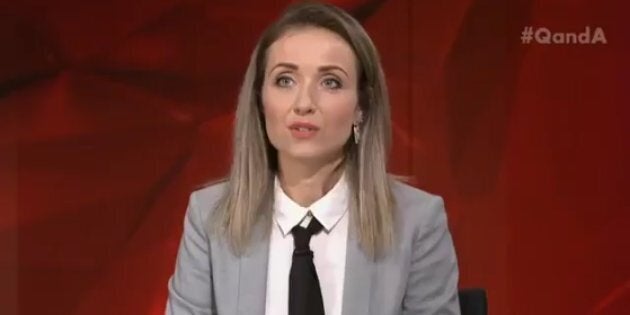 Icelandic campaigner and public speaker Thordis Elva wants the onus of sexual assault to be placed back onto male offenders and for people to stop telling rape survivors how they should react to being violated.
"Forgiveness was never ever for him. It is an extremely misunderstood concept. People somehow think you are giving the perpetrator something when you forgive," she said.
"In my view, it is the complete polar opposite. Forgiving was for me so that I could let go of the self-blame and shame that I had wrongfully shouldered that were corroding me and basically ruining my life."
Indigenous lawyer and fellow panellist Josephine Cashman suggested she believes it's dangerous for Australians who may be in a situation such as Elva's to pursue this course of action after being assaulted and risk offenders re-offending.
"It is a perpetual cycle in domestic violence. The best place for the offender is to go to court because, in our system, criminal system, we have a way of monitoring them," she said.
"I can tell you right now if this happened in Australia and this person was convicted right now they would not be able to benefit from a global world tour or from a book because we have proceeds of crime legislation that prevents criminals from profiting."
In response, Elva claimed she is "one of the millions" of sexual assault victims that "fell through the cracks" of a legal system and that she now believes it's time the responsibility is put back onto the offender.
"Last time I checked, 98 per cent of women that are raped never see their offender spend any time behind bars. It is the most under reported crime in the world," she said.
"We are trying to flip that narrative and say, that is wrong and responsibility needs to be taken, even when the legal system can't cater to it.
"I think it is high time that the people responsible, which in an overwhelming majority of cases are men, when it comes to violence against women, that they don't get a free pass."
Elva went on to clarify that the publication of her story in a book co-written by Stranger should not act as a "manual" for other rape survivors but she believes that people need to stop telling survivors how to react to abuse.
"We are supposed to not wear certain things, not wear short skirts or drink certain drinks, not be in certain areas. If you are assaulted, we are supposed to scream louder and fight harder and move straight to the police and then move on with our life having squarely put the blame on the perpetrator's shoulders," she said.
"That is not often how it works in real life. It is a part of something that we have to do, is to support survivors, to do what ever feels safe for them and not tell them that there is a right or a wrong way to react when you are violated.
"I find it very confining to say that all survivors should do one thing when that might not feel safe for everyone. I think that everyone has to find their way and do what feels safe and right for them because that is their right to heal from what happened."
If you or someone you know is impacted by sexual assault, domestic or family violence, call 1800RESPECT on 1800 737 732 or visit 1800RESPECT.org.au. In an emergency, call 000. For more information about a service in your state or local area download the DAISY App in the App Store or Google Play.
ALSO ON HUFFPOST AUSTRALIA