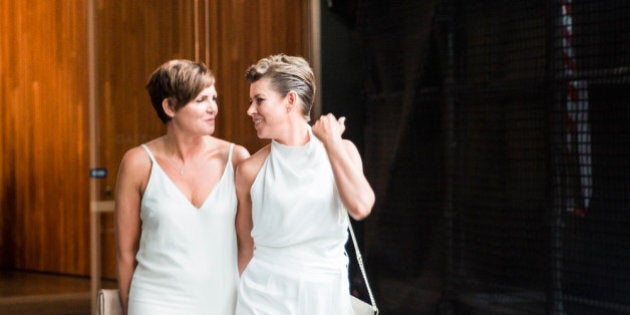 They are small patches of marriage equality dotted across in our vast continent of inequality.
Same-sex marriage may not be available under our law, but hundreds of couples are taking advantage of the legal, and personal, generosity of the British High Commission -- getting married right here in Australia.
And British High Commissioner Menna Rawlings couldn't be more delighted to have found herself both a diplomat and a marriage celebrant -- she's even opened up her house to in-love couples who want a special location for their wedding.
"All of it was quite emotional I have to say," Rawlings told The Huffington Post Australia.
"It was very moving when they came walking together into the room, holding hands, with the music playing," she said of the recent wedding of Laura and Alison. "I could see the emotion on the faces of family and friends, it was a lovely occasion."
It's one of 217 same sex marriages that have been conducted at the British High Commission and Consulates in Australia since legislation came into effect in June 2014, along with more than 100 conversions from a civil partnership to marriage.
"My husband discussed the possibility of offering the option of getting married at our residence at the High Commission," Rawlings said.
"I feel we have a beautiful house and gardens and in general, I want our doors to be open so people can use it."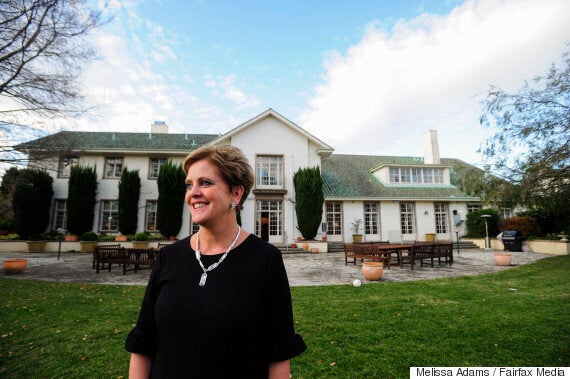 Her Excellency Menna Rawlings has opened her house to same-sex marriages.
Last Friday, she married Laura and Alison at their residence.
"At the end of the ceremony, one of the bride's sisters came up and said to me 'I've never been so proud of my British heritage'. It was a special moment for me," Rawlings said.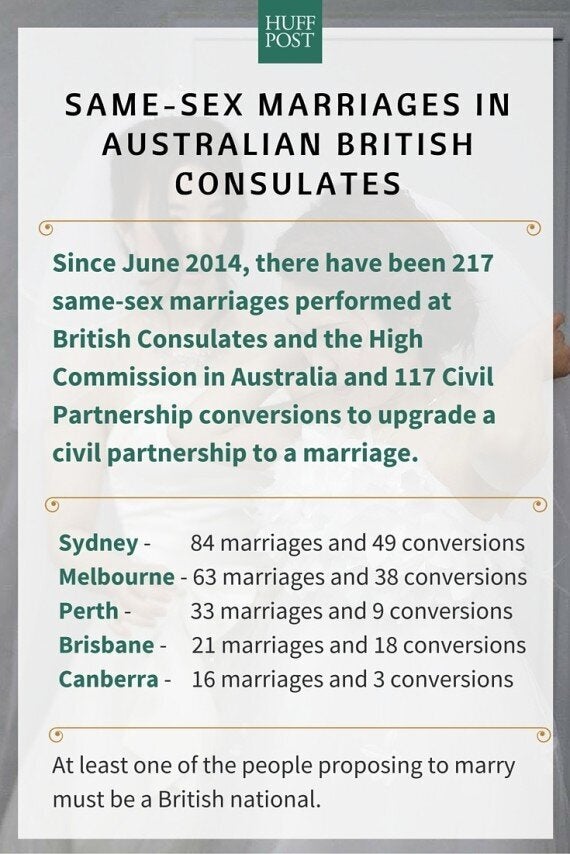 For consular staff, same-sex marriages are a joyous task.
"People often go to a consular office when things go wrong and our consular staff deal with an awful lot of tragic cases and quite a lot of human misery -- I would say they do an amazing job supporting people though troubling times," Rawlings said.
"When it comes to same-sex marriage, to be able to offer a service that obviously means so much to the people involved is a bit of a counterweight to the difficult aspects of the job.
"We're able to provide a service, which in the UK is their right, and that is welcomed and very much valued by the people involved."
She said more and more couples were inquiring about same-sex marriage.

John and Kyriakos married in Sydney at the British Consulate.
"So far we've met the demand from within existing resources but I'm keeping an eye on it because volume is very high, and we need to make sure we can accommodate everyone who needs this important service.
"I'll keep it under review -- word is spreading -- but so far, it's been manageable."
For Róisín and Anna Nagorcka, the opportunity to convert their civil partnership to a genuine marriage was vitally important.
Róisín, who holds an Irish and British passport, told HuffPost Australia she knew early on that Anna, from Australia, was the woman she wanted to marry.
"We both signed up for a speed dating event in October 2009 in Dublin and Anna will tell you she doesn't really remember too much about that first meeting but I was blown away," Róisín said.
"I thought we hit it off! It turns out I was also very successful that night though -- I got about 10 hits from people who wanted to keep in touch, but they all had names like Ann and Ann Marie and Anna Louise so I had to try and work out which one she was."
A year later, they decided they wanted to marry, but the world hadn't yet caught up.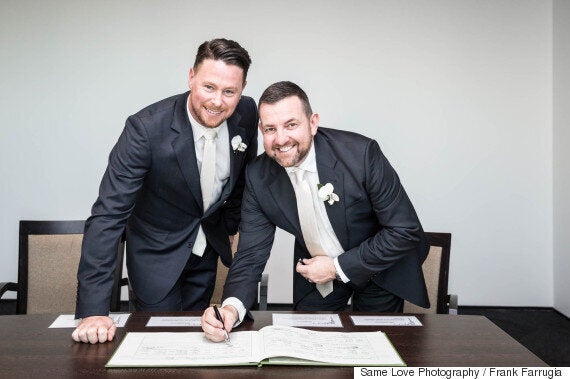 Brenden and Peter got married in Sydney.
"We had our civil partnership in 2010 because that was available to us at the time," Róisín said.
"Like anyone else, I wanted to protect my family. I wanted Anna to be my spouse, so she would be my legal wife and would not conceivably be deported or need work permits.
"If we lived in a world with no legislation around relationships, then it would be a moot point, but there is legislation around relationships and it's there to protect families."
When they moved to Australia, she said they eagerly awaited the legislation that would allow them to turn their partnership into a marriage.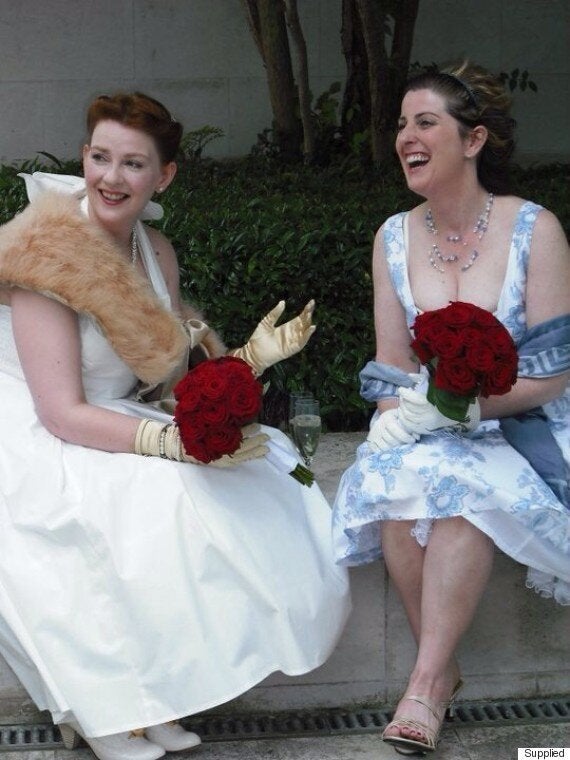 Róisín and Anna Nagorcka celebrate after their marriage conversion.
"We sat for a year watching legislation go through piece by piece in the UK," Róisín said. "I have a bookmarked British Government site where I'd watch bills go.
"It was amazing and frustrating and brilliant and bizarre and painfully slow but due process must take place."
Once the Queen signed the piece of paper and the legislation filtered through, they set a date and arrived at the British Consulate in Melbourne.
"It was a bit like joining the secret service," Róisín said.
"We handed over our passports, paid the administration fee and we all had to switch off our phones and then we walked through what looks like a bomb-proof corridor that locks behind you. Another heavy door clicks open and we're ushered through the offices and suddenly, you're in the UK now.
"Standing there, in that moment it was a time to review -- of where we had been and what had brought us to this moment and reaffirming, with a stronger basis, why we were doing this.
"It was more important than either of us could articulate."
Moments like these ones are often captured by Same Love Photography's Frank Farrugia, who has photographed six consulate weddings.
"Every same-sex marriage I've photographed, you can literally feel the love in the air -- it's tangible," Farrugia said.
"It's just a beautiful feeling. The emotion is heightened because everyone is there to celebrate the luxury that this couple can marry, which is sadly not afforded to same-sex couples on a federal level."
And that's the rub -- for the more than 300 couples who become officially married in the consulate, all rights dissolve when they walk back on to Australian soil.
Historian Shirleene Robinson told HuffPost Australia it was curious to have your relationship classed differently by different countries.
"It's quite strange to only be valid in some places," Robinson said. "We were married in the building, and then we stepped outside and we weren't but then you get on a plane and fly to the U.S of the U.K and you are again.
The day after their consular marriage, they had a celebration at Balmoral Beach.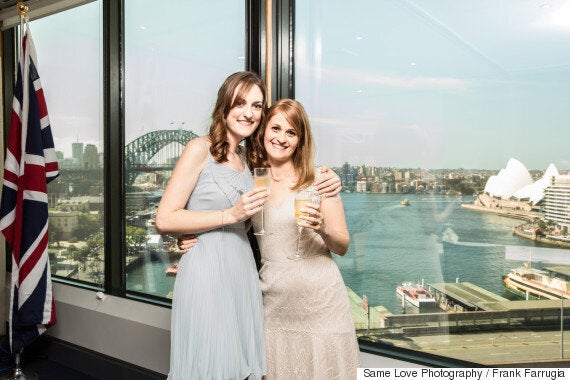 Shirleene Robinson and Sarah Midgley married in Sydney.
"The important thing was that our family and friends were able to be there -- it was an occasion we got to share.
"When same-sex marriage happens in Australia, I'm sure we'll go out to dinner but I don't need another wedding - one's enough for me."