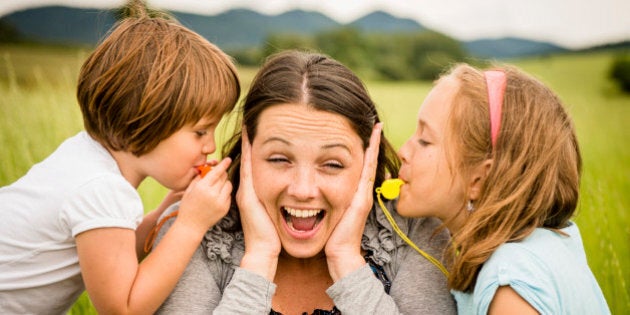 There are some truths about parenthood you just can't escape. It's actually quite affirming to know that you are not alone. No matter how isolated you feel sitting on the floor pretending to be Olaf from Frozen, all around the world millions of people are going through the same thing.
But just because you are still stuck at Frozen doesn't mean you can't be listening to more contemporary music (when the kids allow it). The main difference is that where once you would have been relating to the heartbreak and angst of a soulful Adele song, now you are listening to it from a parent's perspective and often the lyrics would feel more relatable if they sounded different. Just as exasperated and desperate, but different.
Deva Dalporto, probably best known for her All About That Bass parody -- I Just Need Some Space, has listened to Adele's new song Hello and she's nailed it from a mum's perspective.
Yeah, we can certainly learn a lot from that:
1) The phone will act as a magnet and attract your children. If you ever want them to pay attention to you just call someone. Pretending won't work -- children are smart. That said, once you get their attention don't expect them to actually listen to you -- you're asking them something and their answering you is inversely proportional.
2) You won't actually pee in private for a very long time. You will probably like to think this won't happen to you but it will. One day you will find that it no longer seems weird.
3) There will always be laundry. Even when your cupboards have been packed with clean laundry you will find a pile of washing that still needs to be done. The same can be said for dirty dishes. There will always be more. And plastic cups. Errant plastic cups will repopulate like rabbits on heat.
4) Your stomach won't look the same. And you should wear that with pride. It stretched to grow people inside.
5) You will talk about your kids to your friends even if you make a conscious effort not to. This is often due to the fact that there is no longer anything that happens to you that doesn't in some way involve or affect your children.
6) You will think in some dark recess of your mind that other people actually want to hear about your stories because your children are so sweet. They don't want to hear your stories, and they don't think your children are brighter/smarter/cuter or more advanced than their own.
7) There will be smells and dirt that you never dreamed possible in places that you didn't know existed before children. You will get used to it and learn to live with it quicker than you would like to admit.
8) Some days will feel longer than millennia. But even they will end.