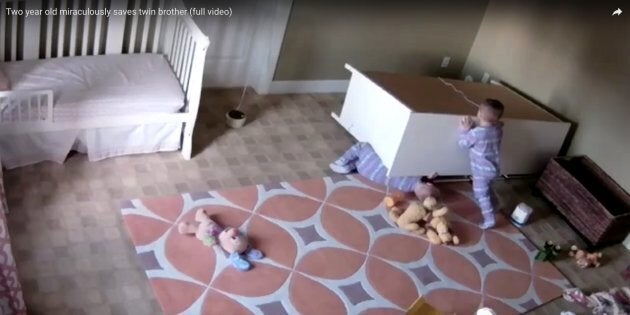 It was a moment described as terrifying and heartwarming at the same time.
Twin 2-year-old boys were attempting to climb on top of a bedroom dresser Thursday morning when their baby monitor filmed the furniture toppling over and trapping one of the boys.
The boys' parents, Ricky and Kayli Shoff, were in another part of their Orem, Utah house and didn't hear it fall, KUTV reported. It was only after they saw the video that they realized what happened: Little Bodie came to his brother Brock's rescue.
The toddler assessed the situation, looking to see what had to be done, before attempting to lift it off of his brother, Brock. When that failed, he began to push the dresser off of him to almost immediate success.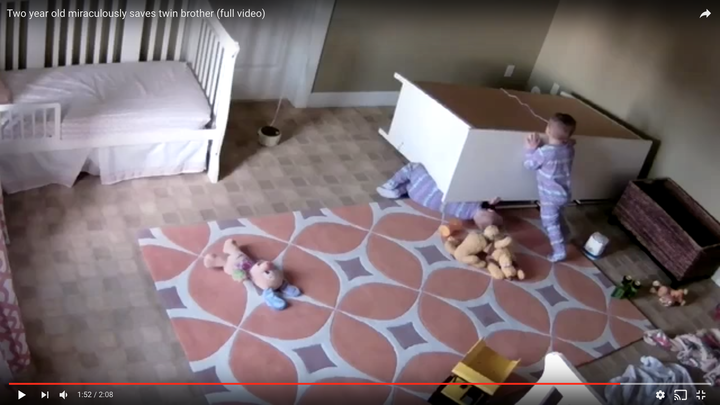 The boys' mother believes the heroic act demonstrated a remarkable bond between her boys.
"I really saw it come to play in just this act of love for a twin brother," she told KUTV.
Both mom and dad confessed that they were initially hesitant about posting the video online, with Kayli saying: "I felt like the worst mom in the world."
But they both agreed that by sharing the video they hope it will raise awareness about the dangers of unsecured dressers.
Today, the Shoffs said the dresser is bolted to the wall and the knobs on the drawers have been removed to minimize the chance the boys will try climbing it again.
Kayli said she realizes that she can't make her home 100% toddler-proof, but every bit helps. "I can do this one thing to make my home a little more safer for my children," she told KUTV.
Earlier last year, furniture company IKEA urged parents to secure furniture to walls, to prevent them from tipping over ― a tip that could be applicable to furniture from other stores as well. This advisory followed the deaths of three children that were crushed, leading to the recall of MALM dressers and chests.