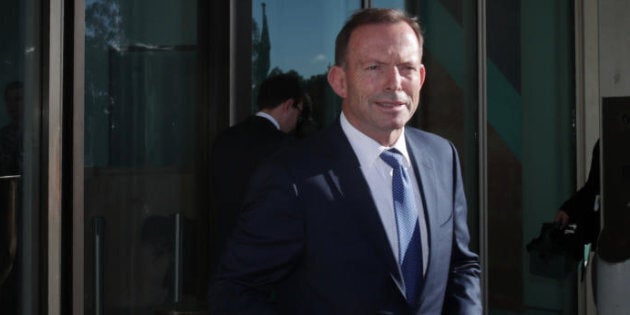 CANBERRA -- In a speech which questions the science of climate change and likens climate scientists to the "thought police", former prime minister Tony Abbott has also suggested climate change is "probably doing good, or at least, more good than harm".
Abbott made the remarks, including pointing out that "far more people die in cold snaps than in heat waves" that have been condemned by British Labour leader Ed Miliband for "idiocy" and deputy Labor leader Tanya Plibersek as "loopy", "weird" and "just nuts", in a speech in London on Tuesday to British climate sceptic thinktank, the Global Warming Policy foundation.
The Member for Warringah also likened policies to combat global warming to "primitive people once killing goats to appease the volcano gods" and proudly recounted his policies as prime minister to weaken the effort to reduce greenhouse gas emissions, such as abolishing the Gillard Government's price on carbon in 2014. He also recounted his assertion to party faithful in 2009 that the "so-called settled science of climate change was 'absolute crap'," and then explained the view further.
"Beware the pronouncement, 'the science is settled'. It's the spirit of the Inquisition, the thought-police down the ages," Abbott warned the London crowd.
"Almost as bad is the claim that '99 per cent of scientists believe' as if scientific truth is determined by votes rather than facts."
"What the 'science is settled' brigade want is to close down investigation by equating questioning with superstition. It's an aspect of the wider weakening of the Western mind which poses such dangers to the world's future."
Mate, your an embarrassment. Seriously, it's time to move on, retire, resign. You've been in politics too long. It's not about you anymore. https://t.co/WIJ2uvNJf4

— Peter Whish-Wilson (@SenatorSurfer) October 9, 2017
Abbott did point to adjusted weather official records and slanting of data sets, which has been roundly explained as not being a grand conspiracy, but he appeared to support the existence of global warming when he stated it was actually happening to the benefit of mankind, even so far as stating fewer people may die as a result of it.
"There's the evidence that higher concentrations of carbon dioxide (which is a plant food after all) are actually greening the planet and helping to lift agricultural yields," Abbott told the London audience.
"In most countries, far more people die in cold snaps than in heat waves, so a gradual lift in global temperatures, especially if it's accompanied by more prosperity and more capacity to adapt to change, might even be beneficial.
"In what might be described as Ridley's paradox, after the distinguished British commentator: at least so far, it's climate change policy that's doing harm; climate change itself is probably doing good; or at least, more good than harm."
Abbott belittled Green activists as wanting an "Amish existence only without reference to God" and decried measures to deal with climate change as damaging the economy and raising consumer power bills, until "the humbug detector is switched on".
"Primitive people once killed goats to appease the volcano gods," the member for Warringah said. "We're more sophisticated now but are still sacrificing our industries and our living standards to the climate gods to little more effect."
Labor's Tanya Plibersek has ridiculed the speech as "just nuts" and "weird stuff from the former prime minister".
"Tony Abbott has left the realm of the merely destructive and entered the realm of the loopy," she told Sky News.
"To be denying it in this way just seems so very bloody minded and so intellectually inconsistent. He says climate change is not happening, but if it is happening it is actually a good thing."
Former British Labour leader Ed Miliband also let fly on Twitter, comparing Tony Abbott's speech to some of the most controversial moments of Donald Trump's presidency.
He linked the speech, saying "I know Donald Trump has lowered the bar for idiocy but..... "
Abbott's proposition that climate change is actually good was put to Malcolm Turnbull by reporters at a veterans event in Canberra on Tuesday.
The prime minister awkwardly laughed and before attempting to bring matters back to veterans.
There's been a climate change policy in Australia war for more than a decade which has stunted meaningful environmental action. Tony Abbott is usually not far from the action.
On Monday, and in the face of internal opposition, the Turnbull Government appeared to back down from plans to introduce a Clean Energy Target to encourage renewable energy. Energy Minister Josh Frydenberg emphasised the falling cost of renewable energy, suggesting no Government mood to subsidise renewables in the future.
Labor's Treasury spokesman Chris Bowen has had enough of the former PM "calling the shots" on energy policy. He's urged prime minister Malcolm Turnbull to rein in Abbott over the overnight comments.
"It is 2017 and we have got a former Prime Minister overseas denying the science of climate change," he told the ABC's RN Breakfast program on Tuesday.
"Every single one of those analyses had an error .. that, when corrected, brought their results into line with the scientific consensus." https://t.co/lRbB4vRaVW

— Karen Barlow (@KJBar) October 2, 2017
"He can say what he likes, (but) he is calling the shots on the policy of Australia. He is an effective handbrake on the elected prime minister stopping any sensible policy progress when it comes to energy.
"We will call it out and it is time for Malcolm Turnbull to actually show some leadership, the man who actually used to believe in something and call it out as well."
Bowen said there has been a "catastrophic failure" by Malcolm Turnbull to stand up to the climate deniers in his party.