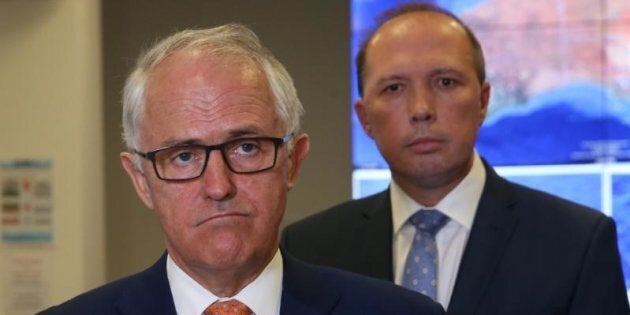 CANBERRA -- Prime Minister Malcolm Turnbull has said the refugee resettlement swap deal with the United States has no time frame and no figure on the number of people it will apply to, hinting perhaps a "substantial" number of refugees will get to go to America.
What's also unknown is the impact of the incoming U.S. President Donald Trump, especially with his renowned anti-immigration, anti-Muslim stance.
The Turnbull Government announced Sunday a one-off deal with the U.S. to take "genuine" refugees languishing for perhaps more than three years in, or near, the Australian-funded processing centres on Papua New Guinea's Manus Island and Nauru.
"I have said it is a substantial number that would be eligible," Turnbull told Channel Nine's Today.
"The important thing now is for the American officials to do their work with the UNHCR."
More than 1,600 people, determined to be refugees, are being housed on Manus and Nauru with 370 refugees in Australia for medical treatment.
Under the deal, women and children would have priority, but few other details are available. The Prime Minister has confirmed the deal was struck earlier this year when Australia announced it would take an unknown number of refugees from Central America.
Turnbull: there are 1,600 on Nauru and Manus w refugee status who would be eligible, but number taken is matter for US #auspol

— Paul Karp (@Paul_Karp) November 13, 2016
Viewing repeated questions by host Lisa Wilkinson as an "interrogation", the Prime Minister eventually said the refugee numbers would be a "matter for the United States".
Those found not to be refugees are expected to return to their country of origin.
But will the deal be off in January when U.S. President Elect Donald Trump assumes office?
Turnbull told reporters on Monday he'd like to see this arrangement "proceed in a speedy manner", but talked up Australia's "very long history of cooperation with the United States".
"The United States has no closer ally. We have no closer ally," Turnbull stressed.
"So we have a very long history of cooperation with the United States where we, in matters of this kind, where we are able to pursue our mutual and our respective humanitarian and national security objectives."
Officially, the Turnbull Government is dealing with one U.S. administration at a time and it is still in negotiation with a number of unnamed countries over similar one-off deals.
Asked at a Sydney press conference how much the deal would cost, Turnbull said Australia would meet its own costs, but said, "I don't want to add any more to what I have said about the arrangements".
To assess the deal, U.S. officials will be coming to Australia and going to Manus and Nauru in "coming days".
Turnbull denies the "sugar is back on the table for people smugglers" pointing to boosted border patrol efforts in northern waters.
"What we are seeking is resettlement options for them that do not involve coming to Australia," Turnbull told Channel Seven's Sunrise.
"The one place they will never be resettled is here."
Turnbull said the U.S. would take the Nauru and Manus Island refugees from its annual quota.
"They are simply managing the mix of their refugee intake, just as we are," Turnbull said.
Labor is supporting the deal in "in principle", saying it would hypocritical for the Opposition to oppose it when it appears to have many similarities to Labor "Malaysia Solution" deal.
However, it remains opposed to the Government's lifetime ban on boat refugees, which is yet to pass the Senate.
Turnbull has urged Labor to listen to the electorate and reverse course.
The United Nations refugee agency, UNHCR, is not a party to the deal, but will support it with concerns.
The UNHCR also points out refugees and asylum seekers have been "immensely damaged" by the years in detention.