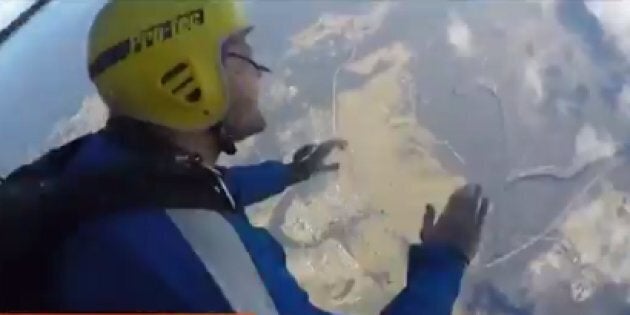 Shocking vision has emerged showing the moments before two men leapt to their deaths in a nightmare skydiving accident near Sydney.
The victims, a "highly experienced" 63-year-old instructor and a 29-year-old Singaporean student diver, were found dead south-west of Sydney on Saturday afternoon.
The men were conducting a tandem jump supervised by Sydney Skydivers when the fatal incident occurred. They were reportedly killed on impact when they crashed onto the driveway of a rural property at Wilton, 85 kilometres from Sydney.
On Sunday, vision given to NewsCorp Australia from a GoPro showed the victims' final moments inside the plane before the ill-fated jump. The camera was reportedly attached to a fellow skydiver who leapt just minutes before.
Sydney Skydivers expressed its sorrow at the tragic event in a post to its Facebook account on Sunday, adding that the business would not be open that day "out of respect".
"This is the first fatality involving a first orientation Tandem skydive the company has had in over 40 years of operation and is an extremely rare incident," the statement read.
"The particular skydive the two men were undertaking was not especially challenging for a highly experienced instructor, who had done nearly 10,000 skydives and had nearly 30 years experience in the sport. The jump was from normal height and it is not yet clear what occurred."
Sydney Skydivers further revealed that the younger of the skydivers was "undertaking a first orientation jump" when the exercise turned fatal.
Police investigations are continuing into the incident.
ALSO ON HUFFPOST AUSTRALIA