2013 may have been the year that gaming finally entered its next generation after the longest-ever run of the current console tech, but it went out with some next-level ambition.
While the PS4 and Xbox One struggled a little with their launch games (as all systems do), the still-struggling Wii U, released last season, nailed a new Super Mario classic over three decades after the character's debut and the PS3 and Xbox 360 planted their final flags with pride.
Faded icons were revived and forgotten genres were re-animated while open worlds were built ever more alive and interactive narratives delved into deeper, darker themes.
And so here are the 13 best games I played in 2013.
1. Ni no Kuni: Wrath of the White Witch
Level 5 and Studio Ghibli / Namco Bandai; PS3
Hayao Miyazaki is known as the Japanese Walt Disney and his Studio Ghibli has amassed a similarly beloved catalogue of classic animated films. Ni No Kuni is their first foray into gaming. Though their famously game-averse boss reportedly played little role here, the result is nonetheless the most gorgeous of the year (even though it came out in Japan in 2011).
It may lack the hyperrealism of the new next-gen consoles, but it literally feels like you're playing a hand-drawn film -- and the epic musical score by Ghibli collaborator Joe Hisashi and performed by the Tokyo Philharmonic Orchestra only amplifies that cinematic feeling.
The art direction, character design, and world building demonstrate an incredible imagination while the epic yet intimate story is boldly melancholy. The mother of the lead, a young boy named Oliver, dies at the beginning and his tears lead him from his 50s Americana town into a fantasy realm ("Ni no Kuni" translates to "another world") where he hopes to find out how to bring her back to life.
The gameplay, handled by Dragon Quest icons Level-5, is a traditional turn-based Japanese RPG, making the combat slow, strategic and admittedly sometimes frustrating, but it fits with a game which, just like Ghibli films, unrolls at a measured pace, confident that its quality will carry you along.
Irrational Games/2K Games
This spiritual sequel to 2007's anti-Objectivist classic Bioshock by philosophizing developer Ken Levine is set in a floating "utopian" cloud city called Columbia in the year 1912 that satirizes the idealized past as imagined by the likes of Mitt Romney, Paul Ryan and the Tea Party.
The gameworld functions as a critique of of American Exceptionalism, religious fundamentalism and endemic racism as well as skewering the ideologues on the left once the rag-tag revolutionaries rise up against the theocratic dictatorship and prove to be similarly brutal.
Admittedly some of these deep thoughts are undercut by the reductive first-person shooter gameplay which eventually turns you into a mass murder rampaging through a charnel house, and which eventually sparked an online backlash, but even that felt true to the subtext that ideology corrupts absolutely. Still, the game wasn't just a poli-sci paper, it had a quantum physics-inspired narrative about parallel universes, too, that made your head hurt long after the gunfire died down.
Nintendo; Wii U; Rating: E
No matter how old you are, if you're a gamer you probably grew up on Super Mario. So this follow-up to the Italian plumber's first foray into 3D gaming from the Super Nintendo days -- as well as a direct sequel to 2011's Super Mario 3D Land on 3DS -- should tickle your nostalgia bone even as it wows you with its gorgeous graphics and clever combination of free-roaming and side-scrolling gameplay.
But ultimately, the reason it works now is the same reason it worked back in 1991-- it is an ingeniously designed virtual playground that focuses on fun and creativity above all other things. Not only is the new game a worthy successor, but it's perfect for friends and families, because it's built to be a four-player co-op game for everyone can play together.
Even if you play solo, the multiplayer aspect means that you can pick and choose from Mario, Luigi, Toad and Princess Peach. The latter is the real boon here, as the damsel in distress trope is easily the worst part of the series, and it's a pleasure to play as said damsel finally kicking Koopa Troopa butt. It's a game that quite simply never feels flat.
Blog continues below slideshow...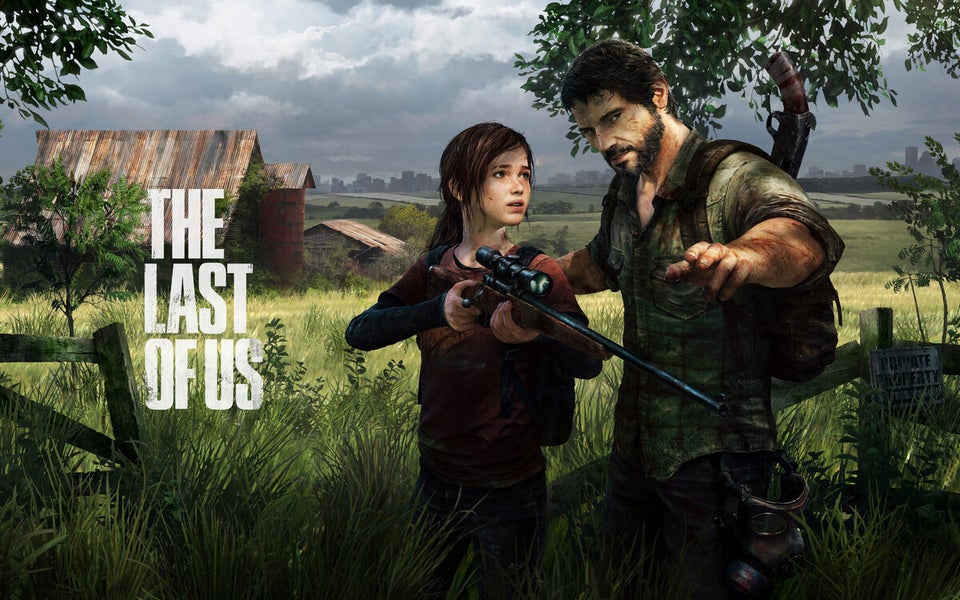 Adult Video Games 2013
Games have long aspired to be respected as art, or at least as much as cinema, but their biggest hurdle has always been narrative. Well, that achievement has been unlocked with this unexpected epic from the folks behind the fun but far less-ambitious Uncharted games. TLOS takes place in a post-apocalyptic future where humanity has essentially been turned into zombies (they're actually infected by a mutated fungus) with most of the survivors turning out to be even worse.
As a father who lost his daughter in the chaos and became a ruthless gun-runner, you must regain your own humanity by helping escort a young girl across a ravaged America to a resistance group that may be able to use her to create a vaccine. While there's plenty of combat on hand, it's the sharp writing, impressive acting (both voice and motion-capture), organic art direction and bleak storytelling that set this game above its peers and earned its ream of near-perfect reviews. And that ending, oh, that ending.
Rockstar North / Rockstar Games
Rockstar has been making Grand Theft Auto games for forever now and yet they still manage to surprise us with their quality. Once again, you play a criminal in a sprawling storyline that will take you from one end of a seemingly living, breathing city to the other. But it's so much bigger this time. In fact, you're actually playing three criminals whose stories intersect, and this new version of Los Santos, a thinly veiled L.A. first introduced in the sprawling PS2 game San Andreas, is so much more alive.
The satire still has bite, the music has kick and there's even a free online component that turns it, for the first time into a massively-multiplayer game in the vein of World of Warcraft, albeit one inhabited by metaphorical trolls rather than real ones. GTA V will be remembered as the game that made a billion bucks in three days, but it should be remembered as the most fully realized open-world that gaming has yet produced.
6. Assassin's Creed IV: Black Flag
Is there a better bait-and-switch history lesson than virtual assassinations? Perhaps not. The Montreal-made Assassin's Creed series has always combined historical high-brow with visceral low -- it's right there in the title -- and this latest entry is no different. What is different is the new focus on piracy. Naval battles were a minor but much-loved feature of AC III, set during the American Revolution, and they've taken centre-stage in this 1715 sequel starring you as proper pirate of the Caribbean.
Though Havana, Kingston and Nassau are fascinating, historically accurate simulated cities well worth exploring, the best part of the Black Flag takes place on the high seas.
Media Molecule / Sony Computer Entertainment; PS Vita;
British studio Media Molecule first made their name with the award-winning LittleBigPlanet, a side-scrolling platformer rooted in a handmade arts and crafts aesthetic. For their first excursion outside that acclaimed franchise, their signature style has evolved from textiles to the equally beguiling and whimsical world of papercraft. Each and every single thing on screen appears as if were constructed out of paper.
Innovatively, they've taken advantage of the Vita's touchscreen, rear touchpad and two cameras to bring the player (adorably referred to as "the You") directly into the game's meta narrative -- your face appears as the sun and when you touch the back of handheld system, virtual versions of your fingers pop through into the game itself. You're basically God, holding a pocket universe in your hands.
They've upgraded from LBP's 2D sidescroller to Tearaway's 3D world, dramatically opening up the gameplay, but if you want to play in three dimensions, you can take in-game photos of certain objects that will unlock printable instructions on how to build these paper models in the real world. It's a charming, gorgeous, creative, non-violent (your weapon is an accordion!) and utterly unique slab of digital art that should win over gamers of any and all ages.
8. Marvel Lego Super Heroes
TT Games / Warner Bros Interactive; Multiplatform;
TT Games first leveraged Lego's popular Star Wars line into a warmly parodic take on the two trilogies a decade ago. They've since expanded into other film franchise licenses like Indiana Jones, Harry Potter and Lord of the Rings, but they really found their voice in the superhero realm. Freed from the constraints of popular movie plots but still populated with characters familiar to young gamers, Lego Marvel Super Heroes is the spiritual sequel to their second Batman game, which boasted an ambitious open world structure, as well as a sprawling roster of DC super friends.
This new Marvel game ups the fanservice ante even further with 155 (!) playable characters, ranging from the mainstream heroes of the Avengers, X-Men and Fantastic Four to cult faves like Silver Surfer, Iron Fist, MODOK and Kraven the Hunter to civilians like Spidey's Aunt May and cameo-happy creator Stan Lee.
As a grown-up comic geek, its depth and respect for the source material made it a real pleasure to play -- but it was even better playing co-op with my four-year-old superhero-obsessed son. The violence is strictly cartoonish, the puzzles are clever but not too challenging and, well, there's nothing quite like the grin your kid will get while yelling "Hulk Smash!" as he makes the green goliath pound New York City into Lego bricks.
The latest from French auteur David Cage continues his quest to meld games and cinema together into a new form of interactive drama. He is joined in this effort by Canadian actress Ellen Page who provides the voice and motion-capture performance as Jodie, a girl attached to a supernatural entity, alongside Willem Defoe, who plays a researcher and father figure.
Beyond generated the usual gripes that it's more of a choose-your-own-adventure than a game, due to it's non-traditional, narrative-driven gameplay. But Cage upped the risk ante even further by jumping haphazardly around the timeline, from Jodie's being bullied at teenage house parties to her living on the streets with a community of homeless people to missions for CIA. But while the action is fine enough, it's the uncommon quotidian scenarios that give the game the emotional oomph Cage always aspires to.
10. The Legend of Zelda: A Link Between Worlds
Talk about a link to the past -- literally. The latest adventure for Nintendo's autostereoscopic handheld console is a direct sequel to the beloved, if primitive 1992 Super NES classic The Legend of Zelda: A Link to the Past. But while the familiar setting and top-down gameplay offer a nostalgia blast for older fans, that's not why this umpteenth visit to the kingdom of Hyrule to rescue its forever endangered princess Zelda is one of the year's most critically acclaimed.
Rather, it adds enough innovation (including non-linear exploration and the ability to turn Link into a 2D drawing) on top of its imitation (of then-ahead of its time game design) to craft a gameplay experiences that makes it a must-have for Zelda fans from the past, present and future.
Popular in the Community