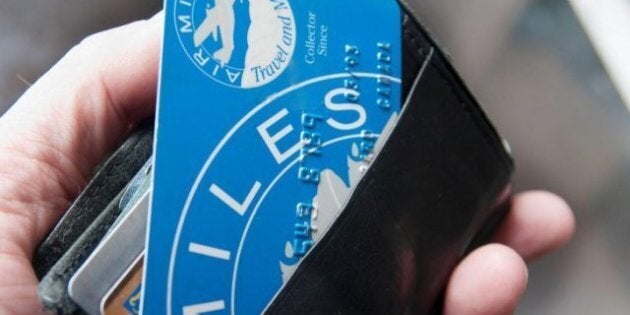 As of New Year's Eve, Air Miles collectors will have exactly five years to use their existing miles before they expire, a change that has some members of the reward program upset.
All Air Miles accrued by tomorrow will have to be redeemed by December 31, 2016, or they will disappear. All miles collected past tomorrow will also face a five-year limit.
"I guess the dream of flying to Europe with my wife using Air Miles is just a dream," one commenter wrote on Facebook.
"We chose Air Miles over Aeroplan and other such points collector cards for the simple fact that air miles didn't expire," wrote another commenter. "I will be cancelling my Air Miles Mastercard..."
Air Miles collectors gather miles by making qualified purchases from the program's participating sponsors. Until now, the miles — redeemable for eligible merchandise, including electronic goods, plane tickets and vacation packages — never carried an expiration date.
Neil Everett, chief marketing officer for Air Miles, told the Huffington Post part of the company's reason for making the change came from its need to better predict its finances.
"We are a publicly traded company, and publicly traded companies have come under a lot of scrutiny," he said. "We need a better ability to to forecast redemption."
Everett noted that the average time to redeem miles on a card is two-and-a-half years, meaning that "the vast majority of collectors will not be impacted by this."
To those who will be impacted, Everett suggested they may be able to speed up their collection of miles by maximizing their use of the Air Miles card.
"My question to them would be: Are you really leveraging the program the best way you can?" he asked.
The changes come on the heels of a new instant-redemption feature called Air Miles Cash.
The program, which begins in March, will allow collectors to instantly cash in their miles at participating retailers, using them towards purchases for items like gas and groceries.
Under the new program, 95 reward miles will earn collectors $10 off while cashing out their purchases. Collectors will be able to redeem in $10 increments up to a maximum of $200 per day, including taxes.
Everett said there are 14 million active Air Miles cards in Canada, with 10 million of them being used at least once a month. He said the program in the past year handed out some $500 million in Air Miles rewards.
With a report from The Canadian Press
WHAT PEOPLE ARE TWEETING ABOUT THE AIR MILES 5-YEAR EXPIRY