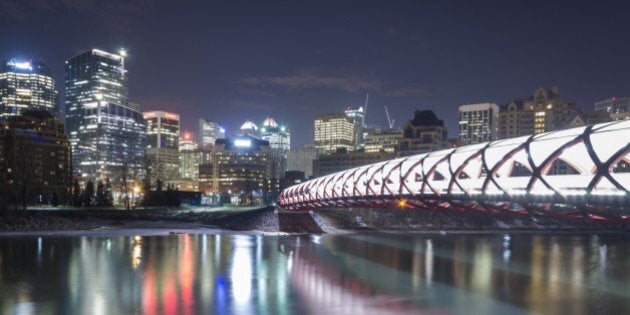 TD bank recently forecast that Alberta will have a per capita GDP of $88,000 next year, compared to $53,000 for the rest of the country.
BMO chief economist Doug Porter highlighted this reality with a chart comparing employment in Alberta and the rest of Canada. Over the past year, Alberta has accounted for all the job growth in Canada. The number of jobs in Alberta is up by 3.7 per cent over the past year, while the rest of the country saw a net loss of 0.1 per cent of all jobs.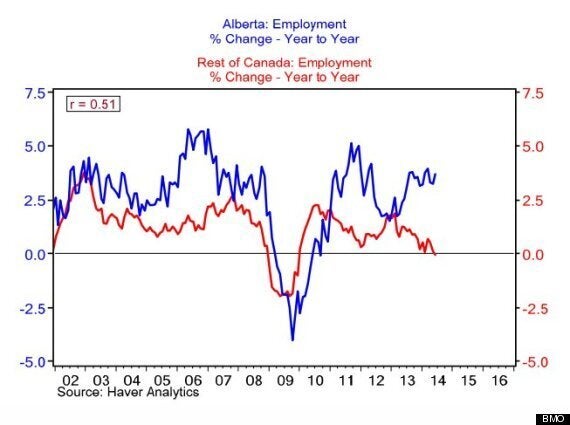 "What happened? Well, both oil and gas prices have done better than expected, boosting Alberta," Porter wrote. Meanwhile, the U.S. economy stalled in the first half of the year, and the Canadian dollar bounced back from a slump, both hurting non-energy exporters.
Jobs aren't the only way in which Alberta and the rest of the country are splitting apart, economically. Bloomberg notes that Alberta's trade surplus in May, $7.4 billion, is almost equal to the trade deficit in the rest of the country — $6.9 billion.
And BMO pointed out earlier this month that Canadian housing starts are being propped up by growth in Alberta; they're on a downward swing in much of the rest of the country.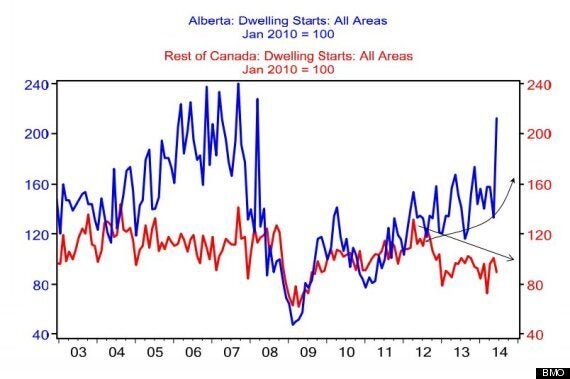 "There's no question our economy right now is still running on basically policy fuel, policy induced growth. It's unsustainable in that basic sense. This economy needs a higher percentage of external demand," he said.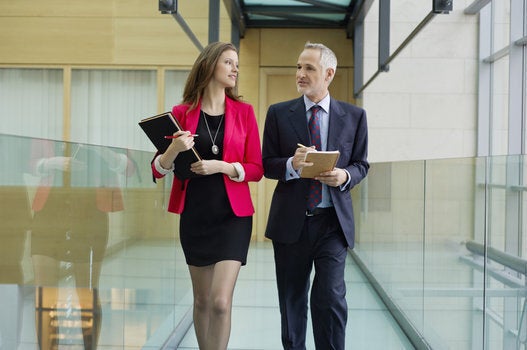 31 Alberta Jobs Facing Labour Shortages
Popular in the Community