A star Liberal recruit and key foreign policy adviser to Justin Trudeau is facing sharp criticism from Conservatives over controversial remarks he recently made about Israel.
Andrew Leslie, a retired lieutenant-general who hopes to run for the Liberals in the riding of Ottawa-Orleans next year, was asked by a woman at a veterans' event late last month to share his professional opinion about the Middle East conflict. The woman, who Liberals now say is a staffer from the office of Tory MP Rob Anders, leaked a recording of the exchange to Sun News last week.
According to a transcript posted online by journalist David Akin, Leslie was asked what he would do "troop-wise" and which side, if any, he supports in the conflict.
Leslie replied that every country has the right to defend itself and its people — a view expressed by Trudeau, Harper and NDP Leader Thomas Mulcair when discussing the situation in Gaza. Leslie asked for that "thought bubble" to remain over the conversation, and then went on to accuse the Israeli military of "firing indiscriminately onto Palestinian women and children."
"You know what the body count is now," Leslie said, according to the transcript. "So Israel has actually lost the war."
Leslie told the woman that the terrorist group Hamas, not the Palestinian people, is the enemy.
"You're talking to a guy who has hunted terrorists for quite some time. You gotta kill them? You gotta kill them. Hey, I've got no problems with that," he said.
"But Palestinian women and children who are taking refuge in UN-designated compounds? Come on. 'Oh, it was an accident.' Sorry doesn't matter to anyone.
"Shooting dumb artillery close to children is dumb."
Though the remarks break from what Trudeau has said publicly about the conflict, Leslie later told Sun News the "totality" of his comments were balanced.
But Harper Tories, who say they are the only federal party unequivocally standing behind the Jewish state, wasted little time going on the attack.
Finance Minister Joe Oliver called Leslie's remarks "deeply disturbing" in a statement posted to Facebook Wednesday. Oliver accused Liberals of failing to grasp the "inhumane tactics" of Hamas.
"Israel takes great precautions to protect civilians while in contrast, Hamas deliberately puts innocent Palestinians in harm's way and has hurled thousands of rockets at Israeli civilians," Oliver said in the statement.
"Nevertheless, Mr. Leslie places blame on Israel for defending itself."
Read the full statement below:
A tweet from the Conservative Party accused Leslie of a "smear" and linked to a page soliciting donations.
Leslie agreed last year to co-chair an advisory council on international affairs for Trudeau and later announced that he hoped to run for the Liberals in 2015.
Just days before the Liberal national convention in February, Tories delighted in the revelation Leslie billed the Department of National Defence $72,000 (including real estate fees) to move from his last residence in Ottawa to a new home a few blocks away. Retiring members of the Canadian Forces are allowed to expense their "last move" as they transition to civilian life, but Global News reports the federal government now aims to stop the practice for same-city moves.
Leslie, who led Canadian troops in Afghanistan, said at the time that he could withstand Tory attacks because he had been "shot at by real bullets."
He told Grits at the convention that the Tories wooed him when he retired from the military but he opted to support the Liberals because he wanted a leader he could follow "heart and soul."
He suggested the Tories, who claim it was Leslie who approached them, were behaving like spurned lovers.
"I want to tell them, 'Look, it wasn't you, it was me.' But do you know what? After this last week, let's be honest, it was really them," he said.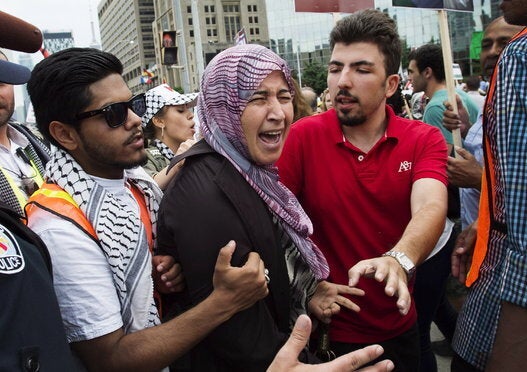 Gaza-Israel Rally At Queen's Park, Toronto

- With files from The Canadian Press