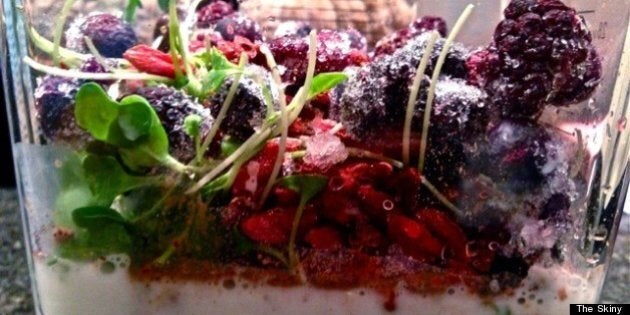 Besides wearing sunscreen, nourishing your skin from the inside out with nutrient-rich foods can help ward off the signs of photo aging — 90 per cent of which is caused by the sun, according the Canadian Dermatology Association.
Features of photo aging include: Liver spots, freckles, uneven skin tone, fine lines, thinning lips that can also lose colour, and spider veins on the nose, cheeks, and neck. We've created a delicious blend of the world's richest sources of antioxidants and nutrients proven to be beneficial to skin health.
Goji Berry Smoothie

2 tbsp goji berries

1 cup organic mixed berries

1 cup organic, unsweetened almond milk

2 tbsp raw, organic cacao powder

2 tbsp goat milk protein powder

1 handful organic broccoli sprouts

1 tbsp hemp oil

1 tbsp raw honey

1 tsp camu camu powder

Place all ingredients in a blender and process until smooth. Add filtered water until you reach your desired consistency
How this smoothie helps your skin: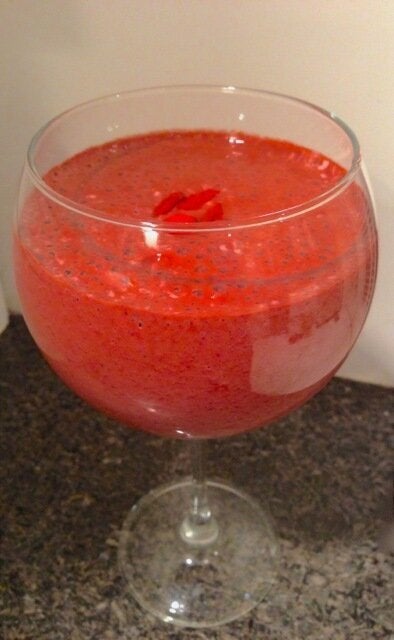 Benefits Of A Goji Berry Smoothie
Goji berries are high in astaxanthin, an antioxidant known as "natural sunscreen" that helps reverse and protect from sun damage. Gojis also contain more beta-carotene than carrots. Beta-carotene (which converts to vitamin A) helps fight inflammation and encourages new skin cell growth.
Berries provide vitamin C and antioxidants, which play a significant role in neutralizing the effects of skin-damaging free radicals.
Almond milk is high in vitamin E, an antioxidant shown to keep moisture in the skin and help reduce the effects of sun exposure.
Goat milk protein is easier to digest than cow's milk. Adequate amounts of protein in the diet promote healthy skin and collagen production.
Broccoli sprouts are packed with a high amount of beautifying nutrients such as sulfur, which helps to maintain skin's integrity by plumping the cell wall and repairing damage caused by eczema or acne.
Camu camu berries are the world's richest source of vitamin C. The antioxidant properties of vitamin C and its role in collagen synthesis make it a vital molecule for skin health. An Oregon State University study demonstrated that vitamin C may help prevent and treat UV damage.
Raw honey is often referred to as "nature's own multivitamin" as it contains vitamins B1, B2, B3, B5, B6 and minerals like magnesium, potassium, calcium, sodium chlorine, sulfur and phosphate.
Nutrients per serving: Calories 533, Total fat 26 g, Protein 20 g, Fibre 13 g, Iron 15%