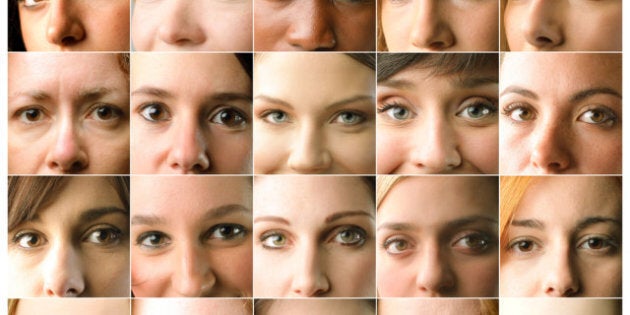 Canada is leading the G20 pack when it comes to the best country to be a woman, but there's a huge disparity between the best and the worst countries in terms of health care, equality and ending gender-based violence.
In Canada, women have access to contraception and at least 75 per cent of women aged 15 to 49 use it. In 2008, 62 per cent of university graduates in Canada were female. The poll also noted that one third of Canada's federally appointed judges are women. These findings were some of the reasons Canada is perceived to be on the right page of protecting women's well-being and basic freedoms.
On the other hand, infanticide, child marriage and slavery made India the worst country for women, according to the poll.
"In India, women and girls continue to be sold as chattels, married off as young as 10, burned alive as a result of dowry-related disputes and young girls exploited and abused as domestic slave labour," says Gulshun Rehman, health program development adviser at Save the UK, told Reuters.
Other countries with low rankings include Saudi Arabia, where women were given the right to vote last year and almost 65 per cent of educated women are unemployed. In Indonesia, 90 per cent of women faced sexual harassment in the workplace and in South Africa, two times as many women have HIV compared to men, according to the poll.
It is important to note that countries like Norway and Iceland are not included in TrustLaw's poll because they're not part of the G20. In 2011, Iceland, Norway, Finland and Sweden were listed as some of the best countries for women and gender equality -- their exclusion explains in part why Canada sits at the top of this list. The report lists 19 countries; the European Union (which includes Finland and Sweden) makes up the remaining G20 spot and is not included in these results.
Here are the best and worst G20 countries to be a woman: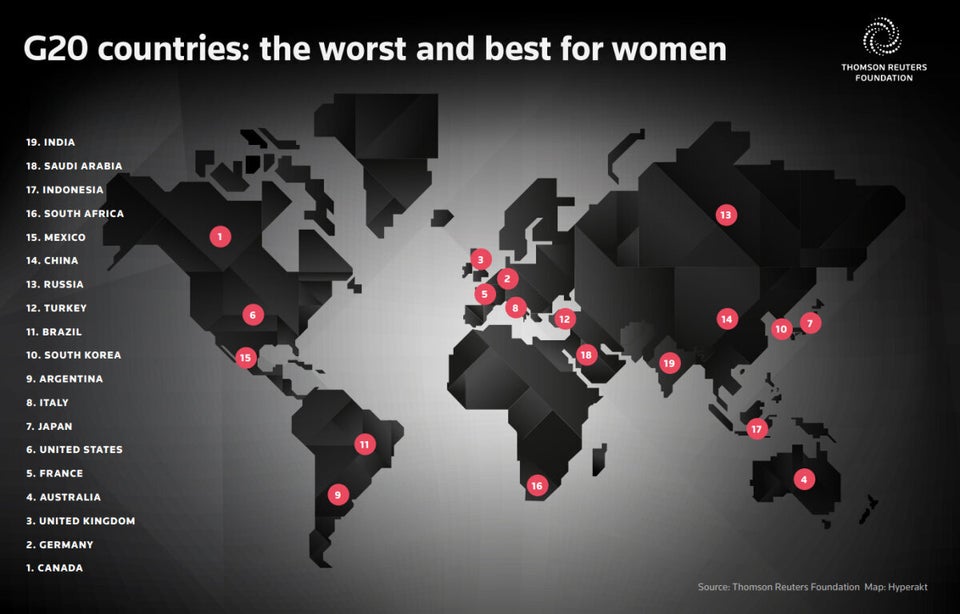 Best And Worst G20 Countries To Be A Woman
Countries From Best To Worst:
In Canada, 62 per cent of university graduates in 2008 were women.
In Germany, 83 years of age is the average life expectancy for women.
In the United Kingdom, 22.3 per cent of judges are women.
Almost 36 per cent of parliamentary seats in Australia are held by women.
In France, new moms get 16 weeks of full paid maternity leave.
At least 60 per cent of masters degrees earned in 2008 were by women.
The average life expectancy of women in Japan is 87.
In Italy, 57.7 per cent of students enrolled in tertiary education are female.
Moms in Argentina get 90 days of full paid maternity leave.
In South Korea, 6 out of 10 men say they have more of a right to work when jobs are scarce.
At least 250, 000 children are believed to be involved in prostitution.
In Turkey, 3.8 million women are illiterate.
At least 14, 000 women die every year from domestic violence in Russia.
In 2008, 1.09 million girls were dead or "missing" at birth due to infanticide.
In Mexico, 1 out of 4 women experience sexual abuse by a partner.
In South Africa, 42.3 per cent of seats held in politics are by women.
At least 90 per cent of women claim to be sexually assaulted in the workplace.
Women in Saudi Arabia were given the right to vote in 2011.
Almost 45 per cent of girls in India are married before they turn 18.