It seems like yesterday that then-trade minister Chrystia Freeland was having her credentials as an international negotiator questioned due to her expression of presumably womanly emotion during CETA negotiations. Now, on a world stage dominated by outrageously xenophobic rhetoric and scapegoating, in which nations and corporations watch Twitter for policy signals from a thin-skinned, retaliatory president who engages in foreign relations through awkward handshakes, Freeland has delivered a vision for Canadian foreign policy that shows her remarkably level head and iron gut.
Nobody would fault her for delaying planning our foreign policy agenda until the situation in America calms down, or turning inward in the face of international instability, but instead she chose ambition, pride, and open arms to the world. She obviously understands the global situation, which both gives me hope and makes my job as International Affairs Critic a bit harder: I have to drill down to the level of policy to criticize her ministry, because her perspective and values are on point.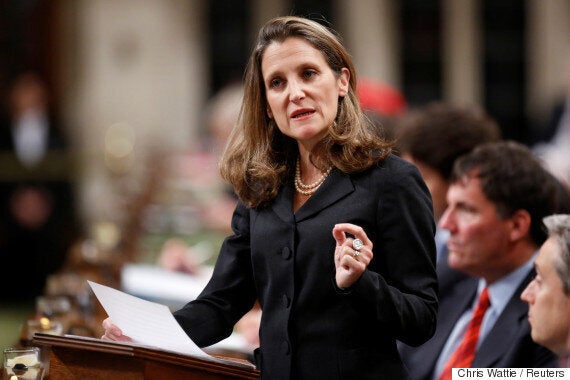 The first signal to her well-placed values is the way that she sees shared international institutions as the main cause of peace and prosperity, rather than American military domination. Despite her emphasis in the speech on military "hard power," followed by a new plan from Defence Minister Harjit Sajjan the next day, she nonetheless emphasizes the military playing a supportive role to the global order, noting that "might is not always right." The massive increase to our military budget over the next decade focuses on ensuring that our forces are sufficiently large, diverse, and equipped to meet our global commitments to shared defence, rather than any attempt to take over the mantle of world police. Sajjan even noted that "doing our part spans support for diplomacy, development, humanitarian aid and disaster relief, capacity building and peace operations."
But despite talking the talk, Sajjan's backgrounder includes no spending items on disaster relief, development, humanitarian aid, or peace operations. It reads like a military shopping list, including specific mention of drones capable of "precision strikes" (a morally unacceptable technology, despite mention of developing an international framework for the acceptable use of drones), but lacks any bullet points for conflict-avoiding forces, technologies, or strategies. Particularly given Freeland's emphasis on climate change, which is already proving a powerful destabilizing force in the world, the lack of any concrete plan for disaster relief is concerning.
For all of Freeland's eloquence about supporting global order, the only specifics we've seen thus far from the Defence department support the narrative of military engagement. I hope to see more from International Development Minister Marie-Claude Bibeau in the near future, but Sajjan is missing a golden opportunity to "enhance capabilities": Canada should develop mobile teams specialized in climate-fuelled disasters such as floods, wildfires, and famines, to strategically deliver aid, support, and expertise in concert with our DART team. Surely an ounce of conflict avoidance is worth a pound of ammunition.
Freeland mentions the rise of the global south, with specific reference to China as an emerging economy, but given the prominence of climate change on her list of global issues we should also make a concerted effort to engage with South America and Africa, both of which continue to be pillaged for resources in the absence of strong governments capable of enforcing environmental and humanitarian laws. These continents are still home to massive biodiversity and carbon sinks, indigenous peoples and fragile climates. Unlike China, whose environmental degradation is a result of their own economy, South American, African, and Southeast Asian environments are fuelling North American and European economies through resource extraction. We have a responsibility there, particularly as some of the world's biggest mining companies call Canada home.
Freeland focused the heat of her speech on America's inward turn, fuelled by rising inequality as the middle class loses their jobs to automation. Her moxie in calling on America to be great again (implying it isn't) through international engagement is inspiring. But her solution to the general distrust of global economic institutions that have privileged corporations at the expense of workers is to push the Comprehensive Economic and Trade Agreement with the EU as a model for new trade agreements -- even though CETA has investor protection mechanisms so strong that nations seeking their peoples' best interests can be hamstrung by corporations seeking profits.
The Green Party of Canada has opposed CETA from the start because of these problematic investor-state relations. We also have concrete policies to reorient Canada's economy to deal with the new global economic realities, and they go much deeper than doubling down on neoliberalism. Implementing fundamental domestic policy shifts can have a major impact on the international stage, by modelling ambitious approaches and by setting the conditions for larger global economic shifts.
For example, taxes can be shifted away from an emphasis on labour, which is increasingly being replaced by automation, and toward market externalities such as pollution, health issues/vices such as cigarettes and marijuana, and market speculation. A Guaranteed Livable Income can streamline social services and enable Canadians to pursue further education and entrepreneurship. And infrastructure investments can be targeted to empower Canadians economically through projects such as a smart and democratized energy grid in which individuals can profit from generating clean electricity from private, renewable sources.
Freeland's speech gets so much right in vision and tone, and she cannot be criticized for not providing a clearly itemized list of all policies that will accomplish her vision for the coming decade, or for not directing domestic policy. She is right to chart an independent and sovereign course, and she is right to welcome every opportunity to collaborate internationally. But it will take more than CETA and guns to get us there, and her plan is not as revolutionary as the post-war global order that inspires it.
Perhaps Freeland's ambition for Canada's role in the world will lead to some action at home. On both fronts, actions speak louder than words.
Follow HuffPost Canada Blogs on Facebook