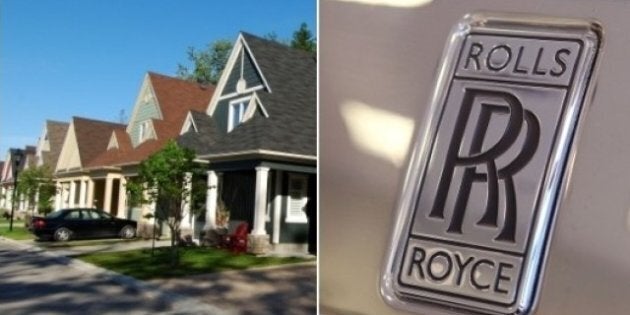 "The rich get richer, and the poor get poorer."
That old adage may be the simplest way to explain income inequality. We've all heard it. But is it true?
Why is this happening? What can be done about it? And does it even matter?
These are the questions we will focus on in The Huffington Post Canada's Mind The Gap series, which over the coming months will tackle the problem of income inequality, sometimes from unexpected perspectives. We'll show how the income gap profoundly impacts our society in ways big and small, and Canadians of all walks of life — rich or poor.
But underneath the rhetoric lies a very real issue. The data show that the vast majority of economic expansion in Canada in the past three decades has gone disproportionately to the wealthiest people — the top one per cent, or even more accurately, the top one-half of one per cent. The rest of us, it would seem, have not shared in Canada's impressively expanding economy.
The growing difference between rich and poor — and the strain that difference puts on society — is reshaping Canada in unexpected ways. For instance, evidence is mounting that Canada's growing super-rich are putting excess demand on the housing market and contributing to skyrocketing prices in the major markets. Prices rise even for those whose incomes aren't rising, and they end up taking ever-larger mortgages to keep up with the mushrooming cost of real estate. Our growing debt spiral, which has made Canadians the most indebted people in the developed world, is also linked to the income gap.
But this trend can be bad for business, too. In most developed countries, consumption accounts for some 70 per cent of economic activity. So if consumers find themselves under strain from growing debt and stagnating incomes, and they're unable to spend more, the businesses that rely on them face a long-term threat.
Other reasons have been suggested as well, all of them contentious, from globalization to automation to the decline of unions' influence.
But amidst the complex and sometimes confusing data, a picture is emerging of a country that is increasingly struggling to support its most disadvantaged, a country that finds itself shouldered with an ever-growing debt problem, and that finds itself with a cost of living that is quickly outstripping growth in incomes.
How Canadians respond to these challenges — or whether they choose to react at all — will shape the future of this country for generations to come.