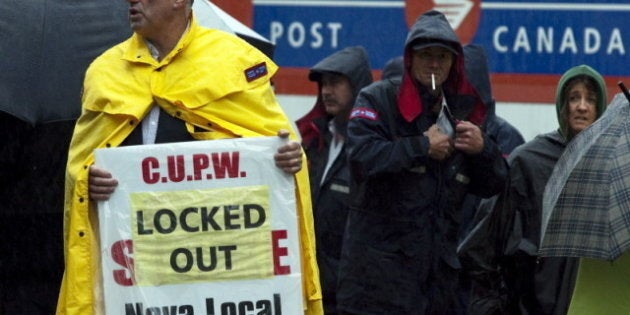 THE CANADIAN PRESS -- OTTAWA - Back-to-work legislation to end the Canada Post lockout was tabled in parliament Monday afternoon.
Urban postal operations were suspended countrywide last Wednesday after nearly two weeks of rotating strikes by the union.
The two sides made no progress in their talks over the weekend, and it had been uncertain whether talks scheduled for Monday would actually take place.
Though negotiations have resumed, Raitt told the Commons the two sides have had ample time to reach a deal.
"It is both parties at the table who are negotiating and have been unable to obtain an agreement," she said.
"That's why we are acting on behalf of Canadians, on behalf of small businesses, on behalf of charities who are being affected by this work stoppage across the country."
Members of the Canadian Union of Postal Workers had said they believed their employer lost the will to negotiate when the government announced last week it would force them back to work.
But a spokesman from Canada Post had said Monday morning they believed a deal could still be reached.
"There is time to sit down and hammer out a deal but that requires a commitment to bargain that we haven't seen from the union," said Jon Hamilton.
Postal workers marched at a number of rallies across the country Monday from Kamloops, B.C., to Labrador City, N.L., to gain public support for their cause.
Workers and their supporters in Vancouver, Edmonton and Winnipeg also said they occupied the offices of Conservative MPs.
"We've done everything in our power to achieve a negotiated settlement with as little disruption to the public as possible," Mike Palacek, a postal worker from Vancouver, said in a news release.
"Canada Post's response has been to suspend all of its services, lock us out, and wait for back-to-work legislation."
Workers were delivering pension and social assistance cheques.
The job action had already cost Canada Post $100 million in lost revenue.
The Crown corporation has said the main sticking point in the dispute is the union's demand for staffing levels beyond the capability of Canada Post, adding that wages were not the key disagreement.
The union has been emphasizing working conditions and safety issues, as well as arguing that new employees would receive inferior wages and pensions.
Opposition New Democrats accused the Conservatives of trampling on the process of collective bargaining, saying Canada Post's lock-out of employees was what crippled the mail service, not the rolling strikes by postal workers.
"It is the government itself, through a Crown corporation that caused the lock out of the employees," said NDP MP Thomas Mulcair.
"This same government is now turning around and criticizing a situation that it created itself."
The federal government legislated striking postal workers back to work in 1997 — the last time the union went on strike — after they were off the job two weeks.
Popular in the Community