"I have dedicated myself to this struggle of the African people. I have fought against white domination, and I have fought against black domination. I have cherished the ideal of a democratic and free society in which all persons live together in harmony and with equal opportunities. It is an ideal which I hope to live for and to achieve. But if needs be, it is an ideal for which I am prepared to die."

- Nelson Mandela, April 1964.
Twenty-four hours after the sad news broke, and countless hours of radio, television, and print pontifications later, how was Mandela is portrayed by the Canadian media ?
The National Post's highlights include:
A "white saviour" headline detailing how PM Mulroney's spearheaded the end of apartheid and Mandela's freedom. We can forgive a national newspaper for pumping up Canada's role in the toppling of the apartheid regime. In haste, they omitted Winnie Mandela's contribution.
[Winnie Mandela] carved her own name in struggle lore. was regularly detained by the apartheid government. She was tortured, subjected to house arrest, kept under surveillance, held in solitary confinement for a year and banished to a remote town.
Indeed, Nelson Mandela thanked Mulroney for his friendship and support by choosing Canada's Parliament as the first legislature in which to make a speech. However, process of elimination might have played a role in selecting Canada. Other plausible western nations, namely Britain, the USA and Israel , had openly supported the Apartheid regime. Moreover, the gesture was an honour belonged to more than one person. Mulroney was one of many Canadians on the right side of history.
The royal reaction. Apparently, princess Kate found out Mandela had died on the red carpet of the new Mandela biopic's premiere. One can't imagine how difficult it must be for the duchess. Did the tragic news put a wrinkle in her evening, or her dress? Could the editors not cull commentary from more appropriate sources?
The Mandela page is fraught with commentary and tributes from elite circles. PM Harper, former PM Chrétien... and former Spice Girl Victoria Beckham. Was Paris Hilton not available?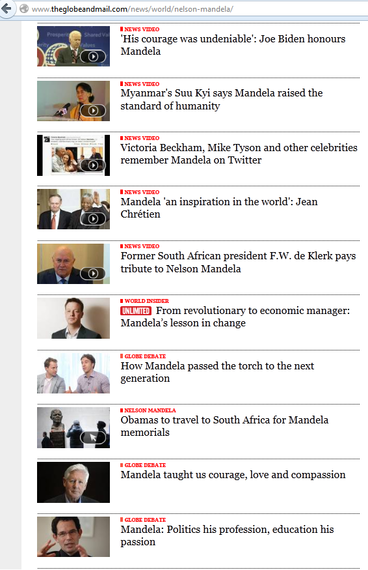 The Globe and Mail even makes room for the Kielburger brothers in a piece entitled "How Mandela passed the torch to the next generation". Interestingly, there are no commemorations from Canada's visible minorities and Aboriginal people, even as they are the ones who can most identify with Mandela's struggle for racial equality. What are we to make of Canada's multiculturalism if it is not drawn upon at the most opportune moment?
On Canadian television, unctuous eulogies were punctuated by pundits with peripheral knowledge of Mandela's plight for racial equality. None of these pundits even noticed that Mandela died on the exact anniversary of the arrest which formed the genesis of his mythology.
Mandela was arrested for defying the status quo, for challenging his government to acknowledge its ingrained injustice, racial discrimination and its democratic deficit.
"The lack of human dignity experienced by Africans is the direct result of the policy of white supremacy. White supremacy implies black inferiority. Legislation designed to preserve white supremacy entrenches this notion. [...]" - Nelson Mandela 1964
Initially, CBC radio news drew from the pool of usual suspects. Fortunately, someone had the wherewithal to allow Aboriginals to verbalise their unique kinship with Mandela's mandate, as Apartheid was inspired by the system of Indian Reserves. Curiously, no Black Canadians were polled in the immediate aftermath of Mandela's death. Can we imagine a Jewish rights leader being eulogized exclusively by gentiles? Or the legacy of women's rights advocate being dictated exclusively by men?
Overall, Canadian media has missed, or, rather, sidestepped the opportunity to truly learn the lessons Madiba taught the world. Politicians and establishment hacks invariably give empty words. The juxtaposition of Canada's multicultural crown and the apartheid-like pyramid of pundits is a cross Canadians will have to bear. Let us hope the continuing coverage will draw from a wider pool of Canadian commentators. An inclusive tactic should reinsert the struggle of the African people to which Mandela dedicated himself into the narrative of his legacy.
Popular in the Community