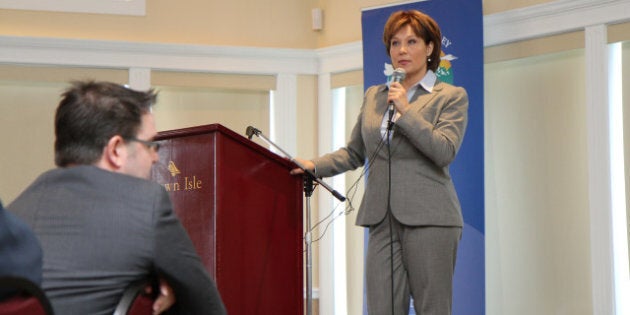 A seasoned orator, as well as a veteran of a talk radio business where controversy and titillation are king, Clark delivered what was surely the highlight of the presentation only a few minutes in.

While struggling against a microphone that wouldn't stay upright, she commented, "I'm not going to say it reminds me of my ex-husband."

The comment was met with laughs by all and the most raucous ovation of the afternoon.
I did two things. First, I nearly choked on my coffee. This woman has no filter between her mind and her mouth.
Second, I tweeted it to Clark, Marissen and Diamond Isinger, the creator of the Madame Premier blog, to see what they had to say about it.
But alas, this latest limp joke really fell flat in my opinion -- no pun intended.
Not just because people like Isinger run to the premier's defence with cries of sexism and political double standards for women in politics -- and yes, both are real issues facing some women in politics -- but because Christy's ex is still very much in her life, co-parents their son with her, and very much defends her and her government on Twitter.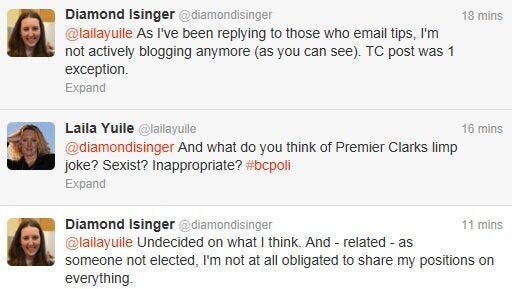 It makes me wonder, how the hell Clark can reconcile being offended at Richard Branson's naked kitesurfing invitation ("I didn't think it was very respectful"), with her comments about her ex-husband while dealing with a microphone that wouldn't stand up?
And if you want to talk about double standards, what would happen if a male premier made a joke about his ex-wife's sexual function ... or lack thereof ?
Do you think that he might be called -- gasp -- sexist?? More likely women everywhere would have more than a few nastier words than that, including Isinger, who would personally man the guillotine -- but because it's Clark, she gets a pass?
Come on. Frankly, the hypocrisy between what Clark says and what she does is stunning, dwarfed only by her inability to understand why she is so low in the polls.
It comes down to character and integrity -- unfortunately for Clark, voters seem to think she has little of either, and with limp jokes like this, it's no wonder.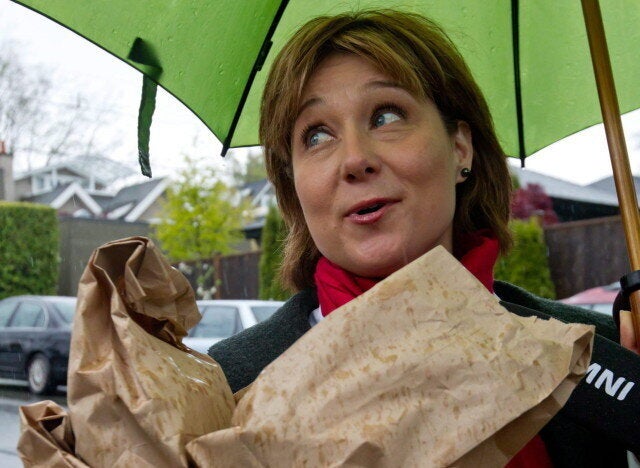 Christy Clark's Many Faces