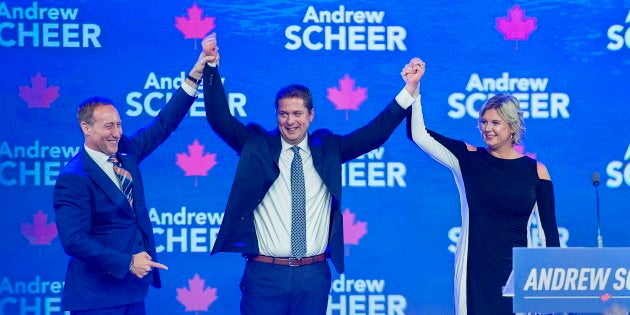 HALIFAX — "When someone who is a member of the Bloc approaches us to ask questions, am I right to say we welcome them with open arms?"
Antoine Tardif, Conservative Leader Andrew Scheer's late 20-something director of Quebec operations, smiles at the question from a party organizer. Tardif, who has been in the job since summer 2017, is more than hoping Quebec sovereigntists feel welcomed in the Tory tent, he is openly courting them.
"There are some people who are asking themselves questions but they are a bit afraid to talk to us," the organizer from Jonquière, Que. continues. The Bloc Québécois members are a huge assets, he noted, they're organized and active on the ground — and there are a lot of them!
"Those people, they are looking for a home."
Scheer's camp is hoping the Tories can be that political home. With the NDP polling around 16 per cent and the Bloc Québécois almost non-existent — Scheer jokingly thanked its former leader Martine Ouellet for driving her party into the ground during his keynote speech at the Tories' policy convention — the Conservatives sense a unique opportunity.
For the first time since the 1988 federal election, Quebec looks to be a fight between only two parties. If Scheer has any shot of forming government in 2019 — something his advisers conceded is a long shot but increasingly a possibility — the Tories need to win big in Quebec.
"We need to get maybe 20, 25, 30 seats in Quebec, you know, this is key for us," he said, with a grin.
Listen to Tory insiders on "Follow-Up":
In the francophone ridings targeted by the Tories, the Liberals hover around the 35 to 36 per cent mark, Leclerc said, while the Conservatives poll around 29 to 30 per cent. "So that means a lot of seats in Quebec."
"If you are looking at maybe 10 months ago, people were thinking 'No, never, Andrew Scheer [in] 2019. Never. Good luck. See you in 2023," Leclerc said. But following Trudeau's widely mocked trip to India, he said, things are looking up for the Tories.
"There are a lot of people who just don't want Justin Trudeau anymore."Antoine Tardif
With 78 of the country's 338 seats, Quebec could easily determine who forms government next year. The Liberals currently have 40 seats there and the party is hoping the province could help offset any losses in the rest of the country; perhaps in Atlantic Canada, where they're unlikely to repeat the sweep of seats there in the last election.
So it's no coincidence the Tories are spending a lot of time, money and energy courting the province's voters.
"There are a lot of people who just don't want Justin Trudeau anymore," Tardif told a crowd of 40 or so organizers and would-be delegates assembled in the basement of the Halifax Convention Centre where the Conservatives held their biennial conference over the weekend.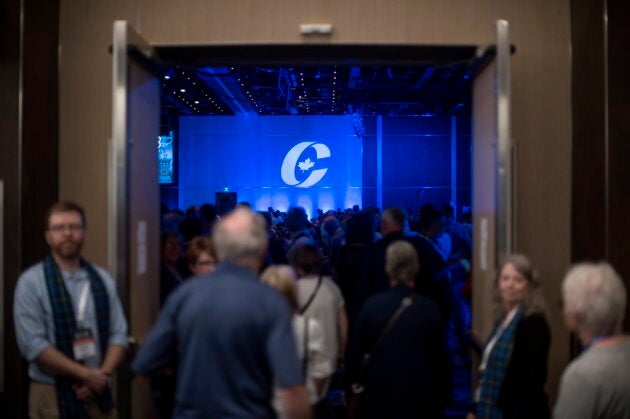 The Liberals' marijuana legalization is deeply unpopular. And the Tories' "seduction" of Bloc members is working, he said. He proudly mentioned how the Tories convinced former Bloc Québécois leader Michel Gauthier to take out a membership card.
"Why do you say seduction?," a woman piped up. "I'm a true Conservative, can't you say our efforts to convince Bloc members?"
"Oh look, we're not going to quibble about this," Tardif responded.
The point is, a year away from the election, "everything is possible."
The weekend's policy convention in Halifax drew 200 delegates from Quebec. Thirteen resolutions from the province's riding associations were debated. Two key ones — one condemning the flow of all asylum seekers across the border and calling for the renegotiation of the Safe Third Country agreement with the United States, and another calling for a single tax return, where Quebec would collect the revenues and turn the federal share over to Ottawa rather than vice-versa, sailed through with the support of delegates from across the country.
"Our anglophone colleagues understand," Charlesbourg—Haute-Saint-Charles MP Pierre Paul-Hus said.
The Albertans have their issues, and they respect that we have our own."
Last December, Scheer's organizers decided they needed a plan to introduce their man to Quebec. The courting began this year but it's expected to kick into high gear after the provincial election is over — with a big star candidate.
The goal, Tardif told the group, is to show Quebecers that the Conservative party is anchored in the province, that they have real members and a real organization. Most importantly, he wants Quebecers to develop an affinity for the party.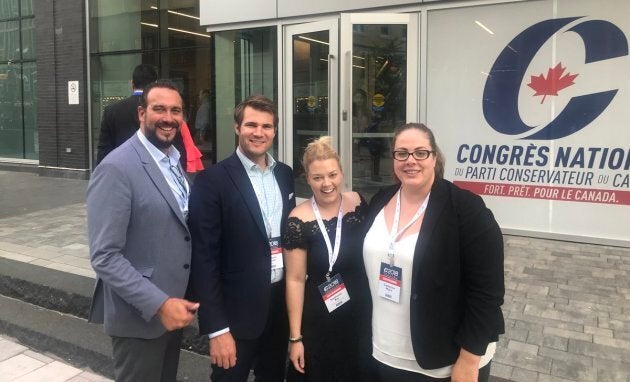 "Mr. Bernier's departure will cause some problems," one delegate warned. Maxime Bernier, the Conservative MP from Beauce, who quit the Tories on Thursday to form his own political party, had ties to the vast majority of the Quebec delegates HuffPost spoke with over the weekend.
None said they planned to follow him out the door, but many were concerned his departure would mean the loss of an important party spokesman in the province.
"We should see [Scheer] on TV more," one delegate told the room.
The party is aware of the challenge, Tardif consoled them. He listed off Scheer's meetings, photo-ops, and TV and radio appearances over the past year with well-known personalities in Quebec: Mario Dumont, Bernard Drainville, Patrice Roy, Anne-Marie Dussault.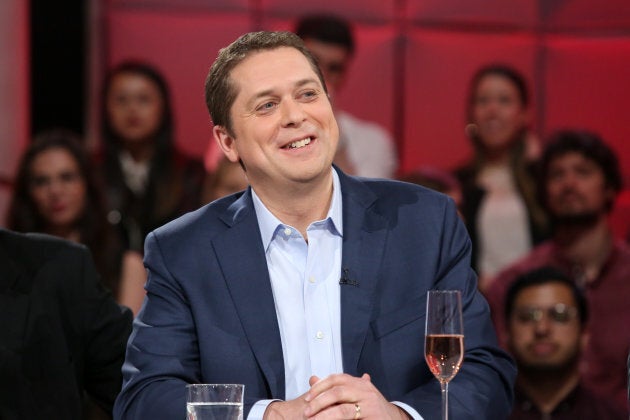 Slides showed Scheer smiling with Montreal Mayor Valérie Plante, and standing next to Quebec City Mayor Régis Labeaume. Here is Scheer attending the Festival du Québec and there he is at the Fête nationale.
"Who here watched 'Tout le monde en parle?'" Tardif asks, as many in the room put up their hand. "A million Quebecers, maybe a bit more, listen to [the show]. Before 'Tout le monde en parle', 29 per cent of Quebecers said they recognized the name Andrew Scheer. After ... it was 49 per cent of Quebecers."
The Radio-Canada program, where the hosts grill and joke with celebrities, has a loyal following. Scheer's May 6 interview garnered positive reviews — and it was mentioned with pride several times during the convention.
This spring, when the Bloc was imploding, Scheer penned an open letter to Quebecers welcoming them to the Conservative party. The Tory leader then announced a listening tour in the province, with his Quebec lieutenant Richmond—Arthabaska MP Alain Rayes — Tardif's former boss. Scheer held roundtables, as did his Quebec MPs and senators, all in an effort to craft a Quebec-specific platform for 2019.
Scheer is committed to spending more time in Quebec, Tardif said. They want the voters get more comfortable with Scheer — a functionally bilingual Saskatchewan MP who grew up in Ottawa.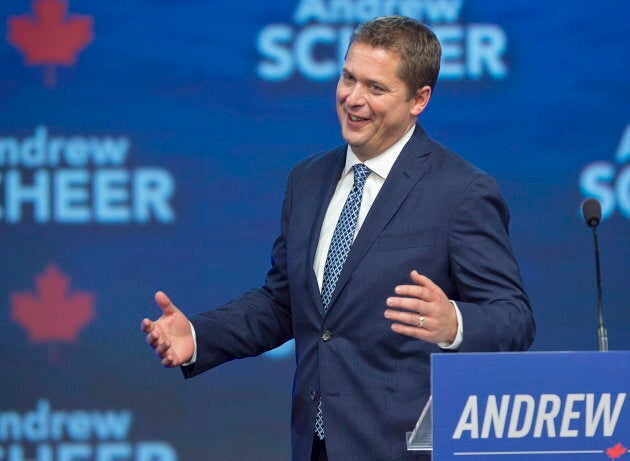 Quebecers need to feel a connection with a leader, Leclerc said.
"Quebecers are more emotional than the people outside Quebec," he told "Follow-Up." "You need to have this kind of connection, this kind of feeling, you know. It is less rational about the economy, stuff like that. You need to see the guy ... it's about the heart."
Before even being quizzed about it, Tardif tells the Conservative organizers they have nothing to worry about when it comes to their leader's mastery of the language. "He manages very well in French. Very well."
Scheer's team is francophone, he speaks French all the time. There are no concerns about him debating Trudeau in French. Scheer is a funny and sympathetic guy, Tardif said, something that will come across in a debate: "It will be very good."
The Tories' plan is to mimic their win in Chicoutimi—Le Fjord. With a star candidate in Richard Martel, they were able to steal a seat from the Liberals in a riding where they had placed fourth in 2011.
"This recent win in Chicoutimi-Le Fjord is not an anomaly. This is perhaps the beginning of a great breakthrough in Quebec," Martel told the 3,000 Conservative delegates gathered Friday night to hear Scheer speak.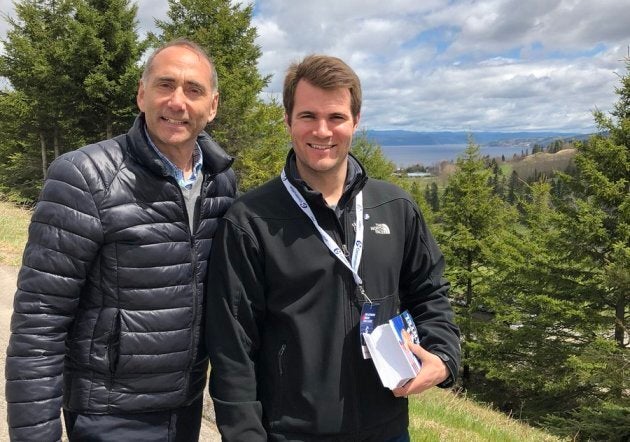 In Quebec, he said, the real opponents are the Liberals: "A party that does not respect provincial powers. A party that listens more to downtown Toronto than the rest of the country."
Martel's "winning recipe," according to Tardiff, combined timing with a big local candidate. Martel is the former coach of a popular and successful major junior hockey team, les Saguenéens de Chicoutimi. He is basically a local rock star.
Martel announced his byelection candidacy early — about a month after the outgoing Liberal MP announced he was stepping down — and he threw himself into the campaign by casting himself as the MP-in-waiting.
The Conservatives won that seat handily, with 52.7 per cent of the vote compared to the Liberals' 29.5 per cent. The NDP, which won the riding in 2011 and placed second in 2015, saw its vote collapse from nearly 30 per cent to just under nine per cent. The Bloc candidate received fewer than six per cent of the votes.
Tory organizers want nearly all their Quebec candidates in place by January 2019. And they want bonafide local candidates. If they are not from the riding, they should have a strong affinity with the region and a network of local contacts, Tardif said.
"When the election is called, we don't start at zero, we start with a momentum and a headstart."
"The upset we created in Chicoutimi-Le Fjord, last May, is something we can replicate everywhere in Quebec, with hard work, preparation, [and] finding the right candidate," Tardif told HuffPost. "I'm confident Quebecers are ready to vote Conservatives in numerous ridings."
His message to the delegates: don't worry about the provincial polls. Those numbers often only reflect certain regions, he told them, and Trudeau is more popular in places like Montreal than around Quebec City or in the regions where the Tories hold their seats.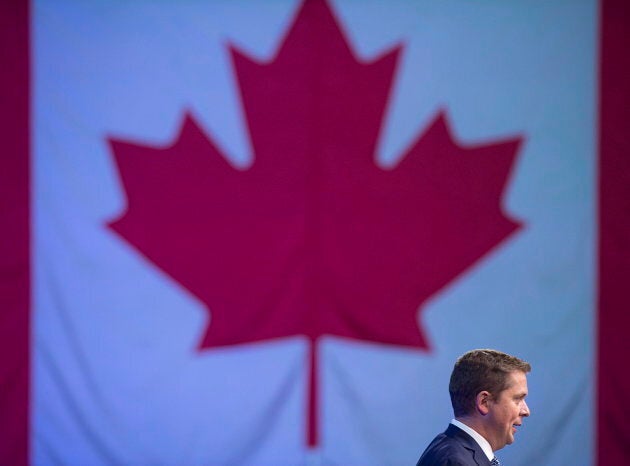 Polls last year placed the Conservatives in Quebec around 10 and 15 per cent, now, Tardif said, the Tories are at 20 to 25 per cent — some even have them as high as 30 per cent. "If we continue in the same vein and take another 10 per cent than there are a whole bunch of seats that become available."
The group is good spirits. There are few complaints.
Bernard Généreux, the MP for Montmagny—L'Islet—Kamouraska—Rivière-du-Loup, takes the microphone to congratulate Tardif and his team, and the local organizers give them a loud round of applause.
The MP said he used to hear complaints that the "Quebec team is disorganized" and "Mr. Harper doesn't come often enough.
"I don't hear those comments anymore."